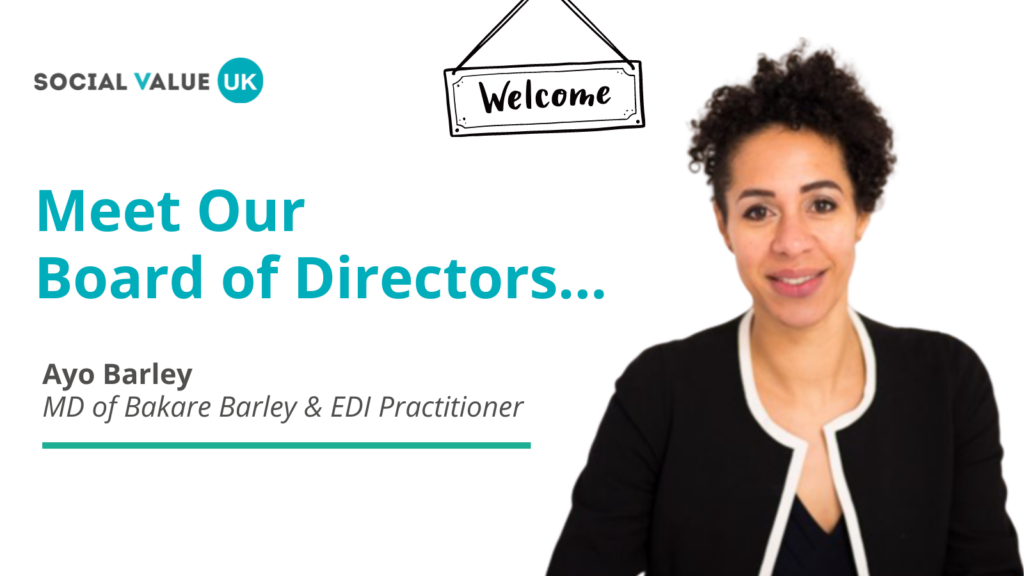 Social Value UK is delighted to announce that Ayo Barley has recently joined our Board of Directors. We are really looking forward to the guidance and support she will bring to our progression of the Social Value movement.
If you're nosey, like us, you'll be keen to get to know Ayo and her background a little better.
So, we have done just that.
Who are you?
I am Ayo Barley (she/her), I am an Equality, Diversity and Inclusion Practitioner and run a SME which focuses on advancing equity in the workplace through strategic advice and training support. We work with higher education, the voluntary sector, the private sector, and the NHS to catalyse improvements to employee experience and retention.
Why did you join the Social Value UK Board of Directors?
I feel there is an intrinsic link between supporting marginalised people and promoting social inclusion, and the core principles of social value. Social Value UK is a fantastic organisation and is promoting a UK movement to increase awareness about the importance of accounting for our impact our businesses, charities and wider institutions have on people's lives. 
What are you most excited to see in Social Value UK's future?
I am excited to see SVUK expand it's reach into new sectors through storytelling and translating the importance of social value into tangible terms that people can get behind and support. As the movement grows and builds momentum, we will have more impact and shift the culture or organisations to be motivated by the amount of social value they create for people and communities.  
Is there a particular social/environmental issue that you feel strongly about?
I feel strongly about social inclusion, and particularly when it applies to groups in society that have been historically marginalised due to their race, gender, sexual orientation, or their intersectional identities.  
More questions to other new board members in the coming weeks!
Posted 10th February 2023