Advocacy
Social Value Perspectives
Be a part of the social value movement
Social Value UK has launched a new advocacy programme called 'Social Value Perspectives'.
It comprises of three themes per year, each touching on a central pillar of the Social Value UK vision – wellbeing, equality and the environment.
Each theme will be explored through a series of blog posts, culminating in a conference.
Our first topic is Creating Value through a Well Workplace and the theme conference takes place on Thursday 23rd February.
It will touch on lesser talked about issues affecting wellbeing in the workplace and our opening blog has been supplied by Advanced Grief Recovery Method Specialist Chell da Silva Willis.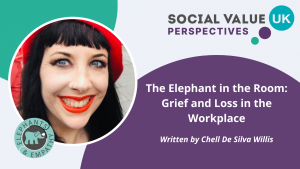 Chell writes a deeply personal account of her own loss and how she is helping others grapple with bereavement. 
The main aims of 'Social Value Perspectives' will be:
Raise the profile of Social Value UK and our members, especially those contributing to Social Value Perspectives
Represent the views of our members and influence key decision-makers
Raise awareness and understanding of social value by making it relevant, accessible, and relatable to new audiences
Grow our movement and community
Generate diverse income streams to fund our advocacy work on behalf of members
Through the blogs, we aim to reach a broad audience, and at the events we will be targeting large private sector organisations, and decision-makers (whilst of course doing what we can to make it accessible and affordable to all, as always.
Upcoming Themes…
Every new theme of Social Value Perspectives will be led by our core aims as a change-making organisation. The first three themes (all working titles), will be:
November to February 2023: Creating Value through a Well Workplace
March to June 2023: Driving Equality through Better Business
July to October 2023: Think Social Value, Think Environment
How can you get involved or support Social Value Perspectives?
We would like to hear from any individual or organisation that is interested in supporting this vision via resource/financial sponsorship, speaking or facilitating or writing a blog.