Inspiring Impact Legacy Project
Inspiring Impact Legacy Project

In September 2022 Social Value UK and the Greater Manchester Social Value Network launched a joint project to train and coach 'impact champions' for the Greater Manchester area.
The project grew out of SVUK's involvement in delivery of the Inspiring Impact programme. SVUK were the England delivery partner on the programme for the last 3 years of its lifecycle and it closed in January 2022.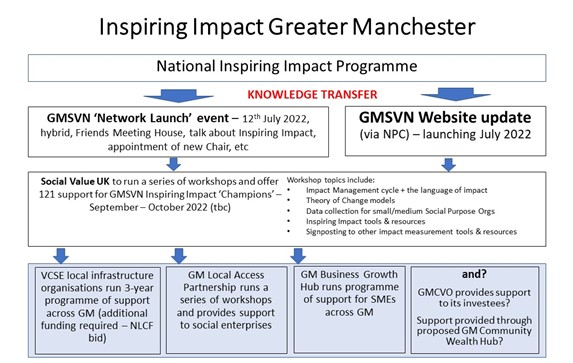 The project is being delivered in four stages as shown in the diagram above and we are currently in stage 2 of the delivery. A full description of the project activities is below.
Stage 2
Knowledge transfer
This work includes the following steps:
July – September 2022 – recruitment of 18 GM Inspiring Impact 'Champions' who agreed to:

Attend at least 3 of the 5 proposed 'knowledge transfer' workshops
Use the learning that they have obtained in their work
Inspire others to embed impact as part of their role – through mentoring, delivering training, advice or other support.

October – December 2022 – Knowledge Transfer virtual workshops, delivered by Nicola Lynch of SVUK:

Overview of Inspiring Impact (compulsory)
Impact management and the language of impact
Theory of Change models
Data collection for small and medium organisations
Impact management tools and resources
SVUK delivers a short 'train the trainer' overview workshop series equipping a cohort of 'champions' from key infrastructure and social sector support programme support staff with the necessary skills & knowledge to confidently support and coach organisations with their impact practice and share information about some of the range of tools which have been made available through the national Inspiring Impact programme. Each workshop is 1.5 hours long and delivered using Zoom.
November 2022 – March 2023 – SVUK will also provide 3 hours of 1-1 support/coaching for the Champions that addresses individual needs. This includes 2 hours of face-to-face support plus the completion of an offline self-assessment of areas of strength. This assessment not only underpins the delivery of targeted support for that individual but also creates a bank of Champions that can be used according to their strengths/areas of expertise.
February 2023 – A 'mop up' group workshop for Champions to discuss what they have learned and look forward to the delivery of phase 3.
Stage 3
Delivering support to Inspire Impact, using the tools and knowledge received
This will take the form of a range of projects, programmes and consultancy, including a programme delivered by VCSE local infrastructure organisations for VCSEs (with support from NLCF), through the Local Access Programme for social enterprises, the Business Growth Hub for GM SME businesses, and potentially paid-for support for other businesses.
VCSE infrastructure – an early meeting has been held with representatives from the National Lottery Communities Fund, which indicated that they would welcome a bid from MACC, on behalf of a group of VCSE organisations.
Social Enterprises – as the 'Proper Good' programme gets under way, there will be a resourced opportunity to use the Inspiring Impact tools and resources to support social enterprise development in Bolton, Oldham, Stockport and Wigan. The GMCVO Investment Team would also provide support across GM for any social enterprise accessing their investment funds.
SMEs – having a number of Business Growth Hub advisers as 'Champions' will enable them to work with SMEs and social enterprises to inspire impact.
Wider social economy – this work might lead to a further range of activities linked to the proposed GM Community Wealth Hub.
Stage 4
Embedding the learning through the business of GMSVN with support from SVUK
This stage will be shaped by the delivery of the 3 previous stages.
Knowledge transfer from Social Value UK to GMSVN members in 2 ways:

Through a full Network event (held in July 2022)
Through a short programme of online workshop sessions facilitated by SVUK for 18 GM Inspiring Impact 'Champions.' These champions are active across many different types of organisations in GM – all of whom have committed not only to using the learning in their own roles, but also to inspiring others to embed impact

Creation of a virtual bridge by linking up the GMSVN and NPC websites
Embedding the learning through the business of GMSVN with support from SVUK