Live training
We are now offering 2.5 hour/half-day introductory workshops for small groups (10-15 attendees). Workshops cost £1440 (£1200 + VAT) with a 50% discount for organisational members.
For more information, please contact .
Introduction to SROI webinars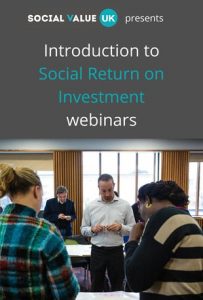 We have uploaded the edited recordings of our previous Introduction to SROI webinars to our Vimeo channel. These webinars were recorded in 2017, prior to the launch of Principle Eight.
The interactive elements have been removed for the sake of continuity, but as a set, the webinars will still provide a good overview of the material from the webinars, including the Seven Principles of Social Value, how they can be applied, and why SROI is useful for a range of organisations.
The webinars can be rented for 30 days at £33.51 each, or all three for £89.36.
Go to our Vimeo channel for more information.
The webinars cover the following topics:
Session 1 – What is SROI and why would you want to do it?
This session will cover topics including: Defining social value, measuring social impact, why we should account for social impact, what SROI is, managing activities and risk, pros and cons of SROI and social value.
Session 2 – Using the Social Value Principles
This session will cover topics including: Judgement and truth, being proportionate, the Social Value Principles in action, purpose and audience, asking is your measurement good enough?
Session 3 – An introduction to how to do an SROI analysis
This session will cover topics including: Try answering the questions SROI poses – an exploration of the process with some exercises and a worked example, applying SROI, tools and resources.