Our Introduction to SROI courses are designed for people who would like to know more about SROI and how it can help them. The Intro course can act as good preparation for the Social Value and SROI Practitioner Training, or as a standalone piece for people interested to know more about SROI.
The Intro course is delivered in three ways:
1. Live webinars
The online sessions are run as three two-hour webinars. Each session can be taken separately, however all three taken in order are a complete Introduction to SROI.
The next sets of live webinars are scheduled for:
| Dates | Bookings |
| --- | --- |
| None currently scheduled | |
The cost is £125 + VAT for the full set, or £50 + VAT per webinar. You can book online by following the links in the table to our Eventbrite page.
For more information please contact:
2. Recorded webinars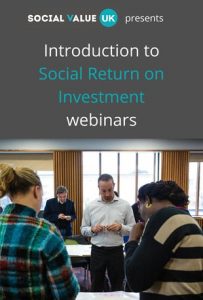 We have uploaded a collection of edited, recorded versions of the live webinars from 2017 onto our Vimeo channel.
The interactive elements have been removed for the sake of continuity, but as a set, the webinars will still provide a good overview of the material from the webinars, including the Seven Principles of Social Value, how they can be applied, and why SROI is useful for a range of organisations.
The webinars can be rented for 30 days at £33.51 each, or all three for £89.36.
Go to our Vimeo channel for more information.
3. One day course
The Introduction to SROI course can also be delivered as an in-house course, or as part of a bespoke package, by one of our trainers. For more information, please contact us at .
FAQs
Who is this course for?
Everyone. No prior experience is needed. The sessions will be delivered in English.
What is the content of the courses?
Session 1 – What is SROI and why would you want to do it?
This session will cover topics including: Defining social value, measuring social impact, why we should account for social impact, what SROI is, managing activities and risk, pros and cons of SROI and social value.
Session 2 – Using the Social Value Principles
This session will cover topics including: Judgement and truth, being proportionate, the Social Value Principles in action, purpose and audience, asking is your measurement good enough?
Session 3 – An introduction to how to do an SROI analysis
This session will cover topics including: Try answering the questions SROI poses – an exploration of the process with some exercises and a worked example, applying SROI, tools and resources.
What will I need to join in online?
If you are joining the live webinars, a good internet connection and an internet web browser are essential. We will provide the rest! You will need to use audio (both speakers or earphones and a microphone) so we would recommend a quiet environment where you can hear and concentrate without interruption, and where you will be able to speak to participate occasionally.