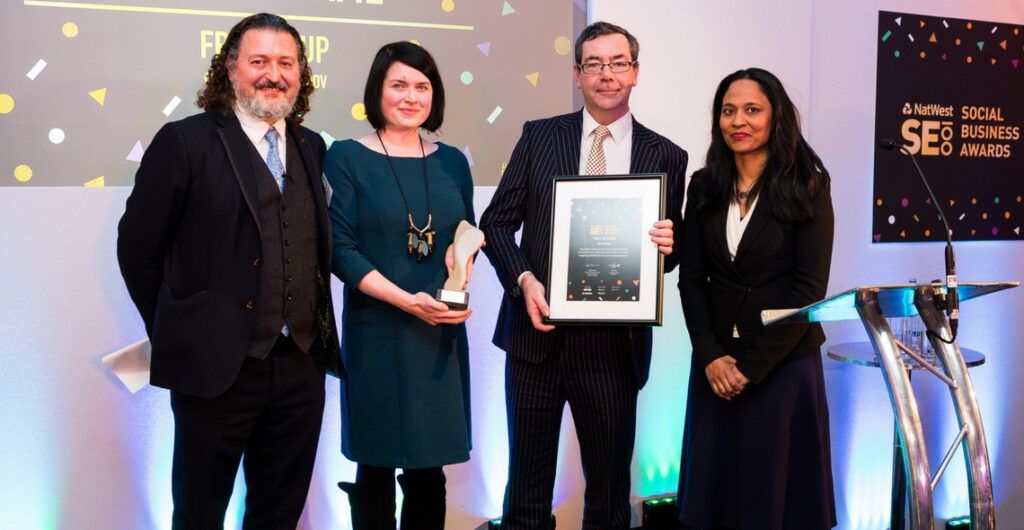 Posted 25th January 2017
A Hall of Fame for social enterprises has been created with FRC Group as its first member.
FRC Group, a social enterprise based in Liverpool, campaigns and runs businesses to help End Furniture Poverty and it has a great track record of success at the NatWest SE100 Awards. The awards celebrate the best achievements of social enterprises across the country and this year FRC Group was inducted into Hall of Fame, a new award created to recognise social enterprises that have consistently performed at the highest level.
Tim West, founder and principal of Matter & Co who created the awards with NatWest, presented FRC Group with its Hall of Fame award. He told the audience that FRC Group has led from the front on all aspects of measuring and demonstrating its impact, and using social impact measurement to become a better organisation.
Tim explained:"There was no shortlist for this award. I can tell you that the winner has been a finalist in the Impact Champion category of the NatWest SE100 Awards ever since the awards began. It was the winner in the first year of the awards and also won the Resilience Award last year.  
 "Every year this organisation's performance has been so impressive that it has been a challenge for the judges not to award it a winner's trophy each time. So this year we are very pleased to induct this organisation as our first member of the NatWest SE100 Hall of Fame."
FRC Group runs businesses that create profit and opportunities to change the lives of people living in poverty and unemployment. These include Bulky Bob's, collecting bulky household waste for local authorities including Liverpool City Council, reusing and recycling 70% of everything collected. They also sell new furniture to social landlords across the country through Furniture Resource Centre and Buckingham Interiors.  FRC Group aims to reduce and eradicate furniture poverty through its End Furniture Poverty campaign and also creates sustainable employment and better futures for people.
Shaun Doran, FRC Group's CEO, said: "We were surprised and delighted to win this award and become the inaugural members of the SE100 Hall of Fame and we are really honoured by this award which is recognition for the whole team at FRC Group and is a great boost to our campaign to End Furniture Poverty."
The NatWest SE100 Awards recognises social enterprises who have demonstrated some of the best business practice within the sector and celebrates the growth, impact, ambition and resilience of social enterprises in the UK. They were chosen from almost 1,500 social ventures on the NatWest SE100 Index – which tracks the progress and impact of social enterprises across the UK.
Rob Wilson, MP and Minister for Civil Society, supporting the awards commented: "Social Enterprises across the country are making a positive impact on our society, and it's great that these awards have recognised the leaders in this sector across the UK. Congratulations to everyone involved. I hope their achievements will inspire others to help our communities and improve lives."
The awards were hosted at the NatWest/RBS conference centre in London by Simon Jacobs, Chief Administrative Officer Commercial & Private Banking at RBS, and Chair of NatWest Social & Community Capital.  Julie Baker, Head of Enterprise at NatWest RBS, praised the winners for their "determination not just to make money but to make a difference."
She told them: "We value what you do, both for the economy and for our communities. We want you to shout loud about your achievements because we want to demonstrate that social businesses are also good businesses. That's the whole philosophy behind the NatWest SE100."