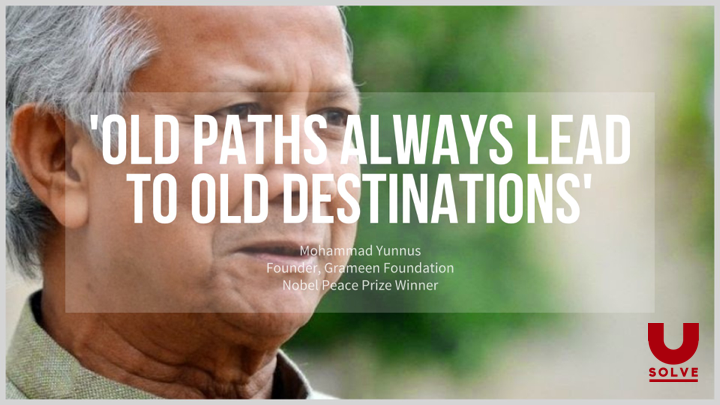 Posted 4th December 2018
This is a guest blog post penned by Margaret Rose-Goddard Founder & CIO, U-Solve SELE
In 2015, 193 countries agreed to dedicate themselves to the realization of the UN 2030 Global Goals Agenda. This momentous, global consensus was cause for renewed hope for a better world. Now, just three (3) years later, optimism is giving way to pessimism and scepticism. A new SDG-calibrated Social Progress Index report suggests that on current trends, we will not as a globe hit those 2030 targets until 2094.
Perhaps we underestimated the global challenges. Climate change is worse than we previously thought, especially if we continue our current rates of consumption and environmental degradation (see 2018 IPCC Report). The threat caused by rising public anger, increased extremism and nationalism, were underestimated at first but they were finally identified as imminent contributors to institutional collapse, instability and injustice in the World Economic Forum 2017 Global Risks Report.
Or maybe we overestimated the ability of the problem-solvers. There is still a projected 2.5 trillion US dollar financing shortfall for Agenda 2030. Despite being resource-rich, the poorer countries are disastrously behind on almost every SDG indicator, particularly on indicators of transparency, human rights and inclusion.
So should we throw in the towel and admit defeat? At U-Solve, we say, not just yet.
We believe the 2030 Global Goals Agenda is still the best roadmap to a future that is more prosperous, peaceful and just for all. We also recognize that for the most part,  public, private and purpose sector actors have demonstrated a collective will to do more. National sustainable public procurement policies are rapidly proliferating and proactive public sector procurement budget holders have begun implementing circular procurement "cradle to cradle" principles and tracking sustainability across multi-national supply chains (See 2017 UN Environment Report).  For the private sector, ISO14000 and ISO 26000 set new international corporate guidelines for embedding environmental and social responsibility standards respectively in operations, processes and stakeholder activities.  Impact investment and development spending is also on the rise and investor proclivity to measure and pursue social return on capital is at an unprecedented high (see 2018 Bond Report).
So what is impeding our collective progress? U-Solve has diagnosed three meta-areas contributing to ineffectiveness and lethargic progress on the Goals. They are:
Top-down bureaucracy: global and national government systems are simply not producing solutions fast enough to match or outpace planetary and population degradation. Bureaucratic and political interests already make national systems intractable and exclusive and rising xenophobia and populist nationalist agendas will only exacerbate this.
Measurement complexities: How can you hit the target if you do not know where to aim and how concentrated your force (resources) should be? The lack of robust, quality data and rigorous SDG measurement and evaluation systems compromises the ability of investors, corporations and civil society working together with governments to achieve the targets. The aforementioned hindrances of top-down bureaucracy rears its head again because conceptually the indicators are state-centric, which stymies the ability of non-government actors and stakeholders to articulate and position their impact alongside the express targets and indicators. Despite the promise of emergent Big Data initiatives like Global Pulse, and geospatial information sources, there is a lack of capability for robust data collection, analysis and measurement for the SDGs, cross-rationalization of current data collection efforts and innovation to fill SDG-data-gaps to drive and coordinate macro, meso and micro SDG-action. Finally, some of the indicators themselves lack internal cohesion and are criticised for being unmeasurable having been whittled down to accommodate the global consensus.
Fledgeling innovation ecosystems: social enterprises, start-ups, community groups and other third sector organisations which are identifying gaps, and designing and pioneering sustainable solutions, are experiencing fragility as they spring up in silos are underfunded and are subject to political volatility.
At its core, this is a problem of governance and process innovation. If we are to meet Agenda 2030 we need to quickly re-shape the current structure for exponential progress with these multiplication-acceleration-boosting values:
Inclusion: should provide for formal, credible and transparent avenues for citizen voice and participation in SDG national priority-setting and progress
Innovation: should allow for system agility to stimulate, support and strengthen bottom-up innovation for SDG progress
Intelligence: should ensure real-time, decentralized citizen access to data and data-driven decision-making on SDG targets and indicators
Investment: should be built on rigorous impact measurement to allow for effective alignment and monitoring of impact investments and partnerships.
To that end, we put SDG 17 under a microscope as it articulates a critical need for collective mechanisms to support multi-stakeholder partnerships for SDG progress. We explored every tier of this indicator and we remain unconvinced that standing alone it can be effective.  There is little guidance on how we create these types of partnerships inclusively and in a way which promotes system agility to discover, nurture and scale innovations. More challenging is the lack of a common language for multiple state and non-state actors to work together since there are as yet no standardized SDG impact measurement methods or rigorous SDG implementation frameworks which can guide operational strategy in both public and private sector organisations.
Our philosophy at U-Solve is, when you see a gap or a problem, the onus is on you to become part of the solution. So we began creating a new governance model for SDG progress informed by the accelerating values of Inclusion, Innovation, Intelligence and Investment and which could be initiated from the bottom-up. It's called the Global Goals 4P Contracting Model.
This new SDG-calibrated standardized impact measurement tool and contracting mechanism enable Public Private Purpose Partnership (the 4Ps) which can be initiated by the public or private sector and is designed, structured and negotiated transparently within an accountable framework. It is ambitiously nimble in its application and is designed to produce micro-SDG innovation eco-systems enabling:
any individual with the knowledge, expertise and the boldness to take action, to initiate, design, negotiate and lead public and private stakeholders to solve global challenges locally
philanthropists, corporations and high net worth individuals to align their donations and CSR budgets to national SDG priorities, support and collaborate on community-based innovations and to receive measurable
Social Return On Investment (SROI) and
public sector buyers with an alternative way of procuring social value based on a little to no-risk contracting model to access and co-produce social value and social impact
If SDG 17 is the vehicle, we've hopefully developed the high-octane fuel. We have engaged new partners Social Value UK and Social Progress Imperative to help develop and test-run our 4P Model. It will be piloted with a select group of thirty (30) entrepreneurs working on SDG projects from across the globe at the upcoming Global Challenges Retreat and over the subsequent twelve (12) months. The Global Goals 4P White Paper will be published for public comment, feedback and to engage partners on December 8th, 2018 at the retreat at Said Business School, Oxford University, Egrove Park, Oxford UK. We cannot wait to share our subsequent insights and improvements to our processes with our fellow Social Value UK members.
We are aware that what we are attempting to do is wildly ambitious but then again, so is the kind of radical global transformation called for by Agenda 2030. Any ethical means to accelerate the engine of change must be explored and the 4P model is the closest we've come. To learn more visit www.GlobalChallengesRetreat.org