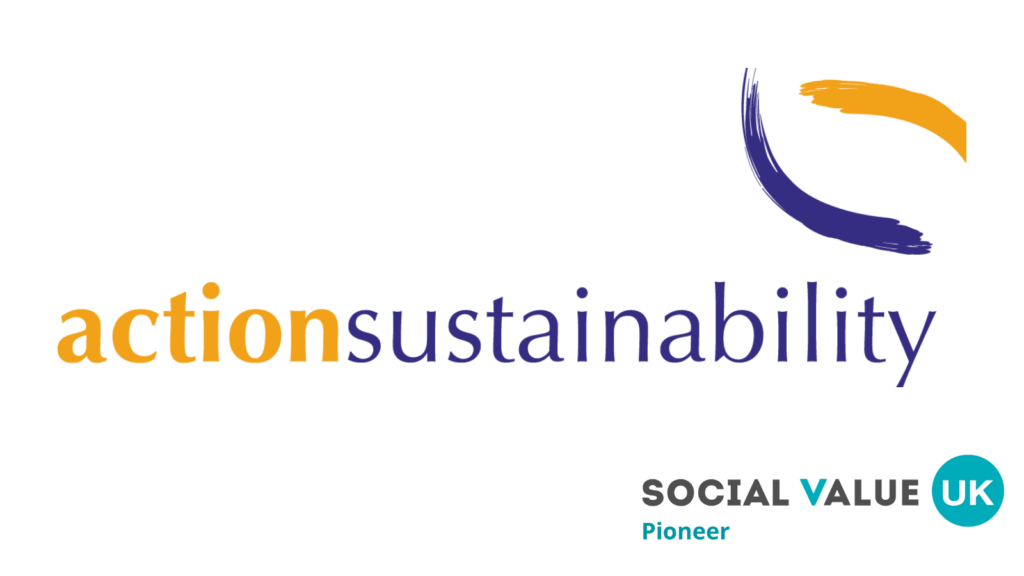 Posted 22nd February 2022
Social Value UK is proud to announce Action Sustainability as a Social Value Pioneer! Ahead of their joining, Social Value UK spoke to them about their social value journey so far.
"Action Sustainability are recognised leaders in sustainability, social value and sustainable procurement and provide advisory services and tools for all aspects of social, environmental and economic sustainability. Our team has delivered positive sustainability outcomes for more than 25 years with a wealth of experience that adds value to our clients' businesses.
Action Sustainability are also the delivery team behind the multi-award-winning Supply Chain Sustainability School – a collaboration between clients, contractors and suppliers from the UK built environment industry. Action Sustainability developed the concept of the School and now delivers this supply chain development programme to over 15,000 registered businesses."
Why do you think social value is important? In your organisation, your industry or in wider society?
Social Value is an imperative aspect of what we do in the Supply Chain. It is important to think about the communities where we exist and the impact our work can make on their lives. There are multiple drivers to work in Social Value in our Supply Chains, from identifying the most important issues in our local areas, to integrating social responsibility in processes and delivering impact to empower our local communities and people.
Does your organisation have a background in social value/social accounting/SROI?
Action Sustainability has experience of 15+ years in advising and consulting clients on Social Value in a variety of sectors by supporting them in understanding their local communities and implementing Social Value strategies and frameworks. Within our Supply Chain Sustainability School, we have developed knowledge resources and a Social Value Group with a vision to support our partners, members and the wider built environment sector to drive Social Value with our overall aim of delivering a sustainable future for the built environment.
What are your plans for your SVUK membership?
Collaboration is the key to achieving Social Value in everything that we do. Action Sustainability is excited to become a member of Social Value UK and we plan to learn and share our experience with the SVUK. We look forward to partnering with you to create more awareness and learn from fellow members of SVUK
"Action Sustainability are thrilled to be part of the Social Value UK network! Collaboration is the key to achieving Social Value in everything that we do and so we look forward to working with likeminded individuals to learn, share and drive awareness of the importance of Social Value amongst our sectors and communities." Vaishali Baid, Senior Consultant at Action Sustainability
For more information please reach out to Vaishali Baid (Senior Consultant at Action Sustainability) via [email protected]
Posted 22nd February 2022