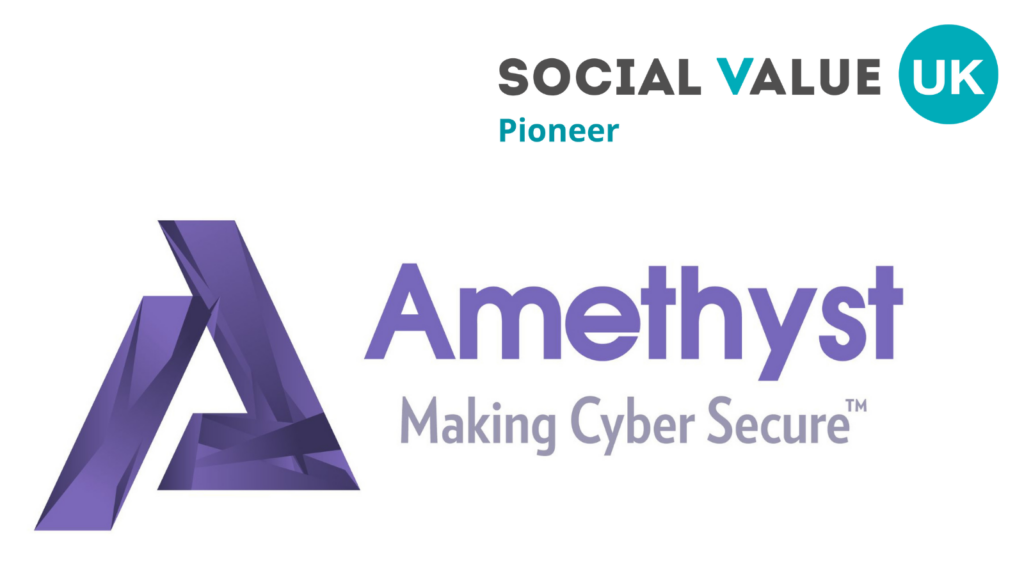 Posted 12th January 2022
Social Value UK is proud to announce Amethyst Risk Management as a Social Value Pioneer! Ahead of their joining, Social Value UK spoke to them about their social value journey so far.
"Amethyst Risk Management is a leading cyber security company, with a proven 100% customer satisfaction track record.
Our expertise and comprehensive range of cyber security and risk management services help customers identify and understand risk, manage it cost effectively, ensure compliance with legal and regulatory requirements, and most importantly protect their business.
Our Cyber Security Professionals are recruited from a wide range of sectors and backgrounds including The Armed Services. We aim to demystify cyber security – using business language that everyone can understand.
We take the time to understand our customers' businesses, effectively delivering their requirements so they can focus on their goals and objectives."
Why do you think social value is important? In your organisation, your industry or in wider society?
The wellbeing of people – staff and customers – is paramount. Amethyst is committed to creating a sustainable, inclusive company to optimise efficiencies in the delivery and procurement of our services; delivering maximum value for money with social value and equal opportunities at the forefront of everything we do.
Does your organisation have a background in social value/social accounting/SROI?
Amethyst haven't had any specific social value projects as yet; however we aim to provide social value with every project we work on.
What are your plans for your SVUK membership?
We hope to learn from others and from the opportunities our membership will give us.
"Amethyst believes strongly in providing meaningful work and employee engagement. Embedding social value has an important role to play in strengthening that philosophy. Amethyst is excited to be a pioneer of Social Value UK. We look forward to learning and expanding our social value footprint."


Amethyst Risk Management

For more information on Amethyst Risk Management, head to their website here or contact Georgina Amron-Coetzee at [email protected]
Posted 12th January 2022