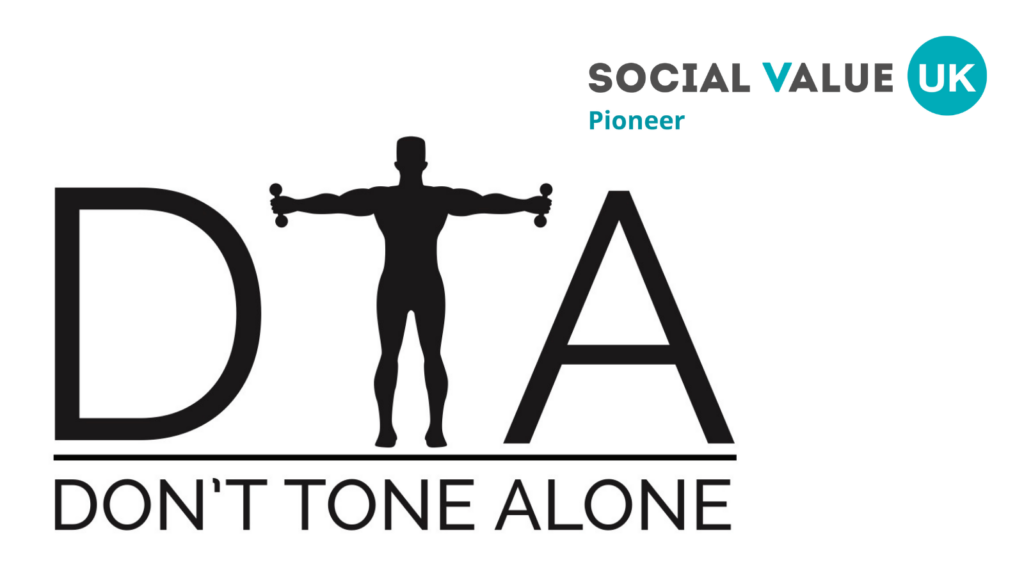 Posted 2nd November 2021
Social Value UK is proud to announce Don't Tone Alone CIC as a Social Value Pioneer! Ahead of their joining, we spoke with them about their social value journey so far.
Don't Tone Alone CIC (DTA) is a social enterprise focused on improving the health & wellbeing of organisations & their communities, by delivering professional training & consultancy.
DTA's core services include accredited wellbeing training courses, reflective learning sessions in the form of interactive workshops & webinars, patented habit-forming programmes, specialist exercise services, and the creation & delivery of bespoke surveys & projects to address specific population needs.
As a social enterprise, DTA commits 65% of their profits to improving the access of marginalised population groups to health & fitness opportunities. DTA has a team of specialist health trainers and operates across all sectors to achieve sustainable & significant returns on investment.
"Our aim is to reduce health inequalities that are so prevalent among marginalised communities which include unpaid carers and those with poor mental & physical health, and improve the health & wellbeing of communities across the UK."
Why do you think social value is important? In your organisation, your industry or in wider society?
DTA's constitution, aims & objectives mean that as an organisation, we are an effective vehicle to deliver social value. With growing health inequalities, increasing prevalence non-communicable diseases, and turbulent economic changes, the need for businesses to do and be more, is essential to alleviate an unsustainable pressures on public services.
Social Value models are increasingly becoming more relevant in public service procurement and with its themes being extrapolated the UN's Sustainable Development Goals (SDGs), this has enormous global importance as less than 5% of countries are on-track to meet their targets for 2030.
Does your organisation have a background in social value/social accounting/SROI?
In short there has been nothing formal, hence why enrolling in courses and training with Social Value UK is so important. DTA religiously collects and creates impact reports that capture programme outcomes and have just brought in a specially designed CRM system to enhance this process even further. However, we would like to put a financial number next to the outcomes we create and make these systems even more robust to demonstrate social value.
What are your plans for your SVUK membership?
Primarily training, networking, and membership. Our managing director is already signed on to the certified SROI course and will then look to progressing through the professionally certified levels. We would also like to connect to other businesses who are looking to invest & work with social enterprises like ours around Health & Wellbeing or have gaps in Theme 5 of Social Value Models of procurement.
"Don't Tone Alone CIC (DTA) is very enthusiastic to join a network of socially conscious businesses committed to take action in making the world a healthier & happier place. It aligns with our business's mission & values and seen a close working relation develop with many like-minded organisations as well as SVUK over the years to come.."

Don't Tone Alone CIC
For more information on Don't Tone Alone CIC, head to their website here or get in touch via:
General information: [email protected]
Partnerships & Business Opportunities: [email protected]
Marketing & Communications: [email protected]
Finance: [email protected]