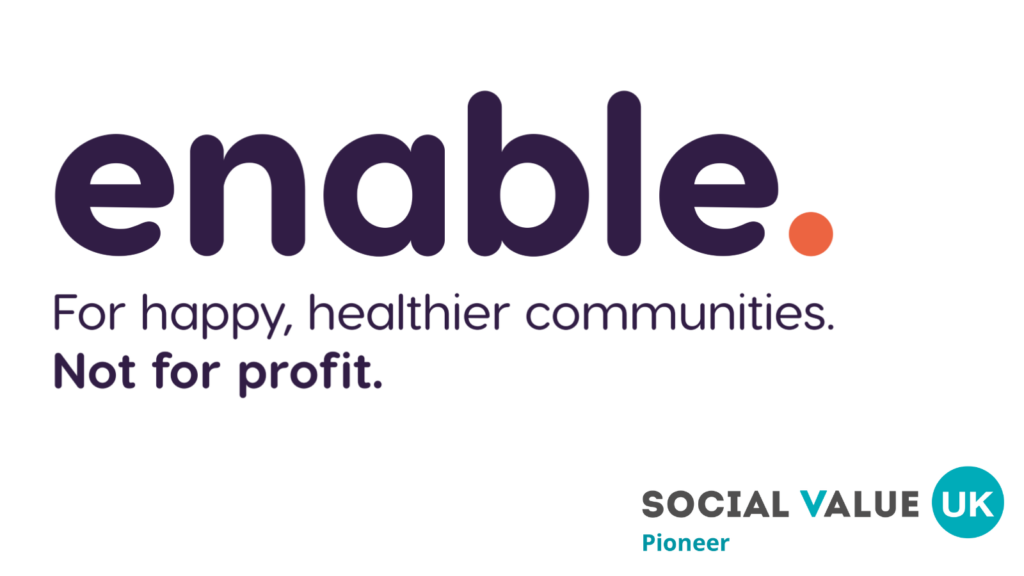 Posted 18th February 2022
Social Value UK is proud to announce Enable as a Social Value Pioneer! Ahead of their joining, Social Value UK spoke to them about their social value journey so far.
"Enable is a not-for-profit organisation, working in partnership with councils, charities and other organisations to deliver health, leisure and community services and events that enrich people's lives.
We use our experience and specialist expertise to deliver these services to improve the wellbeing of individuals and the community as a whole. This includes everything from managing local parks to staging public and private events, from running sports and community facilities to organising local health programmes.
Our approach is inclusive and collaborative – we involve partners and people in the community to help us identify needs and respond to them. We go further, reinvesting any profit from our activities to make an even bigger difference, strengthening the communities we work with."
Why do you think social value is important? In your organisation, your industry or in wider society?
Public services should always be run with social value at their core, and the social value that Enable creates is essential to the way we operate. We believe that the leisure, cultural and health services that we and other similar organisations operate have a profound impact on people's daily lives, whether that be managing parks and green space which lower resident's stress levels and improve wellbeing or delivering local events that support a greater sense of local pride or guardianship.
What are your plans for your SVUK membership?
Enable are very excited to be a member of Social Value UK and we plan to fully utilise the benefits of our membership. We will work with relevant staff to incorporate training into their development, including the SROI training. We will also look to the management certificate to improve our social value practice and by aligning to the international standard, gain an advantage over competitors.
Enable will use the management certificate to align our internal processes to ensure that social value management is to a high standard across the organisation and is implemented for the long term.
"Enable are thrilled to be a part of the Social Value UK network and look forward to accessing the many benefits available to further support our clients with their goals. As a not-for-profit who reinvests in our communities to increase tangible impact, we use innovative programmes that improve not only individual wellbeing but that of the whole community, demonstrating improvements to residents' experience of our services. We believe that our activities play an important part in people's lives and get excited to meet individuals and partners who share our vision of 'communities where people thrive and grow together"


Ian Mitchell, CEO
For more information please reach out to Jake Tullett (Partnerships Development Manager) via [email protected]
Posted 17th February 2022