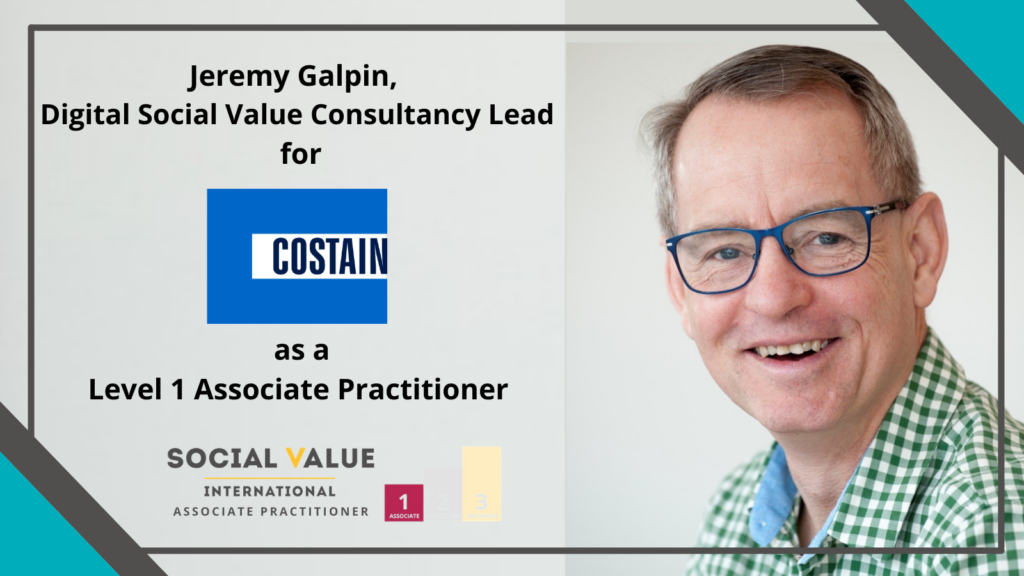 Posted 13th April 2021
Social Value UK are proud to announce Jeremy Galpin of Costain has achieved Level One Associate Practitioner status.
Costain helps to improve lives with smart infrastructure solutions across the UK's energy, water, transportation and defence sectors.
Ahead of this announcement, we had a discussion about our Practitioner Pathway and Jeremy's experience with the assessment process:
Why have you decided to undertake the Social Value International Practitioner Pathway? What has led to your application for Level 1 of Practitioner?
I wanted to build on my 30 years of professional expertise and my MSc with Distinction, in Business Innovation and International Technology Management, to improve my capability and expertise in best practice Social Return On Investment (SROI) methodology and Impact management best practice, and the Practioners course provided an excellent route to do that
What did you learn and find useful from this assessment process?
The interactive and action focused training was excellent, allowing me to apply the theory to my own practice, as the training progressed. This combined with the exam, enabled and encouraged me to embed the best practice material into my muscle memory, which has changed my language and enabled me to reflect the SVUK best practice in my delivery of social value consultancy.
Is there anything that you believe you will gain or find useful in the next steps you will take for working towards becoming an Associate Practitioner?
I am looking forward to developing my capability around Social Return On Investment (SROI) best practice and impact management and I am sure the feedback provided as part of the pathway to level 3 will be of real value to me in embedding SVUK best practice and Innovation into my approach.
Are there any other specific projects you are doing at the moment that are related to SROI/social value?
In my role of leading digital social value consultancy for Costain I am working with a range of customers, in the infrastructure sector, to enable them to maximise social value in the delivery and operation of their assets with the use of technology. Costain have recently published two of my articles on Linked In and you can find them here
I am also delivering training in using digital to maximise social value in the infrastructure sector as part of that I am signposting SVUK accredited training. And finally I am also a member of SVI Academic research group.
You have now joined a community of practice around the globe. What does this mean to you and why do you want to participate and contribute to the development of the methodology and overall social value movement?
I share the belief of Social Value International, of a world where a broader definition of value will change decision making and ultimately decrease inequality and environmental degradation. The pandemic and the global warming crisis have accelerated the need for urgent action, and for this action to be taken globally and collaboratively, and SVI provides me with the opportunity to be part of this journey
"I am delighted to be leading my team's development, by securing Associate Practioner Status with Social Value International. We are playing our part in helping our customers change the way the world accounts for value."


Jeremy Galpin – Costain Digital Social Value Consultancy Lead
The purpose of Costain is to improve people's lives by deploying integrated smart solutions to meet urgent infrastructure needs across the UK's energy, water, transportation, and defence markets. We are delighted to be Pioneer members of Social Value UK www.costain.com
For more information, please contact:
Jeremy Galpin, Digital Social Value Lead Consultant at [email protected]

Interested in becoming an Associate Practitioner? Find out more here.