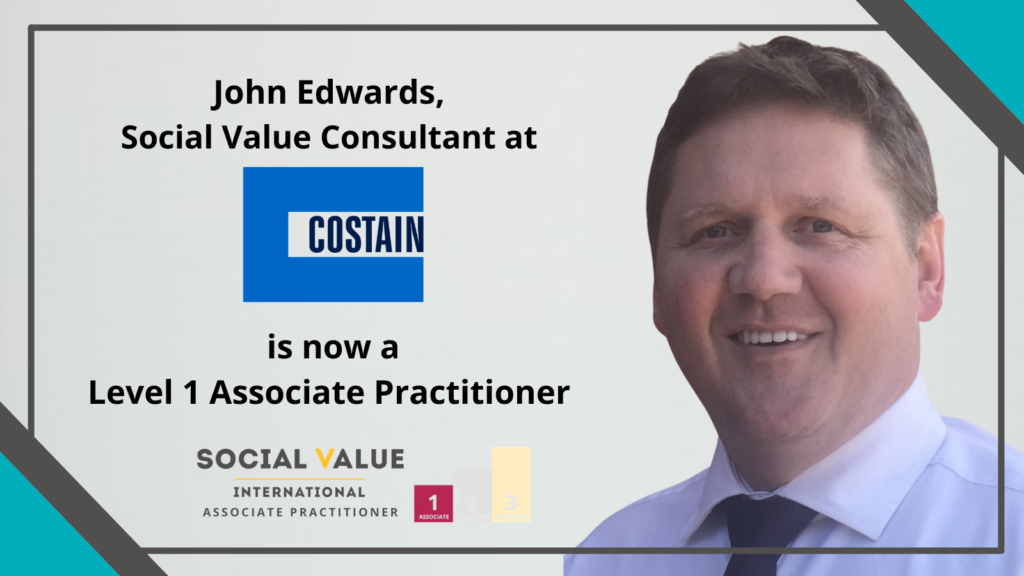 Posted 9th June 2021
Social Value UK are proud to announce John Edwards, Social Value Consultant at Costain, has achieved Level One Associate Practitioner status.
The purpose of Costain is to improve people's lives by deploying integrated smart solutions to meet urgent infrastructure needs across the UK's energy, water, transportation, and defence markets.
Ahead of this announcement, we had a discussion about our Practitioner Pathway and John's experience with the assessment process:
Why have you decided to undertake the Social Value International Practitioner Pathway? What has led to your application for Level 1 of Practitioner?
I wanted to build on the conclusions reached in my MA Social Policy with Distinction that identified an underlying need for business, local government, charities and communities to work more cooperatively for the benefit of all. The principles that underpin the work of Social Value UK (and International) line up perfectly with this, and I am proud to now work as a social value practitioner for Costain.
What did you learn and find useful from this assessment process?
The interactive and action focused training from Tim was exceptional and allowed me to apply the theories learned through my MA into my work at Costain. This, combined with the exam, encouraged me to embed best practice into my muscle memory and thus keep stakeholders at the heart of all my business decisions.
Is there anything that you believe you will gain or find useful in the next steps you will take for working towards becoming an Associate Practitioner?
I am enjoying using the value map as an effective tool for identifying positive (and negative) outcomes from our social value / impact activities, and then working out how we can increase the SROI through better social investment. I am sure the feedback provided on the pathway to Level 3 with be of real value to me as part of the maintenance of best practice in my approach to innovation and social value.
Are there any other specific projects you are doing at the moment that are related to SROI/social value?
I am currently preparing a community needs assessment across 10 sites in London and the Northwest, being careful to identify stakeholder groups within each community and engage with them to discover their needs and aspirations. From this we hope to embed each site at the heart of their communities, and maximised social value delivered.
I am also part of the team delivering social value training to clients, partners and suppliers to ensure that we maximise each and every opportunity to 'do more good'.
You have now joined a community of practice around the globe. What does this mean to you and why do you want to participate and contribute to the development of the methodology and overall social value movement?
I share the belief of Social Value International and thought leaders such as Adam Richards, Jeremy Nicholls, and Hilary Cottam that we can use social value to decrease inequality in the UK and around the world, to maximise our impact on environmental issues, and to act collectively in ways that will benefit us all. This represents a real opportunity to make a positive difference to stakeholders in local, national, and international environments.
"I am thrilled to be part of a collaborative social value movement, the echoes of which will leave a legacy we can all be proud of."

John Edwards – Social Value Consultant at Costain
For more information, please contact:
John Edwards at [email protected]

Interested in becoming an Associate Practitioner? Find out more here.