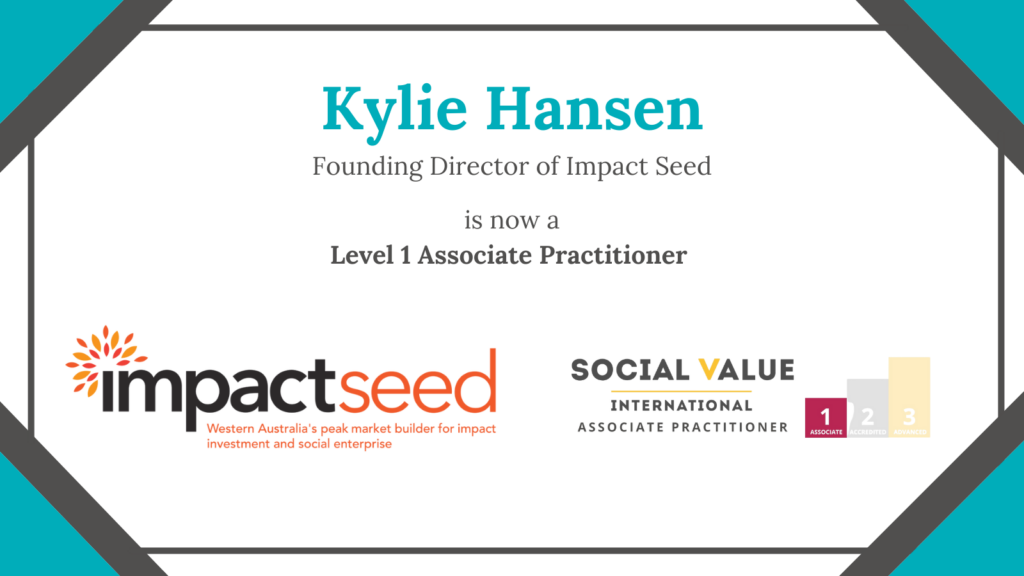 Posted 28th July 2021
Social Value UK are proud to announce Kylie Hansen, Founding Director of Impact Seed, has achieved Level One Associate Practitioner status.
Impact Seed is a proud B-Corp. Based in Perth, they are Western Australia's peak market builder for impact investment, impact measurement & social enterprise. Since 2015 they have supported impact businesses, government, not-for-profits, foundations and corporates in building, articulating and investing in purpose driven businesses and impact projects, bridging investment and philanthropy.
Ahead of this announcement, we had a discussion about our Practitioner Pathway and Kylie's experience with the assessment process:
Why have you decided to undertake the Social Value International Practitioner Pathway? What has led to your application for Level 1 of Practitioner?
Undertaking quite a lot of impact measurement work, it became important to me to ensure that I was connected with a) best practice to ensure consistency and transparency in our own practice and b) a network of practitioners continuing to work on and contribute to impact measurement and management.
What did you learn and find useful from this assessment process?
I found the materials provided really useful not only for the assessment process but for my own practice – some of it reinforced what I already knew, but some of it framed concepts differently to how I think about them, which I think really helps to develop your practice
Now that you are a Level 1 Associate Practitioner what do you plan to do next to develop your practice? How do you plan to use your practitioner skills?
I would like to continue along the practitioner pathway, and find additional opportunities to contribute to the growth of the impact measurement and management practice either nationally here in Australia or globally.
Are there any other specific projects you are doing at the moment that are related to SROI/social value?
My work largely consists of development of Impact Management Strategies for organisations – corporate and institutional investors, social enterprises, not-for-profit organisations.
I am currently working on the impact measurement and management strategy for the WA Impact Fund – a one-of-a-kind, place-based fund focussed on investments in Western Australia. We are grappling with what it means to be a place-based fund, what 'level' of place, and what this means for the impact which are all interesting questions.
You have now joined a community of practice around the globe. What does this mean to you and why do you want to participate and contribute to the development of the methodology and overall social value movement?
Practice needs practitioners to continue to 'hold it to account', and to further the practice. That's what it means to be to have joined a community of practice – its important that we keep engaging with one another to continue to advance the social value movement, and to make sure we're doing it with integrity, and challenging one another in a positive way in the work that we're doing.
"I'm delighted to have started my Associate Practitioner journey with SVI, and look forward to continuing to do so, and working with a community of practitioners to change the way the world accounts for value."

Kylie Hansen, Founding Director of Impact Seed
Interested in becoming an Associate Practitioner? Find out more here.