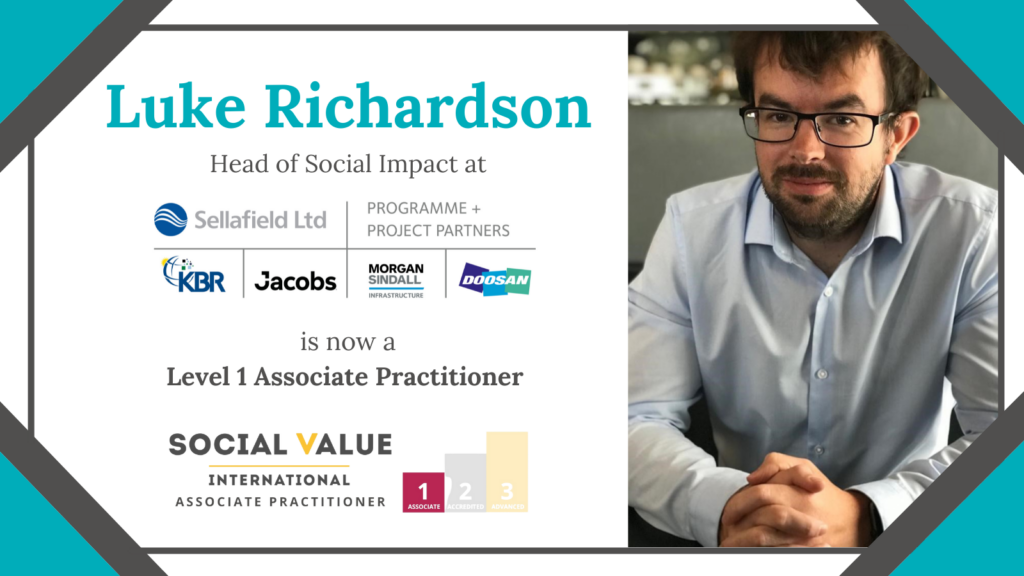 Posted 6th August 2021
Social Value UK are proud to announce Luke Richardson, Head of Social Impact for Programme and Project Partners (PPP) at Sellafield, has achieved Level One Associate Practitioner status.
The Programme and Project Partners (PPP) model is changing the way we deliver projects at Sellafield and creating a lasting legacy through long-term partnerships.
The Sellafield nuclear site is home to one of the most complex portfolios of construction and infrastructure projects in the world, stretching over many decades.
The new approach will support the transformation from nuclear operator into a world leader in environmental remediation.
The partnership is made up of four lots and Sellafield Ltd, as 5th Partner, to help deliver the site's decommissioning programme:
Kellogg Brown and Root Ltd (KBR) – integration partner
Jacobs – design and engineering partner
Morgan Sindall Infrastructure – civils construction management partner
Doosan Babcock Ltd – process construction management partner
Sellafield Ltd will work collaboratively with the four lot partners, to deliver major projects in support of the site's 100-year decommissioning programme. The new approach is set up to support faster, more effective project delivery, stability in design and construction supply chains, greater workforce flexibility, and local economic benefit.
Ahead of this announcement, we had a discussion about our Practitioner Pathway and Luke's experience with the assessment process:
Why have you decided to undertake the Social Value International Practitioner Pathway? What has led to your application for Level 1 of Practitioner?
I have been working as a social impact manager for now 5 years and more broadly in this space for 5 years before that. Over the last couple of years, I have undertaken a MSc, completed the Social Value and SROI Practitioner training. Becoming part of the SVI practitioner community was the obvious next step.
What did you learn and find useful from this assessment process?
Social Impact is part of my day-to-day work, but the process reminds you of the 'why' and 'how' we are applying the SVI principles. Consolidating your knowledge is as important as learning something new.
Now that you are a Level 1 Associate Practitioner what do you plan to do next to develop your practice? How do you plan to use your practitioner skills?
I believe the whole process of becoming an Associate Practitioner helps to gain confidence in applying the principles, analysing, and using data. The next step for me will be level 2 whilst seeking out opportunities to mentor others in their social value journey.
In terms of the skills, I will continue to apply the principles in my day-to-day work.
Are there any other specific projects you are doing at the moment that are related to SROI/social value?
I am very lucky to be the Head of Social Impact for the Programme and Project Partners (PPP) at Sellafield. PPP is the Programme and Project Partners (PPP) and was formed in 2019 – bringing in KBR, Doosan Babcock, Jacobs and Morgan Sindall Infrastructure – to transform major project delivery at Sellafield.Within PPP we have a series of social impact projects which we are launching over the next year.
Prior to my time with PPP, I led the social impact programme for OneAIM (joint venture between Jacobs and Mitie). One of the initiatives within the programme was the Primary Business Partnership; an initiative for which we conducted an SROI (SROI by MB Associates).
You have now joined a community of practice around the globe. What does this mean to you and why do you want to participate and contribute to the development of the methodology and overall social value movement?
The importance of social value is growing, and I see its integration becoming normal business which is fantastic. The power of the community of practise is like minded people openly sharing their learning; showcasing what works and sharing learning of what does not. I genuinely look forward to contributing to the conversation and sharing my learning whilst learning from others, a true definition of a community.
"I am absolutely delighted to have become a Level 1 Associate Practitioner with Social Value International. It is good to have a professional career development pathway but more so, it's fantastic to join a community of practitioners. Together we can change the way the world accounts for value."

Luke Richardson, Head of Social Impact for Programme and Project Partners
(PPP) at Sellafield
For more information from Luke, reach out via [email protected]
Interested in becoming an Associate Practitioner? Find out more here.