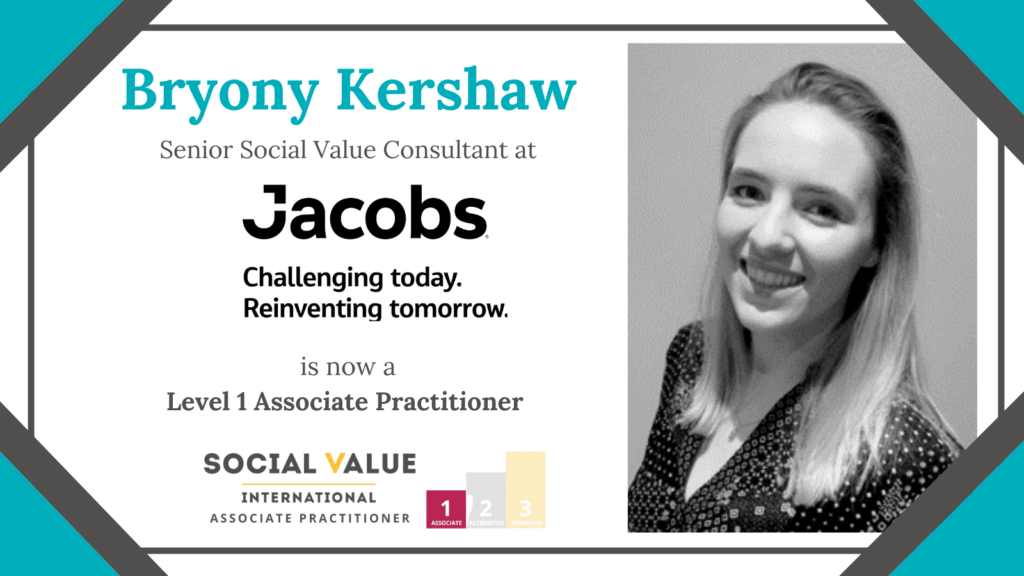 Posted 25th January 2022
Social Value UK are proud to announce Bryony Kershaw, Senior Social Value Consultant at Jacobs has achieved Level One Associate Practitioner status.
"At Jacobs, we make the world smarter, more connected, and more sustainable. We deliver impactful global solutions to create a more connected, sustainable world — from intelligence to infrastructure, cybersecurity to space exploration. Our 52,000 employees across 50 countries work every day, challenging the expectations of today to reinvent the way we'll all live tomorrow."
Ahead of this announcement, we had a discussion about our Practitioner Pathway and Bryony's experience with the Level One assessment process:
Why have you decided to undertake the Social Value International Practitioner Pathway?
I have a passion for social value, sustainability, and innovation. Through this pathway I will be able to demonstrate my understanding of the core principles of social value and apply my understanding of social value theory in practice to help my clients achieve better social outcomes and maximise the value they create.
What did you learn and find useful from this assessment process?
I learnt how to apply the core principles of social value to assessments and reports and techniques to improve the quality and credibility of my work. I learnt how to create well defined outcomes by speaking directly with stakeholders and understanding the real lived experiences of those who are impacted by the project or intervention.
Now that you are a Level 1 Associate Practitioner what do you plan to do next to develop your practice? How do you plan to use your practitioner skills?
Having achieved my Level 1 Practitioner status, I hope to make the most out the global network of practitioners, sharing ideas and staying up to date with the latest methodological approaches and developments. In my day to day work I will continue to embed the core principles of social value into project assessments and analysis, solidifying my understanding.
Are there any specific projects or activities you are doing at the moment that are related to SROI/social value?
As a consultant, I work across a wide range of social value, socio-economic and inclusive growth projects for a range of infrastructure clients including HS2, Transport for Greater Manchester, Network Rail and Highways England. I support clients develop social value frameworks, undertake social impact assessments and embed the core principles of social value into their day-to-day operations
You have now joined a community of practice around the globe. What does this mean to you and why do you want to participate and contribute to the development of the methodology and overall social value movement?
I am excited to join the Social Value International Network to exchange ideas, understand and appreciate new perspectives and share best practice with a global community. Through this network I hope to grow as a practitioner and stay up to date with the latest industry developments to help my own personal development and also to help my clients achieve the best possible outcomes.
"I have a passion for social value, sustainability, and innovation. As a Level 1 Associate Practitioner I am able to demonstrate this passion to clients and ensure that the projects I work on make a positive impact and leave a legacy for the communities they impact on. Through access to this global network, I hope to be able to exchange ideas, stay up to date with the latest methodologies, learn from others and ultimately continue to develop as a practitioner."


Bryony Kershaw, Senior Social Value Consultant at Jacobs
For more information get in touch with Bryony via [email protected]
Posted 24th January 2021