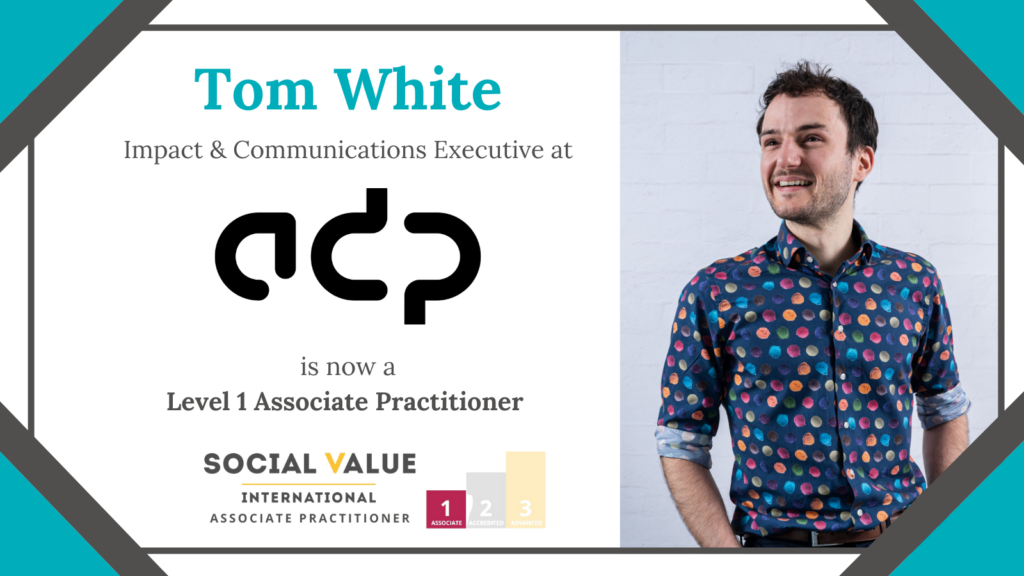 Posted 16th February 2022
Social Value UK are proud to announce Tom White, Impact and Communications Executive at ADP, has achieved Level One Associate Practitioner status.
"ADP is an employee-owned architecture practice, founded more than 50 years ago. The practice has wide experience across a number of key sectors including healthcare, education, hospitality, workplace and residential.
Our buildings are designed to create positive experiences for people and communities, and to benefit the environments they sit within. We use a bespoke Sustainability, Belonging and Engagement assessment tool to measure and improve the social and environmental impact our projects have.
As an international practice, we work from eight different locations across the UK, Cyprus and India, but as one team with a wide range of expertise to suit any project."
Ahead of this announcement, we had a discussion about our Practitioner Pathway and Tom's experience with the Level One assessment process:
Why have you decided to undertake the Social Value International Practitioner Pathway?
I decided to undertake the SVI Practitioner Pathway to support my new role as impact and communications executive at ADP, and to improve my skills and recognition in measuring and managing social value on our architectural projects. SROI can provide a framework for improving the way we assess our buildings after completion, helping us to improve the lives of the millions of people who live, work, learn and relax in them.
What did you learn and find useful from this assessment process?
Training and revising for the exam gave me an in-depth understanding of how to carry out SROI analyses, and I'm looking forward to putting this knowledge into practice.
Now that you are a Level 1 Associate Practitioner what do you plan to do next to develop your practice? How do you plan to use your practitioner skills?
I'm currently planning my first SROI analysis on the Laidlaw Library in Leeds, a building ADP designed which opened in 2015. There is limited research into how SROI can inform design decisions in the built environment, so I'd like to contribute to this if possible.
You have now joined a community of practice around the globe. What does this mean to you and why do you want to participate and contribute to the development of the methodology and overall social value movement?
Social value needs to be right at the top of our agenda for governments and business. I'm excited to work with other social value practitioners to continue building the movement, and to share research and knowledge – particularly within architecture and the built environment.
"I'm delighted to be a Level 1 Associate Practitioner. Managing social value should be at the heart of every organisation's decision-making, so I'm pleased to be developing my skills in this area and looking forward to applying what I've learned."

Tom White, Impact and Communications Executive at ADP
For more information get in touch with Tom via [email protected]
Posted February 16th 2022