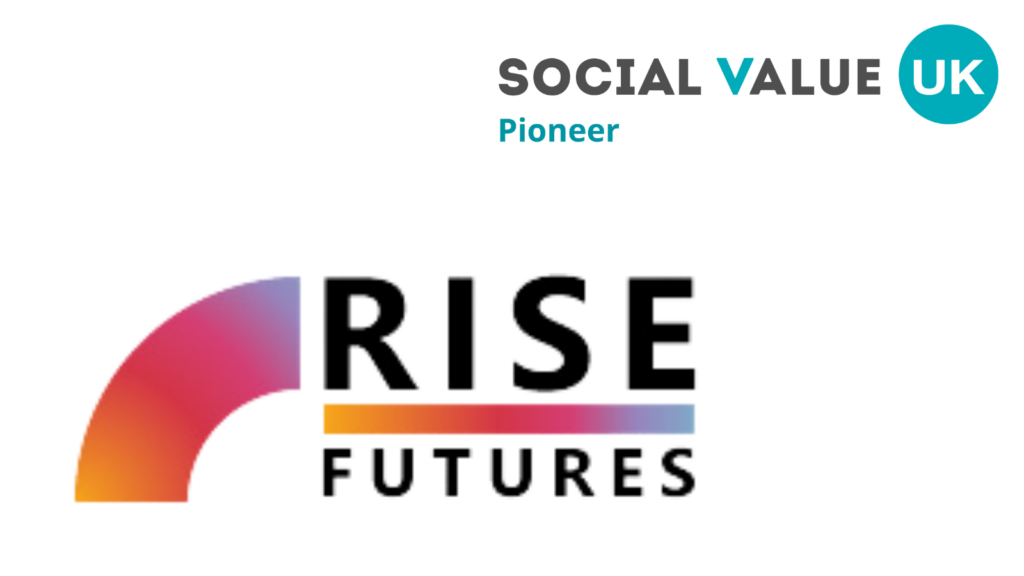 Posted 26th November 2021
Social Value UK is proud to announce Rise Futures as a Social Value Pioneer! Ahead of their joining, Social Value UK spoke to them about their social value journey so far.
Rise Futures works with care experience young people, who statistically have significantly poorer educational and life outcomes than their peers. Rise Futures offers mentorship and Opportunity placements for young people who have struggled to engage with other services – colleges, school, apprenticeships, training providers. We work with young people to overcome barriers to engagement such as anxieties, self value, self limiting biases, confidence issues, destructive behaviours.
The Rise Futures Opportunity placement works to offer work experience for young people in a supportive environment, the blend of a safe working environment, business mentorship and a Rise Mentor offering wellbeing support, enables young people the scaffolding to change direction and have the tools to move forwards positively.
Care experienced young people deserve support so that they can change their futures, realise their hopes and dreams for their future lives as adults.
Rise Futures works to facilitate Opportunity Placements, which open up the Opportunity for young people to access safe spaces to learn, develop and feel empowerment.
Why do you think social value is important? In your organisation, your industry or in wider society?
Social Value is important as we all have a responsibility to challenge and develop society's construct, enabling fairer futures for generations to follow.
Does your organisation have a background in social value/social accounting/SROI?
We have completed the social value and SROI investment practitioner training and are looking to develop SROI portfolio for our Opportunity placements. We are working with 3 Organisations at the start of 2022 and we aim to analyse the SROI with these placements.
What are your plans for your SVUK membership?
We aim to embed the SVUK theories though our organisation.
"The importance of creating new pathways for training and development and therapy is of uttermost importance, social constructs currently result in a lack of engagement for those who potentially can benefit the most from it."


Rise Futures

For more information on Rise Futures, head to their website here or contact Sarah Hunter at [email protected]