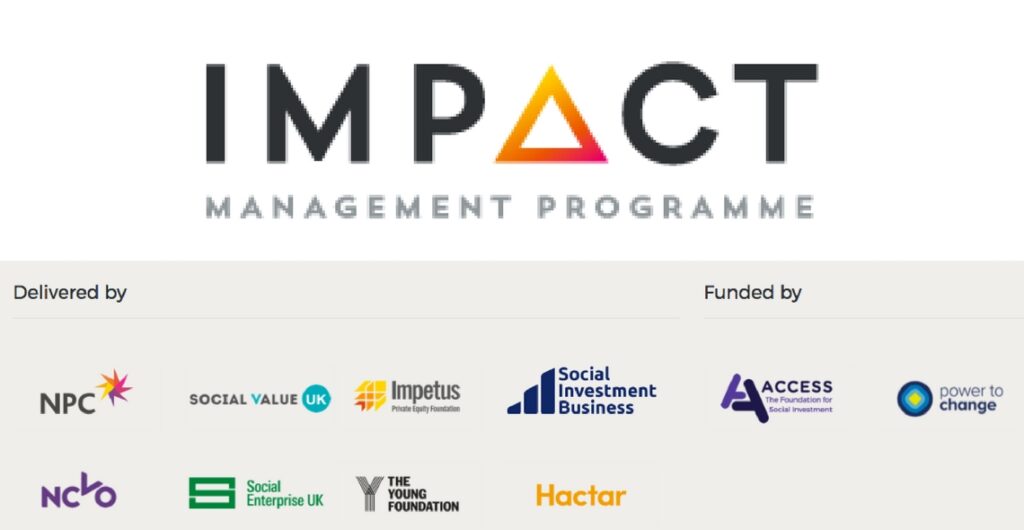 Posted 16th June 2017
The Impact Management Programme announces the first grantees of its Impact for Growth strand. Eleven charities and social enterprises will receive grants totalling almost £500,000 to improve their impact management systems and processes. Grantees will work with an approved provider who will support the project and help embed impact management into the organisation. This pilot grant round will be followed by approximately 30 more grants to be distributed from January 2018.
The Impact Management Project (ran by a cohort of organisations, including Social Value UK) announces today the eleven organisations, based across England and delivering a number of different services, that will receive almost £500,000 in grant funding through the Impact for Growth strand. This supports charities and social enterprises that are seeking to raise investments or contracts to improve their ability to quantify, report on, increase and 'get paid for' their impact.
The first grantees and the providers they are working with (in parentheses) are:
Mencap Liverpool (Eastside Primetimers)
YMCA North Tyneside (Helmepark)
Empire Fighting Chance (Good Economy Partnership)
Chiltern Rangers CIC (Eastside Primetimers)
Speakers Trust Ltd (CAN Invest)
Action West London (Aleron)
London Irish Centre (Aleron)
Noise Solution Ltd (Measuring + Managing the Good: Volunteering Matters, Coalition for Efficiency and DataKind UK)
Dementia Care (ATQ Consultants)
Murray Hall Community Trust (Cogent Ventures)
Legacy School Sport CIC (Pulse Regeneration)
77 organisations who attended the pre-application impact management training were eligible to apply for a grant at this pilot stage and 30 submitted applications. This was shortlisted to 20 by our grant administration partner Social Investment Business and then the final decisions were made by our Investment & Commissioning Panel, chaired by Rob Abercrombie.
"We were impressed with the range of applications we received and appreciate the engagement we have had from both the social organisations and the support providers they are working with. It was clear from the applications that charities and social enterprises are operating in a tough environment, so it is more important than ever to support organisations to achieve a positive impact and access the funding they need to do this effectively. We are excited to see how these funded projects develop and what it tells us about the link between improved impact management and securing an investment or contract. Our grantees will be encouraged to share their experiences and we will publish our learning for the benefit of the whole sector too."
Rob Abercrombie, Director of Research & Consulting at NPC 
This pilot grant round will be followed by approximately 30 more grants to be distributed from January 2018. To apply, eligible charities and social enterprises must first attend a free one day impact management training session. These session will be held September to November 2017 and full details will be available on the programme website soon. We are also currently recruiting further providers to be involved and the deadline for provider applications is midday 30 June 2017.