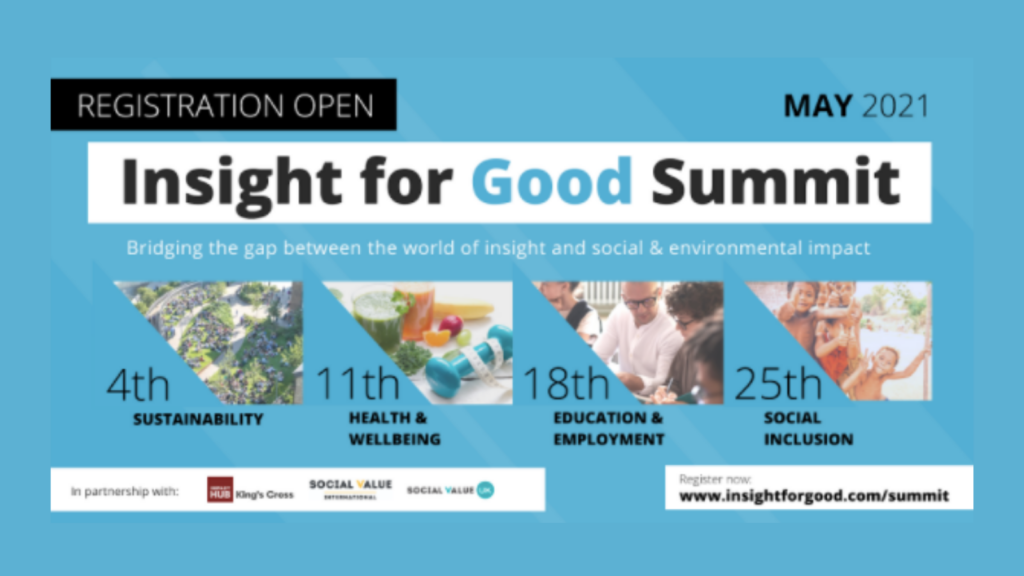 Posted 16th April 2021
Do you agree that an understanding of human behaviour is vital to solving today's social and environmental issues? If so, are you taking advantage of the latest science and insight to be able to drive behaviour change and achieve results?
Our partner, social enterprise, Insight for Good, has organised the Insight for Good Summit, May 2021, a global virtual event, to show you how easily some of the most powerful solutions come from better using our understanding of human behaviour.
The summit will spread over four days of interactive talks every Tuesday in May and will show you how easily some of the most powerful solutions come from a better understanding of human behaviour.
---
TUESDAY 4TH MAY – Sustainability
Post-Covid, sustainability will, most likely, be the greatest behavioural challenge in human history. All organisations and individuals will depend on greater collaboration to tackle environmental degradation. We will fail unless we learn to apply the best behaviour change methods. Following this event, you'll be able to enhance your sustainability leadership role using the combined power of insight and the behavioural sciences.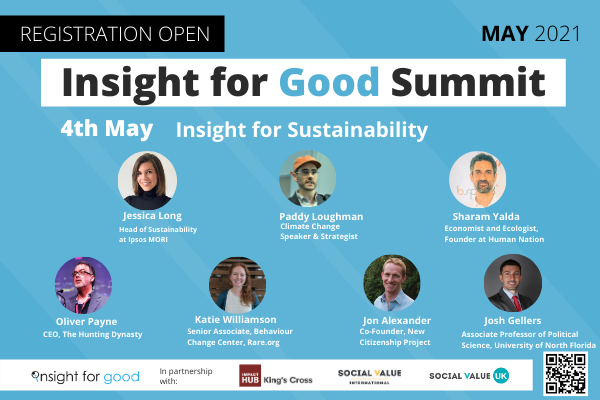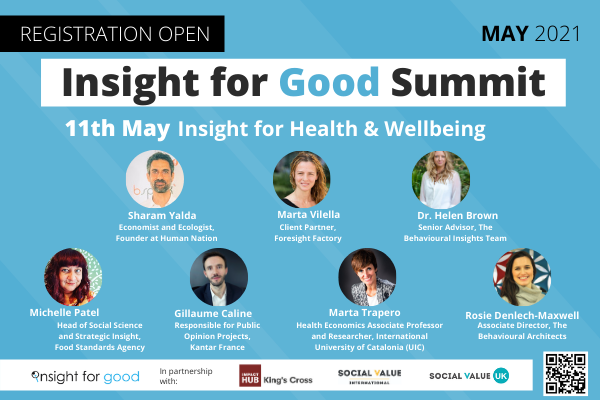 TUESDAY 11TH MAY – Health & Wellbeing
With the number of global threats to wellbeing multiplying (COVID-19, cancer, obesity, mental health) we need to change what's making us unhealthy. This event draws on advances in the world of insight and behavioural science to find the ways to help transform our health ecosystem, promoting wellness and healthy living for all.
TUESDAY 18TH MAY – Education & Employment
We're in an unprecedented economic paradigm shift, where sustainability and a circular economy will be the goal for successful organisations. Are you preparing your workforce and students to lead this change? In this event, we will show you how advances in the world of insight and behavioural science can be effective tools in the educational & employment sectors by putting people at the core.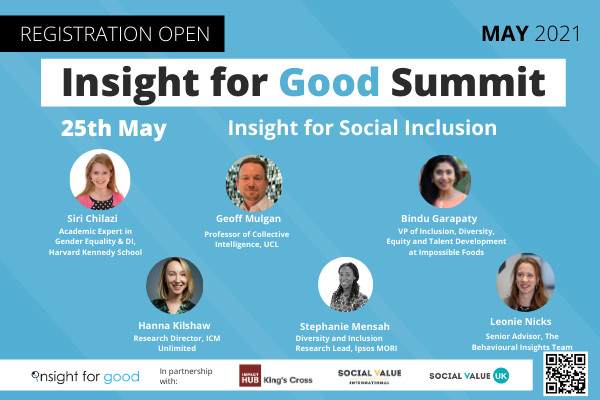 TUESDAY 25TH MAY – SOCIAL INCLUSION
We're at a pivotal period in human history, where the current system of capitalism is in question as social inclusion now plays an increasingly important role in justice, commerce and society. In this event, we will draw on the latest advances in the world of insight and the social and behavioural sciences to show how organisations that embrace inclusion can innovate and thrive.
---
With presentations by over 25 top specialists and highly regarded researchers, the event is also an opportunity for participants to interact and build relationships with professionals and speakers who will share their human-centred approaches to drive social and environmental impact so that you can bring real solutions back to your organisation.
We would love it if you could take part! Register below to be able to access the latest discoveries which are the result of extensive research that amazing speakers from around the world have undertaken.
And don't forget to use promo code MEMBERSVI / MEMBERSVUK as there is a special discount for members!