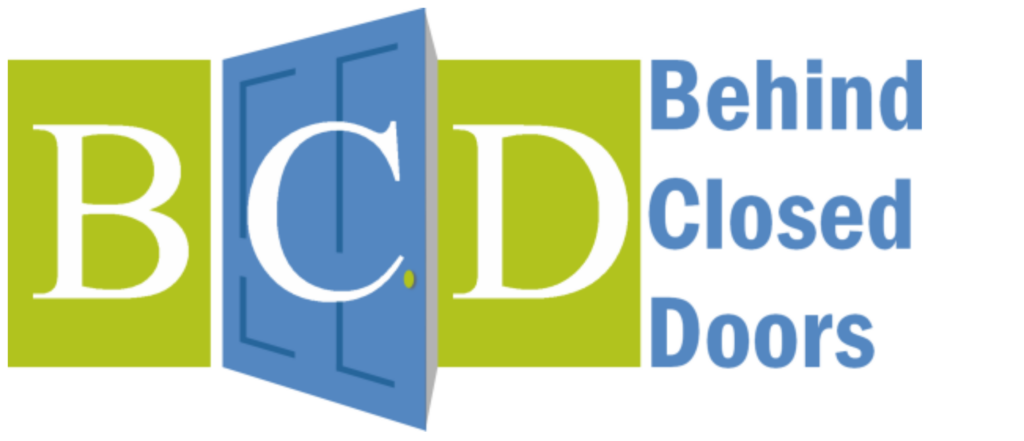 Posted 28th November 2018
We are proud to announce that Behind Closed Doors are the first organisation to have achieved Level Two of the Social Value Certificate. Level Two: Implement is achieved with the implementation of systems and processes, evidenced through appropriate data collection. Behind Closed Doors have not only achieved Level Two of the Social Value Certificate but were instrumental in the creation of the Social Value Certificate also. To find out how you can begin your journey to achieving the various Social Value Certificate levels, please head here. We will be commending Behind Closed Doors and others at our first Social Value Certificate Celebration in Leeds this December. More information can be found here.
Behind Closed Doors (BCD) support women & men affected by Domestic Violence & Abuse (DV&A) to enable them to live safely, free from fear & harm, make informed choices & manage their own lives. BCD deliver the outreach element of the Leeds Domestic Violence Service (LDVS) under contract & a non-contracted Prevention & Recovery Service (PARS) for people unable to/who do not wish to access help from statutory services. Both provide individually tailored, 1-1 support in safe community spaces.
BCD staff and volunteers support people to:
• Identify their experiences & problems;
• Develop & implement their own plans to address or manage these;
• Develop their autonomy & life skills
• Parent their children better
• Build new support networks of family & friends.
BCD systematically monitor all of their work to learn how to improve the support offered, using data & stakeholder feedback to identify gaps in services & develop & pilot new projects. Their learning also feeds into the design of the training we deliver to professionals in all sectors who identify and support people affected by DV&A.
Why have you decided to undertake the Social Value Certificate organisational pathway?
We decided to undertake the Social Value Certificate because we had seen how valuable the impact data collection and theory of change process in our SROI study had been, in terms of enabling us to change and develop Behind Closed Doors and increase our Social Value. We'd learnt how to systematically collect data and feedback from stakeholders in a structured, focused way and how to analyse and ask relevant questions.
Most of our staff had been involved in consulting stakeholders and/or constructing Theories of Change and refining Outcomes from the evidence and had recognised and discussed the findings and come up with their own recommendations to improve. This experience was that the process had confirmed the value of the work they did and they were interested in how we could collect and use this information on a regular basis. We thought that the Social Value Certificate pathway would help us to do this.
How have you implemented the practises and processes to help you to achieve Level Two of the Social Value Certificate?
Most of our staff/volunteers already knew some Social Value basics, because they had been involved in the SROI work and had seen and validated the findings from it. This made it easier for us to implement processes and practices throughout BCD as they had already seen the whole data collection/analysis/feedback loop and knew about the changes we had made as a result.
We looked at how the collection of outcome/impact data could be routinely obtained, within our services delivery processes and without disrupting the relationships between us and our stakeholders. It fitted well with the way we worked with our clients as all our support for them is focussed on progression and all our work is with individuals, but it was more difficult to develop processes which routinely collected data from other stakeholders. However, the 'teams' creative thinking produced a much more successful system and we continue to develop this. We haven't always got things right the first time, and we are still making changes and tweaks to make sure we have effective data collection/use processes as the context of our work changes.
Are there any other specific projects you are doing at the moment that are related to SROI/social value?
One of the unexpected findings from the SROI study had been the high value that clients attached to better parenting, so we decided to see if we could do more to improve the lives of children in families affected by domestic abuse.
Using data and feedback from the clients and our team's experience we decided to pilot a 'whole-family' approach to help clients who recognised that their family's safer, happier future was at risk due to the impact of the domestic abuse on the family's dynamics and functioning.
This involved a number of families where the adult victims, who had already received support, were joined by children and other significant family members in a few whole-family sessions. In these, they identified and worked on the aspects of family life they wanted to improve and they were able to have safe conversations about their experience of the abuse. These sessions helped to build healthy communication and re-focused the family on moving forward together with a shared vision of the future.
This pilot programme proved very effective and impactful for those families participating and the clients' theory of change showed that the clients' trust in their support worker was crucial to its success. As a result, we reconsidered our plans to introduce a specialist, family worker and, instead used the experience and learning from the project to train our volunteer team to all provide some support for clients' families and this is now embedded in our standard service offer.
What have you learnt so far in your implementation for Level Two of the Social Value Certificate? Is there anything that you believe you will gain or find useful in the next steps you will take for Level Three of the Social Value Certificate?
It's like painting the Forth Road Bridge: we think we've developed a strong system and then circumstances beyond our control (inside BCD, in the city or nationally) mean we have to change it again. However, every time we change it, we build on what's worked and streamline it to routinely and systematically collect and report the most important data and make plans to collect any additional data periodically. It's essential to think creatively and to get as many ideas and views as possible from everyone involved. We have to prioritise and take this work one step at a time, learning and sharing our learning as we go
Elvis Presley once said "Values are like fingerprints. Nobody's are the same, but you leave them all over everything you do."
Joining Social Value UK is an exciting opportunity to be part of a network which recognises value, not just pounds; people, not just numbers; change, not just snapshots in time and legacy – just impact.
To follow Behind Closed Doors on their Social Value Certificate journey, or for any enquiries, please contact:
Louise Tyne
Director
[email protected]
0113 391 1918 / 07900197630