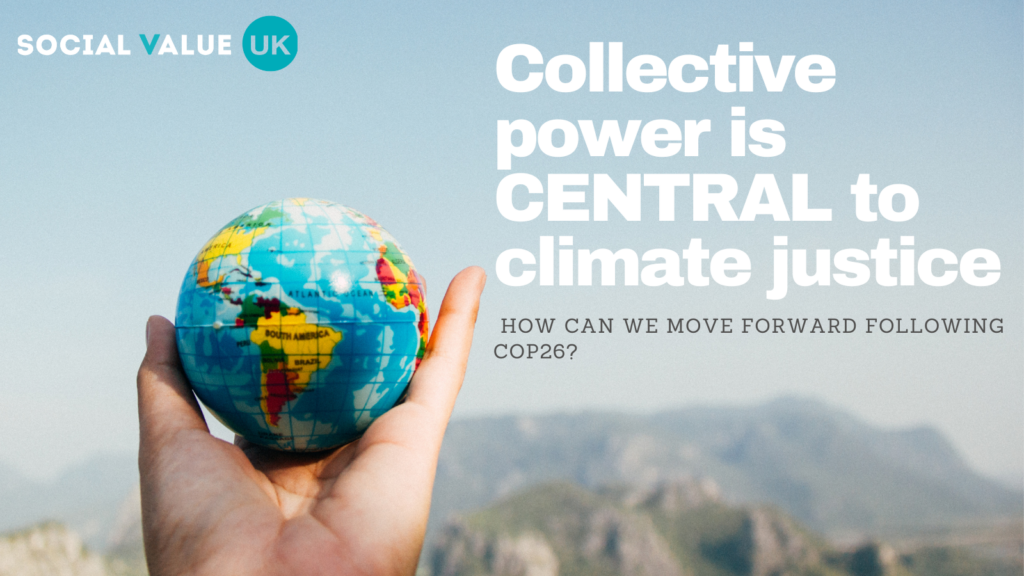 Posted 18th November 2021
The following blog was written by Social Value UK's Catherine Manning, Operations Director, and Madeleine England, Digital Marketing, Communications & Events Assistant. SVUK continues to show a commitment to accounting for social and environmental value, thus working to decrease environmental degradation and inequality.
Climate justice IS social justice  
With #COP26 Glasgow conference officially ending last week, what next for tackling climate change should be the biggest topic governments are engaging with their people about.  People power, and inclusion of people should be central to the actions being planned and taken to tackle the crisis, as outlined in the recent IPPR report 'Fairness and Opportunity'.
However, whether it is the lack of care for local people in carbon removal exercises, failure to acknowledge social impact or the lack of accessibility in the poorly thought-out conference itself – it has become apparent, now more than ever, that a green transition towards Net Zero, is currently coming at a cost to social justice.
'Net zero targets are often a "greenwashing exercise" that may trigger "mass hunger and displacement across the world", Oxfam has warned. Whilst Novara Media went as far as to describe these nature-based solutions to climate breakdown as a 'wolf in sheep's clothing' that 'will likely lead to mass violations of Indigenous rights'.
This mass land use for carbon removal causes upheaval and displacement of people's lives as well as agriculture infrastructures, and places land rights and ownership right at the heart of the climate justice movement. If we continue to use methods such as these, we are going to see both drastic and detrimental effects for some of the world's most vulnerable all in the name of green transition.
Poignant and ever so true, Twitter user @MichaelAMacNeil shared his thoughts on the #COP26 conference through a Chico Mendes quote – and we couldn't agree more! It is so integral that we prioritise social justice within this green transition.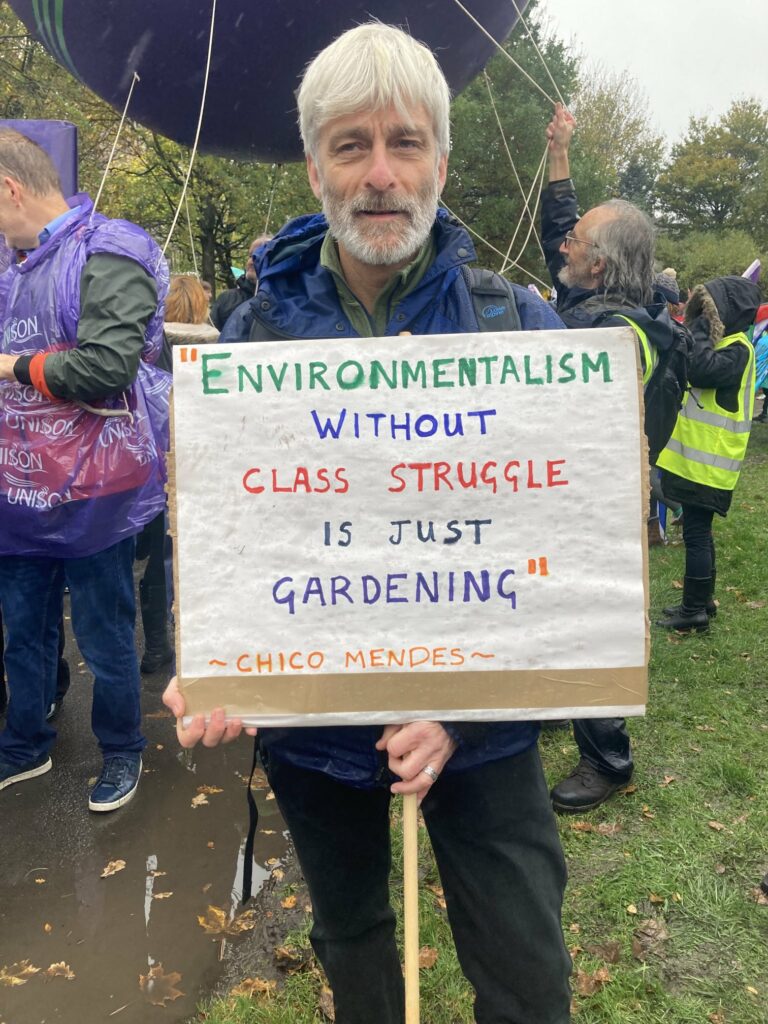 Where do the social value principles come into play?
Of course, all 8 of the social value principles are important to consider, but Principle 1 and Principle 8 stand out to us in this context.
Principle 1 Engage Stakeholders: Inform what gets measured and how this is measured and valued in an account of social value by involving stakeholders.
At a local level, being involved in decisions that affect you and where you live matters. Community power is an underestimated tool and something the world leaders should harness in the fight to achieve Net Zero. It is also one of the greatest contributing factors to the climate justice movement we have seen to date, just look at the global effects of the student strikes throughout 2019.
Principle 8 Be Responsive: Pursue optimum Social Value based on decision making that is timely and supported by appropriate accounting and reporting
Principle 8 could also be titled 'Do Something'. This principle is about taking action based on the evidence about impacts on people's lives that will be gathered through any social value account. This principle is core to accountability and tackles the positivity bias in social and environmental reporting. Businesses, governments, and social purpose organisations have a responsibitliy to respond to the data on both the positive and negative impacts their actions have on people's lives and the planet. Action to manage impacts on people and planet holistically is central to achieving climate justice, social justice and a just transition.
Issues with the COP26 conference itself
Although excellent that climate change was brought to the attention of many, the COP26 conference was not nearly as inclusive and accessible as hoped, and as it should be.
From start to finish there were reports of chaos and accessibility issues, with many struggling to access the event physically or online. The conference received great scrutiny for 'it's exclusion of people with disabilities and lack of attendees from the global south'. Shockingly, wheelchair using Israeli Energy minister, Karine Elharrar, was even unable to enter the summit due to lack of wheelchair access. On the other end of the scale the fossil fuel industry collectively formed the largest delegation at the conference, with 503 representatives. With weakened commitments about reduction in fossil fuels resulting at the end of the conference, it is hard not to see the connection between representation, strength of voice, and outcomes of the event.
The UN Climate Change Conferences are supposed to be esteemed and hugely important events for our planet. Select groups of people are given space to make decisions that affect us all, these groups should be representative of our wide ranging lived experiences and should be emphasising those affected most deeply by the crises we are living through. We need diversity and inclusion at all levels. Affordability and accessibility issues should not be deciding factors on whether people have a seat at the table or not. Climate change affects all.
The World Economic forum asked top civil society leads about why inclusivity in climate action is important, they covered a few main reasons:
We can learn from the Global South and those more directly impacted
We can stand in solidarity with vulnerable countries
We will be better equipped to protect and promote civic space
We have the opportunity to create climate-friendly jobs
And finally, discrimination is morally wrong, and we should leave no one behind in this systemic fight
Diversity, equity, equality, and inclusion must be a central focus in discussions and action going forward!
What next?
And so, what next for our movement and members? We believe there is a great need to strengthen the connection between social and environmental value, and there are some great examples of SVUK members leading the way.
SVUK partner members NPC are helping charities across multiple disciplines to understand 'where social justice and environmental justice meet'. In their recent blog with the Climate Crew, they look at the 'why' of the importance of climate to charities social mission, as well as the 'how' of what to do to lead their own green transition.
Our Level 1 Social Value Management Certificate awardees Trees for Cities, are a charity that works to involve local communities in environmental projects such as tree planting, revitalising forgotten spaces and growing and harvesting healthy foods. Since Trees for Cities began, they have helped well over 28,000 school aged children have the opportunity to learn about their environment and healthy eating.
On the topic of COP26 they said, 'We know that deep and long-lasting change can only be made if tomorrow's generation is involved and inspired to take action today, so we are asking you to join the #GenerationTree movement'.
Next, we have SUEZ UK, a recycling and waste management organisation. SUEZ attended the COP26 conference and held their own fringe event. Having noticed the absence of food waste and resource management from the COP26 agenda, their events focused on this important topic. The discussion considered the crucial role that the sector must play in achieving NetZero and protecting the worlds precious biodiversity and how changing the way we use our natural resources can enable local communities and economies to flourish (Sign up for their webinar giving an overview of these discussions on November 23rd here).
In their latest blog, Sarah Ottaway (Sustainability and Social Value Lead) wrote, 'One of the things that we have learnt through our social value journey, is that peeling back the layers of the social, economic and environmental benefits associated with an activity, project, or even an entire organisation, enables you to understand the bigger picture of the impact you are having.'
As always, it is important to remember that there still is a lot of hope for these environmental goals. If organisations can be encouraged to consider the social impacts of their Net Zero projects, it can lead to creation of jobs, boosts in local economies and an overall increase in wellbeing. At Social Value UK we will always stress the importance in accounting for social value in everything that you do.
We would like to thank our members for their continued support in this rally and for all the work they are doing to ensure a greater and more sustainable future for our people and planet!