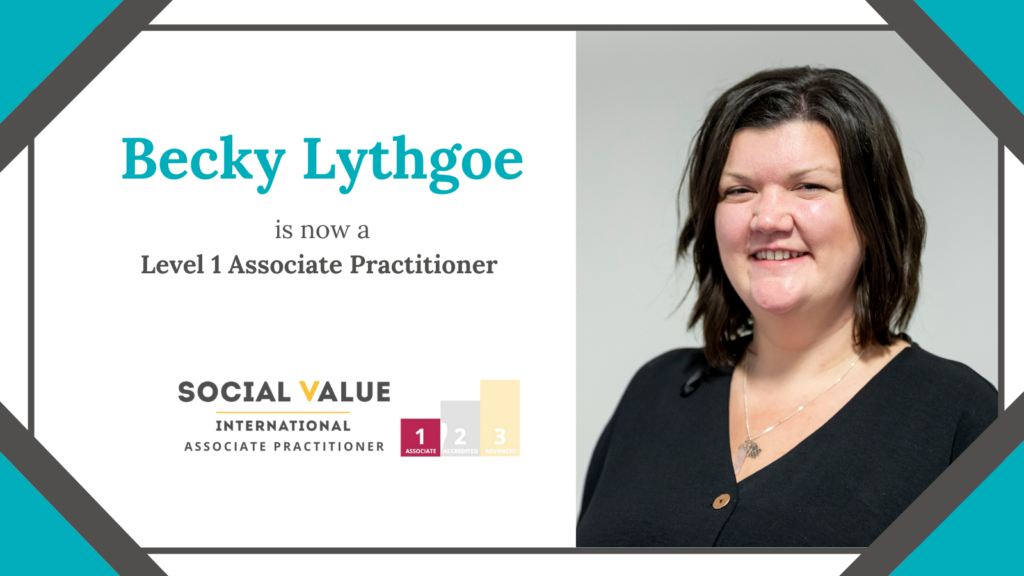 Posted 11th July 2022
Social Value UK are proud to announce that our member, Becky Lythgoe, has achieved Level One Associate Practitioner status.
Ahead of this announcement, we had a discussion about our Practitioner Pathway and Becky's experience with the Level One assessment process:
Why have you decided to undertake the Social Value International Practitioner Pathway?
Having spent a number of years working in the social enterprise sector and as a youth worker I have measured and described the impact of projects and organisations. I felt though it was important to have a common language to understand and value that impact and this was a way of doing this that was internationally recognised and ultimately is working towards social change.
What did you learn and find useful from this assessment process?
The whole process was interesting and meeting with other people undertaking the training was useful and insightful. I learnt that there is a great deal of flexibility in the process and that the principles of Social Value International providing a guiding hand rather than a rigid framework allowing for variety and difference.
Now that you are a Level 1 Associate Practitioner what do you plan to do next to develop your practice? How do you plan to use your practitioner skills?
I am going to continue to explore social value further, as a member of Social Value UK and the information available via the website for example. I hope to engage in more training and networking. But most importantly I want to put the theory into practice, starting with the organisations I currently work with and sharing the process and considering how we can embed the principles and include them as part of reporting and decision making processes.
You have now joined a community of practice around the globe. What does this mean to you and why do you want to participate and contribute to the development of the methodology and overall social value movement?
For too long monetary value as been a key decision making factor but I don't believe inequalities and wellbeing can be addressed through financial valuations alone. Being part of the social value movement is an important way of challenging this but it does not seek to compete with monetary value but compliment it and provides another lens to understand the difference made to a person. In being part of the social value movement we each bring our own perspectives and experiences and it is in this space where some of the best learning can take place.
It's great to become a Level 1 Associate Practitioner with Social Value International. I look forward to putting the principles of social value into practice and being part of a movement changing how we account for value and include the experiences of people – Becky Lythgoe
Posted 13th July 2022