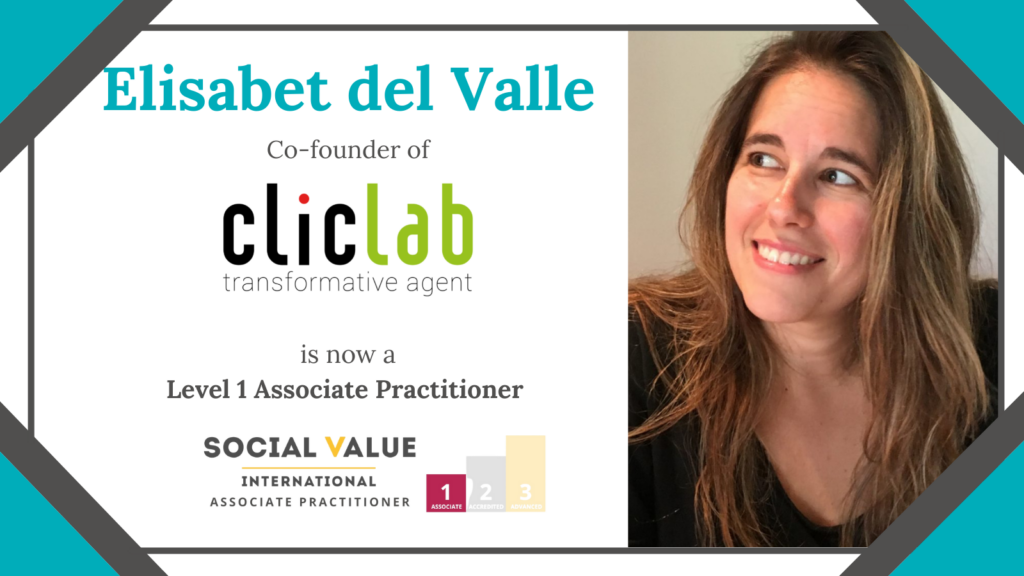 Posted 16th August 2021
Social Value UK are proud to announce Elisabet del Valle, Co-founder of Cliclab Transformative Agent, has achieved Level One Associate Practitioner status.
Cliclab is a transformative agent. A non-traditional consulting agency that focusses the attention on the attitude as a driver force to transform corporations. They are a motivated, interdisciplinary, and international team of experts in different fields, able to see the company in 360º. They assess and train companies in soft & hard skills to faster, innovation, leadership, entrepreneurship, sustainability and social impact, business strategy and positive working environment.
Ahead of this announcement, we had a discussion about our Practitioner Pathway and Elisabet's experience with the assessment process:
Why have you decided to undertake the Social Value International Practitioner Pathway? What has led to your application for Level 1 of Practitioner?
I have known the organisation for many years, and I am very aligned with its values and objectives. Social Value is doing a very important job in standardising the measurement of social impact. For this reason I have decided to consolidate my training in this field with the accredited courses of Social Value.
What did you learn and find useful from this assessment process?
I have reviewed all the principles and values of the methodology and the organisation. And learned better the theoretical bases to perform SROIs.
Now that you are a Level 1 Associate Practitioner what do you plan to do next to develop your practice? How do you plan to use your practitioner skills?
I would like to progress to Level 2 Accredited Practitioner status and improving my knowledge and training to apply it directly in a professional way.
Are there any other specific projects you are doing at the moment that are related to SROI/social value?
We are experts in innovation, and we participate in different innovative projects to measure its social and sustainable impact. Also, we manage sustainability strategy and measure the impact of different public and private organisations related to innovation and RRI (Responsible Research and Innovation).
You have now joined a community of practice around the globe. What does this mean to you and why do you want to participate and contribute to the development of the methodology and overall social value movement?
There is very little awareness of the importance of measuring social impact to contribute to the sustainability of the planet. There are many divergences in the measurement of it, so it is important to share knowledge among all. And achieve a homogenised of the data and processes to improve professionalisation in this field.
"I'm very glad to have become a Level 1 Associate Practitioner with Social Value International. Since I was a child, I have believed that together we can improve the world, and this is a little step to go through to achieve this."

Elisabet del Valle, Co-founder of Cliclab Transformative Agent
For more information from Elisabet, reach out via [email protected]
Interested in becoming an Associate Practitioner? Find out more here.