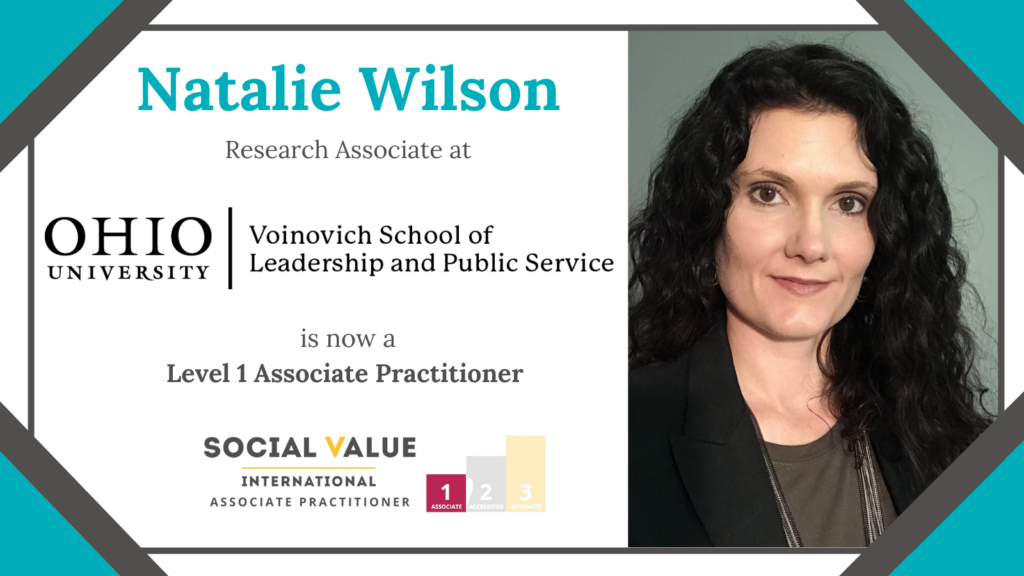 Posted 1st September 2021
Social Value UK are proud to announce Natalie Wilson, Research Associate at Ohio University Voinovich School of Leadership and Public Service, has achieved Level One Associate Practitioner status.
Ohio University's Social Enterprise Ecosystem has a dual mission: bringing venture development services to regional social enterprises, which combine a market-based approach with a mission for social good, and capacity-building for philanthropic funders interested in impact investment.
Ahead of this announcement, we had a discussion about our Practitioner Pathway and Natalie's experience with the assessment process:
Why have you decided to undertake the Social Value International Practitioner Pathway? What has led to your application for Level 1 of Practitioner?
I work in the field of Program Evaluation in the United States, where SROI is less prevalent than in other areas of the world. I wanted to pursue this training to prepare myself in furthering the practice of SROI in this country. I feel measuring social impacts is crucial and needs to be a clear and consistent focus in the US and beyond.
What did you learn and find useful from this assessment process?
There was so much that I learned from the training and assessment. The cultural difference in SROI in the UK and SROI in the US was especially eye-opening.
Now that you are a Level 1 Associate Practitioner what do you plan to do next to develop your practice? How do you plan to use your practitioner skills?
I want to incorporate SROI into more of my evaluation projects so that clients will be able to use it as part of their story to advocate for funding and show the true value of their services.
Are there any other specific projects you are doing at the moment that are related to SROI/social value?
My small SROI team and I are working to set up systematic SROI research studies that can be updated yearly for all grantees funded through one foundation so they will be able to measure their collective social, environmental, and economic impact. We hope this will be a benefit to the foundation, but also to each individual grantee.
You have now joined a community of practice around the globe. What does this mean to you and why do you want to participate and contribute to the development of the methodology and overall social value movement?
I specialise in working in and for Appalachia, a small and unique population within the mountainous eastern US. Joining a global community is an excellent way to ensure my perspective remains broad and well-rounded.
"I'm happy to call myself a Level 1 Associate Practitioner with Social Value International. I hope to further the movement towards accounting for and measuring social value here in the United States as comprehensively as we see the practice in other regions in the world."

Natalie Wilson – Research Associate at Ohio University Voinovich School of Leadership and Public Service
For more information from Natalie, reach out via [email protected]
Interested in becoming an Associate Practitioner? Find out more here.