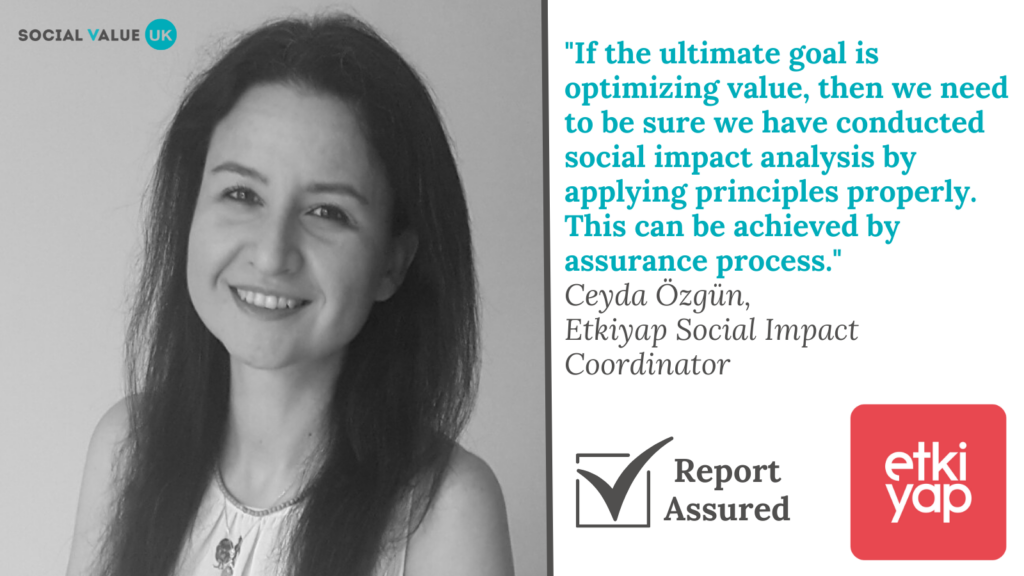 Posted 12th May 2022
Recently, Ceyda Özgüe submitted her SROI Evaluation report for Turkish Grameen Microfinance Program to Social Value UK for Report Assurance checking alignment to the SVI Report Assurance Standard. It was found the report demonstrated a satisfactory understanding of, and consistency with, the Eight Principles of Social Value – as a result it was assured.
"TGMP (Turkish Grameen Microfinance Program) has been operating since 2003. The program's main aim is to achieve financial inclusion of women by going beyond social aids and grants that make women dependent on institutions or other people around. Microcredit is the extension of very small loans to impoverish individuals who typically lack collateral, steady employment, or a verifiable credit history. It is designed to support entrepreneurship and eradicate poverty.
Until 2021, TGMP has not conducted any impact analysis. It was for sure that the program creates value. However, we did not know which outcomes are material, how much change has been occurred for how many entrepreneurs, what would have happened anyway, etc. In other words, now we know the relative value of changes that entrepreneurs have experienced. This provides us to optimise value of the program."
We spoke to Ceyda about her experience with the Social Value International report assurance process:
Why did you choose to apply for the assurance process?
As Social Value Principle 7 suggests that in a SROI analysis subjectivity is inevitable. Therefore, an appropriate independent assurance helps us to understand whether our judgements are reasonable.
Is there anything that you gained or found useful from the accreditation process? And what are the next plans for your organisation?
Having the opportunity to discuss with the assessor is so valuable. Each assurance process provides new perspective that reflects positively to next analysis. It is a great learning process.
If the ultimate goal is optimising value, then we need to be sure we have conducted social impact analysis by applying principles properly. This can be achieved by the assurance process
We at Social Value UK would like to wish Ceyda congratulations for the success of her report and look forward to seeing her future work.
If you have any questions for our team regarding report assurance, be sure to visit our assurance section on our website or visit Twitter (@SocialValueUK) for updates on upcoming report assurance drop in sessions.
The Social Value UK Team
Posted 12th May 2022