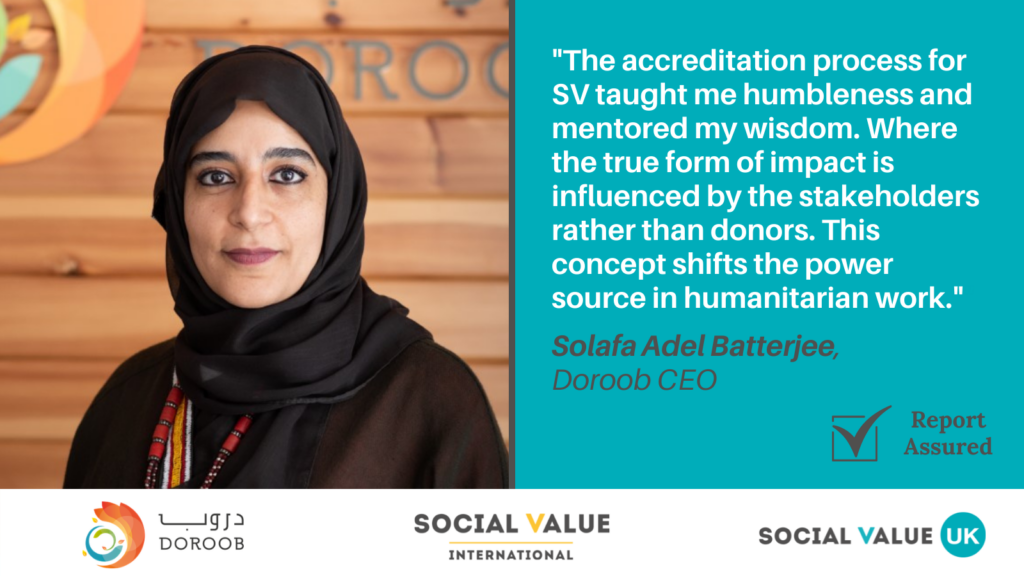 Posted 1st February 2022
Recently, Solafa Batterjee submitted her SROI Evaluation report for The Doroob Scholarship Programme to Social Value UK for Report Assurance checking alignment to the SVI Report Assurance Standard. It was found the report demonstrated a satisfactory understanding of, and consistency with, the Eight Principles of Social Value – as a result it was assured.
The Doroob Scholarship program is the fruition of an endowment investment established to support gifted students. Since its inception, Doroob aimed to acknowledge a societal gap in awareness towards giftedness. It had recognised that the top 1% of students who were gifted did not have their educational needs met.
The main activity of the program is to award scholarships to children who display elevated levels of giftedness between the ages of 8 to 12. They can come from any nationality, gender, and social background – currently they are currently operating in Saudi Arabia, Sudan, and Kenya.
Their ultimate goal is to empower children and be the means by which they navigate their way to collectively creating a new future. A future that is rich in gifted minds that are in service of the greater good.
Doroob Scholarships Services/Activities
· Academic Care
· Leadership Skills
· 21st Century Skills
We spoke to Solafa about her experience with the Social Value International report assurance process:
Why did you choose to apply for the assurance process?
For several years, Doroob had been making efforts in measuring the impact of its scholarship program as a whole and the journey reached a major milestone with the discovery of the Social Value SROI methodology which ticked all the boxes for what we were to measure. The three main points that we looked to achieve with the report were:
1. Measure the impact of the Doroob Scholarship to validate the vision of the funders
2. Influence investment decisions for the endowment and quotas for the programs
3. Take a leadership role for measuring social value in the region and set an example for others to follow
Is there anything that you gained or found useful from the accreditation process? And what are the next plans for your organisation?
"The accreditation process for SV taught me humbleness and mentored my wisdom. Where the true form of impact is influenced by the stakeholders rather than donors. This concept shifts the power source in humanitarian work." Solafa Adel Batterjee, Doroob CEO
"Never assume you know your stakeholders best. The more you engage with them, the more you know them as people and understand them. It is only then that you can understand what you are meant to do." Hassan Al Hamid, Doroob Operations Manager
"Measuring the social impact is the third dimension of the strategic vision, especially for humanitarian projects, it is the key to the sustainability of work, and a critical factor in decision-making." Eman Alhuraibi, Doroob Communication Executive
"In applying social return on investment (SROI) methodology, there is continuous learning. It is about sharing stories, not just results. We share our experience in a transparent way. This method is based on reflections and insights." Asma Ali, Doroob Operations Executive
---
"The Doroob Scholarship Program is a well thought out program that combines a set of programs that creates students with a distinct kind of thinking, deep understanding with each other and faster processing of ideas. We also appreciate the fact that it focuses on the person and not just academics."

Parent of Doroob Scholarship Recipient
We at Social Value UK would like to wish Solafa congratulations for the success of her report and look forward to seeing her future work.
If you have any questions for our team regarding report assurance, be sure to visit our assurance section on our website or visit Twitter (@SocialValueUK) for updates on upcoming report assurance drop in sessions.
The Social Value UK Team
Posted 1st February 2022