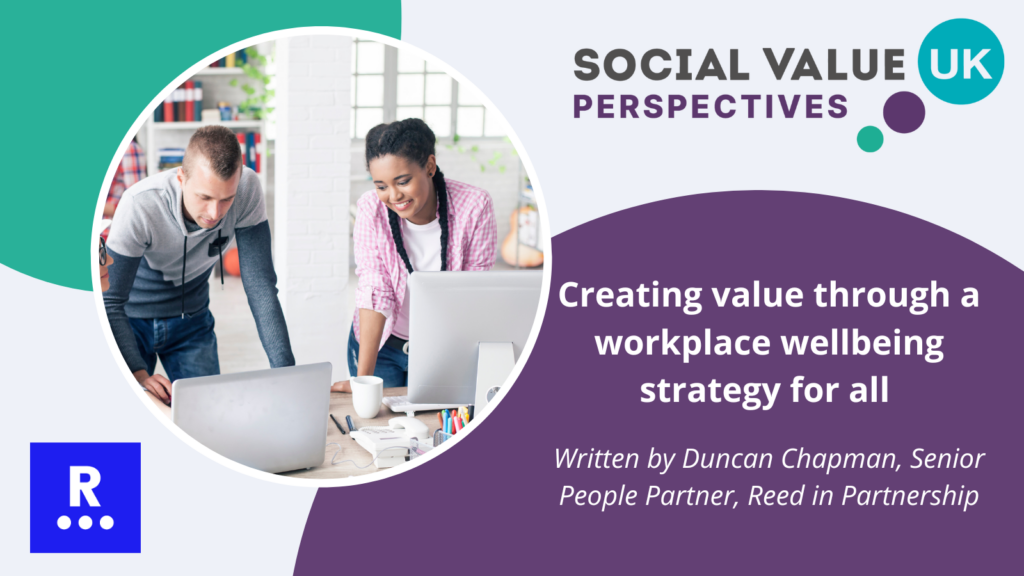 Posted 30th March 2023
Duncan Chapman, Senior People Partner, Reed in Partnership
In the Spring of 2022, Reed in Partnership set out on a mission to create a formal, structured employee wellbeing strategy. We recognised that, although we have many workplace benefits and reward mechanisms in place, co-members (Reed's term for employees) were repeatedly feeding back that they were unsure what was in place, ultimately leading to confusion and low uptake of certain benefits.
Acknowledging that an individual's wellbeing is much more than simply eating healthily and exercising for 30 minutes a day, we began to map out the pillars of wellbeing that make up an individual's holistic wellbeing.
Our wellbeing strategy, My Wellbeing, focused on the five pillars of personal wellbeing:
Physical Wellbeing
Emotional Wellbeing
Financial Wellbeing
Career Wellbeing
Social Wellbeing
By breaking the strategy down like this, we aimed to enable our co-members to take ownership of their wellbeing, to build a happy, engaged, and resilient workforce for the company.
We structured our company benefits so co-members could clearly navigate to each pillar of My Wellbeing and access the corresponding benefits directly from there. We are also able to more accurately identify areas of improvement required for our benefits package, and act accordingly to improve the offering and communication across the business.
Co-members are now clearer on what benefits are provided for them, enabling them to make use of them for personal and professional development.
The company itself has also seen value in the My Wellbeing programme.
We have more engaged co-members, with increased resilience and satisfaction at the company, boosting our chances of retaining the best talent.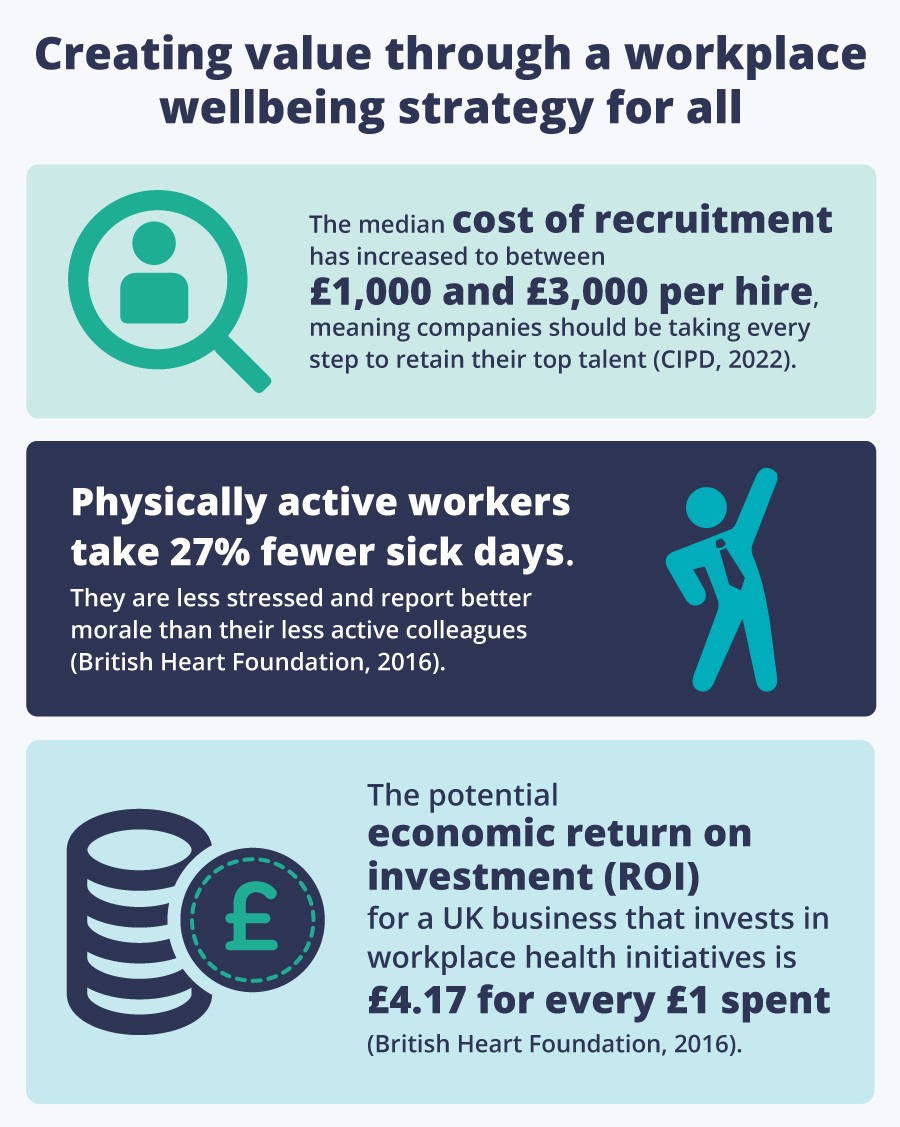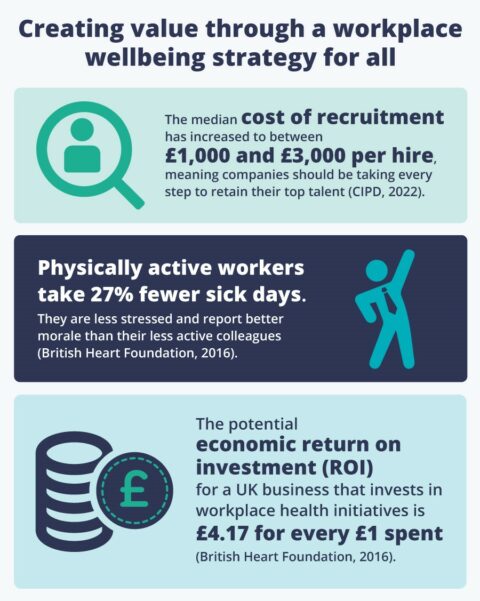 The Chartered Institute of Personnel and Development (CIPD) Resourcing and Talent Planning Survey 2022 found an increased competition for talent last year.
The median cost of recruitment has also increased to between £1,000 and £3,000 per hire, meaning companies should be taking every step to retain their top talent (CIPD, 2022).
The are other benefits to investing in wellbeing, with workplaces that invest in employee wellbeing proving typically happier, healthier, and more productive.
Physically active workers take 27% fewer sick days. They are less stressed and report better morale than their less active colleagues. The potential economic return on investment (ROI) for a UK business that invests in workplace health initiatives is £4.17 for every £1 spent (British Heart Foundation, 2016).
We also offer wellbeing support for external organisations through our Reed Wellbeing subsidiary.
We provide a schedule of webinars, targeting each of the pillars of wellbeing in correlation with national awareness days.
These have proven very popular, and I would encourage any organisation that is looking to increase their wellbeing offering to their employees to get in touch.
In conclusion, the introduction of My Wellbeing has provided a clear and effective method for our co-members to access our workplace benefits.
It has maximised uptake and been structured so the company can assess impact and areas for improvement.
The value created for both co-members and the organisation is clear in theory, however, the true value created will be measured annually to ensure we are achieving what we set out to achieve.
---
Would you like to get involved…
To contribute to our upcoming themes please contact Matthew Mckew, Advocacy Lead at Social Value UK. We are interested in hearing from both members and non-members.
Matt Eamer, founder of me&you said; "I'm excited that my creative agency can support Social Value UK in its mission to raise awareness and understanding of social value. We'll be creating visuals and graphics to help bring Social Value Perspectives to life, making the themes accessible for new audiences."