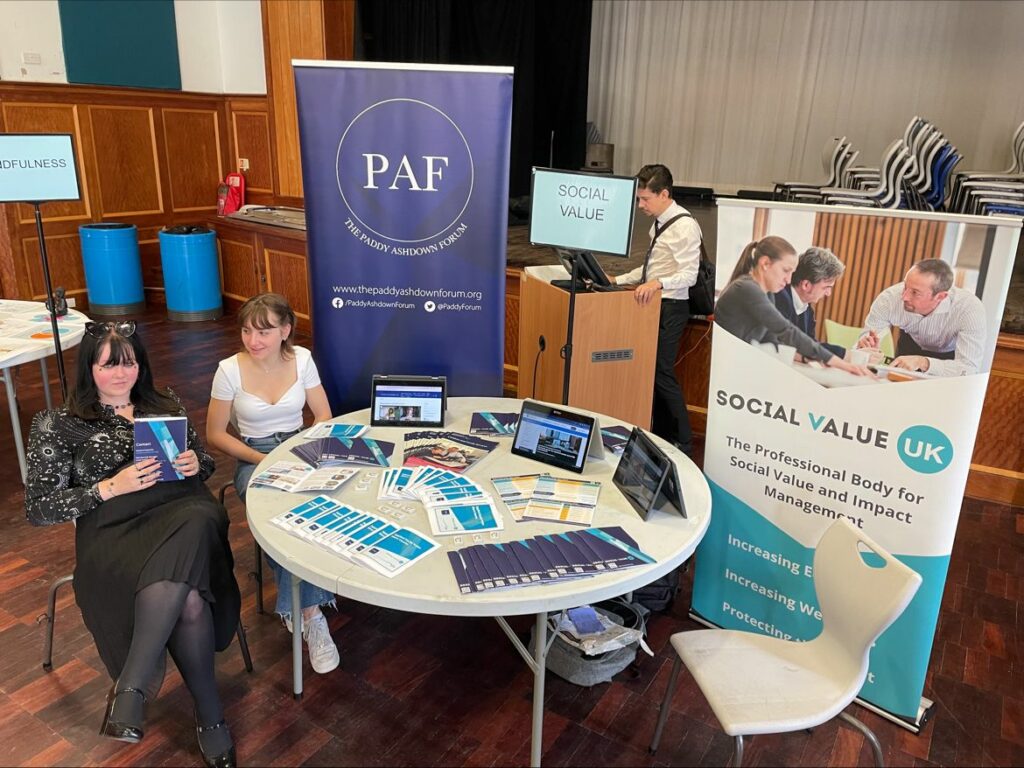 Posted 19th July 2022
For many years we, at SVUK and across our membership, have been working actively to recognise that equality, and the diversity, equity, inclusion and accessibility practice that underpins this, needs to form a core part of the Social Value practice we, and our members are developing and putting into place. Developing accessible, inclusive and diverse social value practice could incorporate many different things. Over the last 6 months we have been working with our friends and partners at Gosport & Fareham Multi-Academy Trust and The Paddy Ashdown Forum, focusing on diversifying the social value profession by including younger generations in the practice, and embedding social value into our UK educational offer.
Our Partner Project is developing the country's first Applied Social Value Course for further education students!
We are currently developing programme content, for a 10-week course that will enable learners to understand what Social Value is, how to apply the principles of social value, and how to measure the 'right things' to manage value for sustainable viability.
The course is being designed in collaboration with post 16 learners for post 16 learners and is aimed to truly reflect the principles and application of social value from the outset, as well as to develop understanding of systems thinking, the interconnectedness of our actions and decisions, and sustainable viability. This will be achieved through a series of talks, lectures, seminars and a managed project that will provide learners with new knowledge and skills relevant to this prominent area in global, national and local strategy.
Recently, the project has hit an exciting milestone with our 6th Form volunteers supporting the promotion of the course at the Yr 11 Enrichment Day at Gosport and Fareham Multi Academy Trust.
Courses such as these are an excellent opportunity to engage with a wider audience and make social value accounting and impact measurement/management more accessible and digestible to all, and especially our younger generations in this case. We want people of all walks of life to feed into the social value movement, and to support our younger generations in meeting the challenges and opportunities ahead of them as best they can!
Here's what our Project Partners had to say:
"Diversification of the Social Value Profession is a big passion of mine, and I am truly excited to be working with our partners and our 6th form volunteers to create the very first Social Value Module for this age group of learners, this is an important step towards engaging younger generations, and critically to equipping our communities with the knowledge, skills and expertise to meet the growing interconnected social, environmental, economic, cultural and political challenges we are all facing." – Catherine Manning, Operations Director at Social Value UK
"Systems thinking is a critically important skill to help us as individuals and as collaborative partners to explore the boundaries of what we account for and make sense of our relationships within our various communities and the natural world upon which we are all dependent. Such skills need only to be awakened. Students have never been better placed to competently grasp these opportunities to create a sustainably viable world for themselves, their families, communities, and work place." – Christopher Gleadle, CEO at The Paddy Ashdown Forum
"Ensuring that young people are aware of Social Value principles and their application to the workplace and universities is essential if we are to enable sustainable viability of Social Value activity. The core purpose is to enable our learners and our future workforce a clear perspective of stakeholder led and assured action, whatever their future career ambition is, and in doing so, enhance their future employers understanding of the importance of Social Value." – Stuart Parker-Tyreman, Executive Director at the Gosport and Fareham Multi- Academy Trust.
Our next steps will be to continue to engage with our student cohort, develop the programme content, and to start our first cohort in the September term.
For anyone interested in the programme do reach out for more information!
Posted 19th July 2022