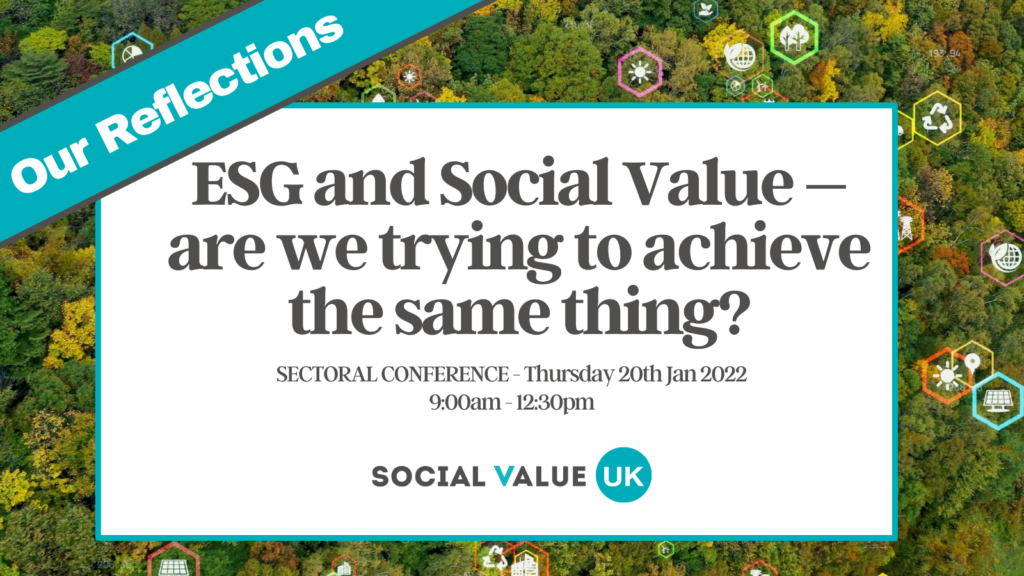 Posted 1st February 2022
As a response to an increase in requests from our members about ESG (Environmental, Social, Governance) and how it related to the Social Value movement, Social Value UK hosted its first Sectoral Conference on January 20th 2022 to explore these questions. We were particularly interested in perspectives to help us understand what these concepts mean to our members and for our principles. These principles encapsulate the idea that stakeholders are important, and central to any understanding of value creation. So, our CEO, Crispen Sachikonye, opened the conference with a reminder of this point. He explained how he had experienced the importance of community stakeholders in his upbringing, through the concept of ubuntu or hunhu, and how this was now central to his ideas about what value is. He connected his ideas with those of Social Value UK, and argued that wellbeing and environmental sustainability cannot be achieved if we do not engage the community in our various responses.
And here we stand now. In three years, the share of ESG funds will exceed non-ESG funds. Already a quarter of the assets under management are now considered ESG. And, as ESG is gaining momentum in sectors further afield than finance, many are puzzled with what this concept is about and how it compares to what we call Social Value.
Keynote Presentation – Christopher Gleadle, CEO of The Paddy Ashdown Forum and Sustainable Viability Ltd:
Our first keynote was given by Christopher Gleadle, the CEO of The Paddy Ashdown Forum and Sustainable Viability Ltd, who dived into systems thinking, how we need to stop making one- or two-dimensional decisions, and the risk around putting E + S + G into three separate silos. The world is more complex and interlinked, and he introduced the concept of the sphere economy to help three-dimensional decision-making and feedback loops. It is through understanding these feedback loops and including diversity we will learn and improve.
Keynote Presentation – Sarah Gordon, CEO at Impact Investing Institute :
Sarah Gordon, the CEO at Impact Investing Institute, was the second keynote who also recognised the interconnectedness between the E, the S and the G to achieve positive outcomes. Representing the financial sector, Sarah shared insights into how quickly impact investment and ESG have developed – from only two years ago having been something that people doubted would be the future, to now being increasingly recognised through development of an International Standards Board and the Impact Management Project. She pointed out how we all face the same shared agenda, in tackling the climate crisis and the pandemic crisis.
Sarah has since penned a follow up blog, discussing her keynote presentation further – make sure to read her thoughts here.
Learn more about the next phase of the Impact Management Projects' Impact Management Platform here.
ESG and Social Value – An SVI perspective and overview. Led by Ben Carpenter, CEO of Social Value International:
So, are we trying to achieve the same thing? The CEO of SVI, and former CEO of SVUK, Ben Carpenter, provided educational insights into where ESG had grown from, its current state of impact and what the main differences in approaches are, focusing on; outputs vs outcomes, counterfactual, valuation, stakeholder involvement and last but not least – materiality. In terms of materiality ESG looks at what is a risk to the investment or organisation, whilst social value adopts a stakeholder informed view. Whilst there is this difference, there can still be overlaps in the vision in changing how value is being accounted to reduce inequality, environmental degradation and improve wellbeing.
Panel discussion 1: What matters?
Following from Ben's deep dive into the technicalities around ESG and social value, four panellists were invited to discuss the theory around ESG and Social Value:
Catherine Manning, Operations Director at Social Value UK
Sarah Gordon, CEO at Impact Investing Institute
James Gomme, Director of People & Society at the World Business Council for Sustainable Development
William Hughes, UK Sustainability Services Lead at Mazars
The session was moderated by Charlotte Osterman, Private Sector Lead at Social Value UK, who summarised the main highlights and conclusions from first panel on what matters as:
What matters in ESG or Social Value? …regardless of the term, we need to understand what is material – and to whom. There is a clear difference between practice that prioritises sustainability of the organisation vs that which prioritises impact on people and planet.
Leadership. There's been more leadership in this arena during the last couple of years, but to achieve truly positive and impactful investments and business practices we need more dedicated to the kind of systemic change Chris Gleadle outlined at the beginning of the conference.
Assurance of claims is becoming an even hotter topic. The discussions dived into why we need external verification to bring confidence to claims, and not make this into a PR exercise, but also with examples from Catherine, Sarah and James on how this can already be done and developments that are happening.
Panel discussion 2: ESG and social value in practice
In our second session, we zoomed in on ESG and Social Value delivery, shifting focus from theory to practice. The four panellists were invited to present their case studies or approaches and discuss:
Jeremy Nicholls, Assurance Framework Lead for SDG Impact Standards at UNDP
Mark Dickinson, CEO at Inspired PLC
Amy Dawson, Senior Social Value and Community Manager at Multiplex
Edita Adamcikova, Head of ESG at Viridor

The session was moderated by Ellie Jenkins, Partner at Akerlof, who summarised the main highlights and conclusions:
ESG and, or, instead of social value? The consensus was that both were needed, but there were differences in the drivers and requirements. Social value will provide richness and depth to ESG, focusing on impact. ESG reporting can help drive better social value performance.
Robust data is critical to sound ESG and social value decision making, particularly in recognising necessary trade-offs to optimise outcomes. Data-driven materiality assessments can support organisations in identifying areas of focus.
Buy in of organisations unilaterally comes back to people. Ensure there is scope for everyone to have a role in driving better outcomes. Avoid acronyms and complexity, favouring instead accessible language and familiar frameworks.
The numerous frameworks, standards, and metrics can be challenging to navigate and make the effective deployment of resources harder. While it is thought greater standardisation will come in time, the suggested focus, for now, should be on collecting the right data points.
Members discussion and Crispen's summary
A room full of ideas and suggestions were monitored and moderated by Crispen who listened and discussed what we'd like to see now, and what we could take away from this conference. The following was concluded:
Theme raised
What Social Value UK take away
1. Behavioural change
Support members to help create behavioural change: ESG and social value webinars and workshops can be created and delivered on request to help those stuck or who want support to influence others on this.
2. Capture data
Data can be used to drive decisions and behaviour. On the one hand, data is most useful when contextualised. On the other hand, presenters at the conference noted that framework agnostic data, or value-free data, can go some way in helping us understand what is going on.
3. Assurance
Continuing working to promote Principle 7 – Verify the results.

Scheduled 2022's Assurance Coffee Mornings to allow members and others to debate and discuss what a Social Value Assurance route can look like.
4. Thought leadership
Creating write-ups and blog + offering discounted recordings from the conference to continue to share the though leadership that was evident in the conference

Aligning with SVI's future events on this topic and will raise awareness of these through the SVUK membership too
Your feedback is important!
If you haven't already completed it, we would love to hear your thoughts & feedback on the conference in our short survey. This will help us to best understand successes and areas for improvement, to shape all future events for our members!
Recordings now available!
For those who were unable to attend, if you'd like to watch the recorded version of this conference, tickets for the recordings only can be bought for £30. Just drop us an email to [email protected]!
Thank YOU
Finally, we'd like to thank all of our sponsors. This is all of you who purchased a ticket and allowed us to run this event, independent of a small number of main sponsors and therethrough provide a more open debate for anyone to join. Amongst these ticket holders that made this even possible are:
Abigail Isherwood, Sustainability Consultant at EVORA Global
Aine Crossan, Senior ESG Analyst at Inspired Energy Solutions Limited
Alison Phillips. Director at Kindred CSR
Alison Thomas, Communications Director at Space & Place
Amy Ross, Head of Social value at Higgins Partnerships
Angela Halliday, Director Social Impact UKI at Sodexo
Anna McChesney-Gordon, Director of Consultancy at Social Value Portal
Ben Rosoman, Impact Analyst at The Good Economy
Brenda Sullivan, Insights, Risk Management, and Sustainability at Oxendon
Catherine A'Bear, Head of Operations at Content Coms
Chris Street, Head of Value Marketing at Thales UK
Colette Humphrey, Social Impact Manager at Wythenshawe Community Housing Group
Daniel Williams, ESG Analyst at Inspired Energy Solutions Limited
Eime Tobari , Social Value Strategist at COCREATIF Limited
Frances Toomey, Director at F. Toomey Associates
Hannah Marsh, Senior Research & Development Manager at Swan Housing
Hannah Oldfield, Director at CHY Consultancy
Helen Mitchell. Director at BLUKUDU LTD
Jack White, Sustainable Procurement Graduate at QinetiQ
Jensen Nixon, Director at LNJ Social Value Delivery Ltd
Jeremy Galpin, Digital Legacy Lead at Costain Ltd
Jo Davis, Customer Relationship Manager at Claritas Group LTD
Jo Fletcher, Head of Engagement at Osborne Property Services Ltd.
Joanne Cholerton, CEO at 3SC
John Bowden, Corporate Sustainability Adviser at Keepmoat
John Edwards. Senior Social Value Consultant at Costain Limited
Julie Blane, ESG & Impact Consultant at ESG for VC
Julie Cartwright, Social Value Advisor at Eurovia UK
Kieran Ronnie, Principal Social Impact Consultant at AECOM
Laura Burton, Director at LNJ Social Value Delivery Ltd
Laura Neville, Global Responsible Sourcing Lead at Compass Group
Layla Wildon, Director at Valconia
Liz Riley, Social Impact Consultant
Lucie Price, Outcomes Officer at Healthwatch Kent
Luke Callis, ESG Analyst at Inspired Energy Solutions Limited
Lynne Chancellor, Business Information Analyst at Wrekin Housing group
Michael Cook, Head of Insight and Impact at Thirteen
Michelle de Jongh, Director of ESG Services at Inspired Energy Solutions Limited
Monica Lobo, Associate Director of Social Value at Lobo
Natasha Jolob, Director at Kai-zen Change for Good CIC
Natasha Maddison , Research and Bid Coordinator at The Confab Lab Ltd
Neil Macdonald, CEO at Thrive
Nikki Davies, Managing Director at MPC
Olga Evdokimova, Director at EVOLUTION AND PHILANTHROPY
Paul Cahalan, Head of Communications at Chapmanbdsp
Rachel Kirkwood, Social Impact & Engagement Consultant at Stantec UK Ltd
Rama Iyer, Director General at WPP INDIA CSR FOUNDATION
Rhea Horlock, Head of Corporate Social Responsibility at NHSPS
Robbie Grieshaber, Head of Marketing at Impact Reporting Ltd
Russell Saunders, Project Manager at Russell Saunders
Sadie Watson, UKRI at Museum of London Archaeology
Sara Williams, Chief Executive Officer at Staffordshire Chambers of Commerce
Sarah Lambshead, Co-Founder at S2 Associates
Sarah MacNab, Head of Social Value at Bloom Procurement Services
Sophia Gibson, Associate Director at CBRE
Stephanie Robertson, Board Chair at Social Value Canada
Stuart Parker-Tyreman, Executive Director at GFM Education
Terence Yuen, Executive Director at Hong Kong Institute of Social Impact Analysts
Theo Wapshare, Solicitor at Burges Salmon LLP
Tim Edwards, Director at TJE Consulting
Tim Goodspeed, Director at External Funding Matters Limited
Toby Walker, ESG Analyst at Inspired Energy Solutions Limited
Tom Inglis, Managing Director at Cenefits
Tracey Lyth, Group Head Customer Success at Mears Group
Victoria Kruger, Project Manager (Strategic Housing) at Flagship Group
Posted 1st February 2022