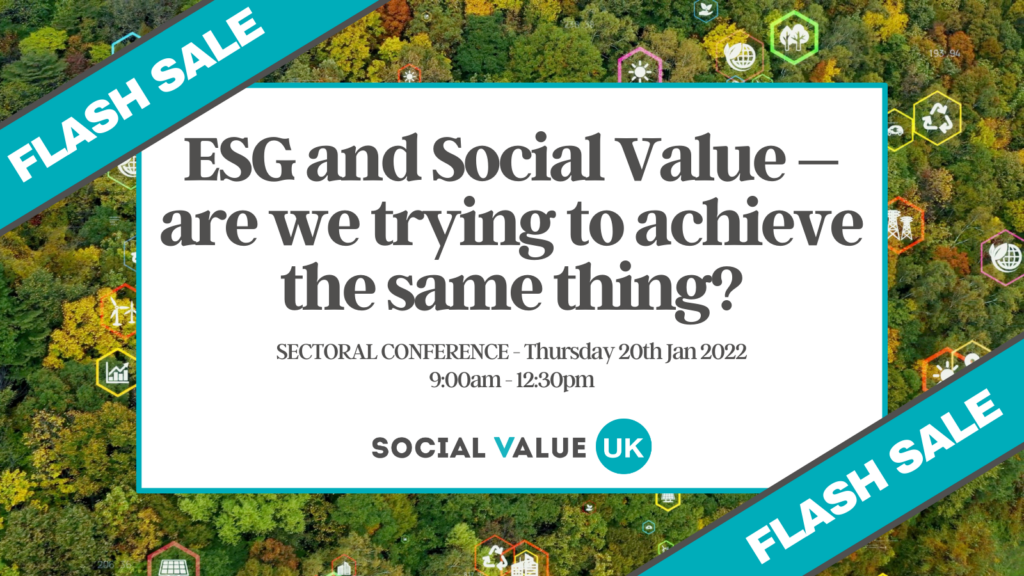 Posted 10th January 2022
Our next Sectoral Conference 'ESG and Social Value: are we trying to measure the same thing?', is taking place on January 20th. The conference is an excellent opportunity to hear from a variety of experienced speakers and join discussions full of like-minded individuals.
We have extended the invite to both members and our wider circle in order to open the conversation to all, on this important topic. This gives everyone the opportunity for some high-level knowledge sharing and discussion with other like-minded attendees. As well as hearing from a variety of 12+ experienced speakers.
This week (until 5pm Friday 14th) we are having a flash sale, with discounts on all ticket types. With spaces beginning to fill up, make sure to secure your spot!
What is the conference about?
ESG stands for Environmental, Social and Governance. Investors are increasingly applying these non-financial factors as part of their analysis process to identify material risks and growth opportunities.
In three years, the share of ESG funds will exceed non-ESG funds. Already a quarter of the assets under management are now considered ESG. And, as ESG is gaining momentum in sectors further afield than finance, many are puzzled with what is this concept about and how does it compare to what we call Social Value?
This half day conference, which hosts experts in the field, will dive into exactly that question. It will decipher the risk in approaches, the opportunities and what are some of the key challenges associated with an ESG approach to measurement? The conference will also discuss the future for ESG and Social Value.
The conference will also be recorded so that all ticket holders will have access to the recordings following the event.
We have already announced many of our expert presenters (head over to our Twitter or LinkedIn pages for more information) who will help you to understand how you can better explore the challenges and opportunities presented by an ESG approach.
Charging a fee for this event allows us to offer a neutral and unaffiliated space through a democratic sponsorship model rather than through the engagement of a few large sponsors. Every attendee is effectively sponsoring the event, and the production of more social value learning materials and content which can then be shared back with the social value community for the benefit of all involved.
Support from attendees in the production of this content and important conversations is hugely appreciated. Together we look forward to spreading the word and progressing the social value movement.
If you would like to find out more about tickets, the conference programme itself or anything else, do feel free to get in touch ([email protected]).
We look forward to seeing many of you there.
Best wishes,
The Social Value UK Team
Posted 10th January 2022