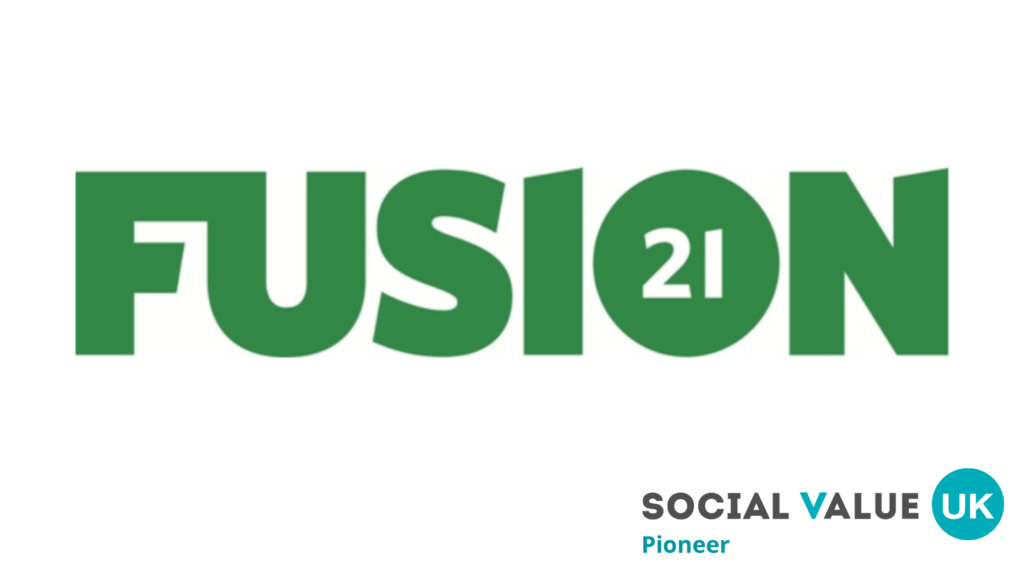 Posted 28th March 2022
Social Value UK is proud to announce Fusion21 as a Social Value Pioneer! Ahead of their joining, Social Value UK spoke to them about their social value journey so far.
"Fusion21 is a social enterprise specialising in efficient and impactful public sector procurement through frameworks that have social value running through everything we do.
Working with Fusion21 motivates you to make positive changes to society through your work. Whether you're a public sector organisation, developer, or contractor, you'll make a measurable impact on your local community, meeting your social value targets on every project.
We have decades of experience and a deep understanding of the future of social value and public procurement. We support our members to address urgent needs in their communities, like unemployment and skills shortages, and take an outcome-driven approach to integrating solutions into projects, from conception to completion.
Taking a razor-sharp approach to the technical detail enables us to embed social value, impact and change into the fabric of built environment procurement in the public sector."
Why do you think social value is important? In your organisation, your industry or in wider society?
Social Value has been at the heart of our organisation since its inception – as a social enterprise we embody the social change we all want to see, championing positive health and wellbeing, financial inclusion, housing, and employability for all.
Our charitable Foundation is also an integral part of the Fusion21 story. The Fusion21 Foundation puts money back into communities through traditional grants and large scale social investments.
We fund research and initiatives aimed at finding new solutions to complex societal challenges and make a real impact to people's lives.
Together, we have the power to shape the future of your community and play a vital role in how the public, private and third sectors collaborate for positive change.
Does your organisation have a background in social value/social accounting/SROI?
We aim to maximise social impact in everything we do. Social value is embedded in every aspect of our work and we monitor and report social value outcomes on all projects.
As a national procurement organisation, we support our public sector members to identify the need in their areas and design social value delivery plans to bring about change – whether that's through an apprenticeship, a community outreach programme, volunteering or targeted pre-employment support.
We also work with local authorities to help them embed social value in their planning processes –meaning that all major construction developments deliver social impact and leave a legacy.
What are your plans for your SVUK membership?
We're excited to connect with likeminded organisations to grow our own thinking around social impact and share our experience, ideas, goals and aspirations. We're looking forward to joining the SVUK family and being fully integrating within the SVUK network.
"As pioneers of real social impact through purposeful procurement, we empower you to think differently, work smartly and truly deliver on your social targets and ambitions. We take our commitment to social impact seriously and go beyond the requirements of the Public Services (Social Value) Act 2012 to stimulate projects, policies and practices that change organisations and society for the better. Together, we can build a brighter future that serves your local community more profoundly."
For more information please reach out to Sarah Maguire, Social Value Manager at Fusion21, via [email protected]
Posted 28th March 2022