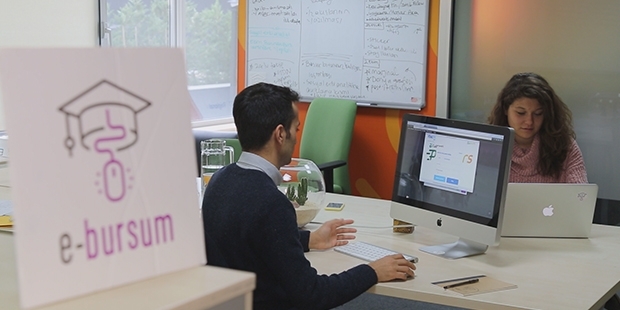 Posted 10th May 2018
Who are E-Bursum?
E-Bursum is a platform that matches students looking for scholarships with funders that have scholarships to offer students. We think that education is of the highest importance for all generations and should be accessible to everyone. In this context, our mission as E-Bursum is to make education more efficient, accessible and fair by reducing the inequality of opportunity to the minimum.
We have three main solutions. The Scholarship Management System is a system in which scholarship holders can receive and evaluate applicants, prepare application forms, collect documents, carry out authenticity checks, and manage current scholarship and achievement processes digitally. With the solutions brought by E-Bursum, grantors are saving time and material resources, and increasing productivity. These savings can be used as a capacity development opportunity.
We care that students are not only supported financially but also non-financially such as personal development. So we created an Online Mentoring System which gives opportunity to make online mentoring sessions through our platform. Social Impact Measurement is designed to measure changes in students' lives and to improve the social benefit created as a result of these measurements.
What inspired you to start measuring your social value and how did you begin the process of doing so?
We learned social impact measurement at the Know Your Impact project impact thinking camp by KUSIF. Because of this camp, a social impact study was created in Turkey for the first time. We studied theory and practical training during the 6-day course and then began to measure the impact of E-Bursum with 7 months of mentorship support. In this mentoring process, we created stakeholder based outcome map with Mikado Consulting. We identified our stakeholders, the impact that we want to create, and the tools that we would use for measurement. Later, we started to prepare questionnaires to measure our social impact systematically and scientifically.
E-Bursum is a social initiative that has worked hand in hand with its stakeholders since the beginning. The system was created and improved entirely from the demand of stakeholders. In fact, even before we began systematic measurement, we were actively listening to our stakeholders. We knew the social problem that we wanted to solve, and we were aware that the solution was cooperation with stakeholders. The scholarship does not only make the livelihood of the students easier, but also helps them to improve their lives in many different areas. For example; it can be observed that a scholarship recipient could have an improvement in family and friend's relations. A student who does not have to work anymore could have an increased attachment to the school, and thus an increase in their achievement.
But until now, the impact on students in Turkey has never been measured. We are trying to learn more about what we can do for them through social impact measurement. The online mentoring system was developed to further enhance our effectiveness. We want to support them professionally as well as financially.
What have you changed because of feedback received from your stakeholders who experience the service provided by E-Bursum?
E-Bursum was designed as a site for scholarship news while in the intellectual phase. To promote the scholarships that were available, to outline the conditions and how to apply. At this point, it was aimed to provide more convenience to the students. But later, when talking to foundations and associations, it turned out that they actually needed a scholarship management system.
They were collecting the applications by conventional methods, and there was no digital system yet. So we developed the Scholarship Management System to address these issues. This system simplifies the process for students and foundations. It also improves the fairness of student rating system when applying for scholarships. As a result we have created a fair and equitable scholarship system, which is our main goal.
Additionally, by May 2018 we will become an independent social media platform enabling foundations to directly reach students. Of course all our other features will remain the same. The feedback from the foundations, which are have had their own system, was to decide to adopt this change. The foundations will be able to share their activities and scholarships with the students. We will be able to reach to the target group very comfortably. In terms of students, they will be able to follow the scholarship givers they are interested in and be able to quickly and easily be informed about their announcements. By providing many scholarships from one place, the chances of missing scholarships will decrease. Additionally, the possibility of getting scholarships will increase as well as with increasing opportunities.
What did you learn from the process of measuring your social value?
We learned that listening to stakeholders is important but sometimes they don't know what they want. So we should always put our vision first. And being patient is really important. İnnovation can't be made in a day. The adoption of innovation by a community can take a long time, which is actually one of the most difficult aspects of social entrepreneurship.
Have you introduced the skills of measuring and maximising your social value to any more of your projects?
We are not applying these methods in a project other than E-Bursum. But besides measuring the effect of the scholarship, we also measure impact of the mentoring program on the students. Both student and mentor solve the questionnaires that we prepared every 3 sessions. We measure both the mentor-mentee relationship and the impact on the student's school, professional and personal life.
What have you decided to do differently next time?
We're too focused on improving the system and making it perfect. In the first stage, the MVP of the system could have been launched, we launched all the tools at the same time, so it took a lot of time and money. We tried to make a perfect system and forget about how sales are important. If we were more focus to sales, we could reach a sustainable income model faster. We think this is our biggest problem. For the next time, we can focus more to business and income model instead of perfection.
If you would like to talk to E-Bursum about their experience of embedding the processes to maximise social value into their organisation, you can get in touch via their website at https://e-bursum.com/
If you are interested in learning about how to measure and maximise your social value, we offer a range of training courses to suit you.