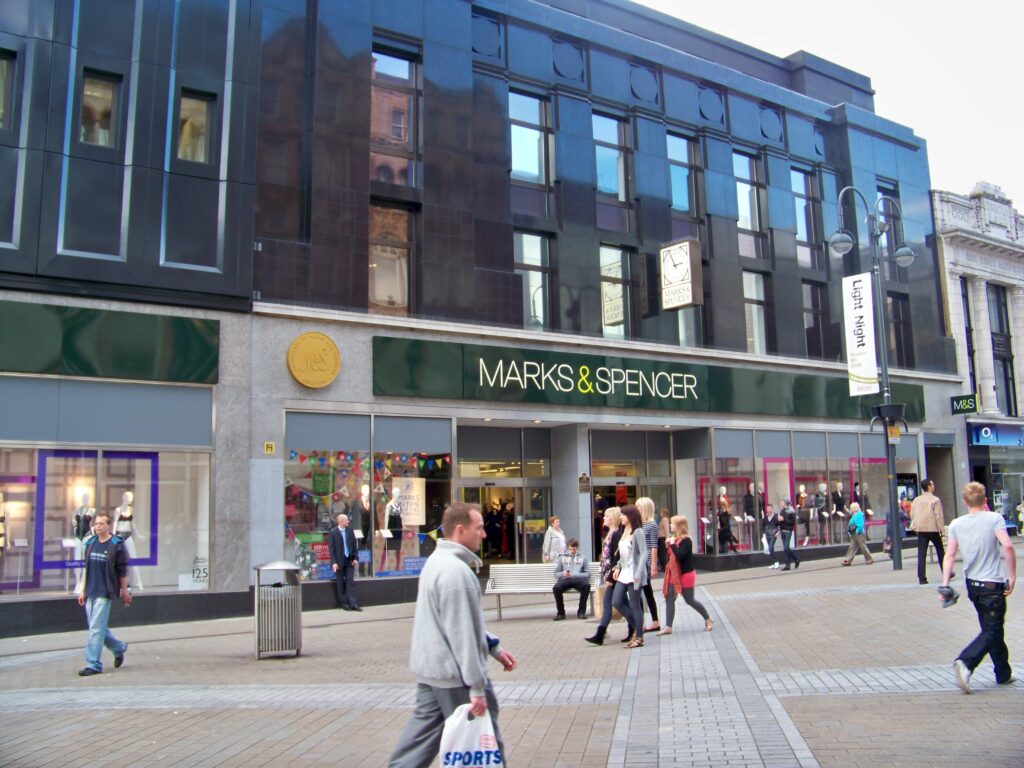 Posted 28th January 2019
Communities all over the UK are suffering more than ever. With Brexit looming and uncertainty becoming the new norm, now is a time we need financial, political and personal stability more than ever.
Deprived areas are, as usual, the hardest hit when large changes swoop over the country. And there seems to be a large correlation between how deprived an area is and where conglomerates close their branches.
Marks and Spencer recently announced their next wave of 17 store closures around the UK. According to English IMD, all stores proposed to close in England fall within the 50% most deprived LSOAs (geographical areas), with 2 amongst the 40% most deprived mark, 2 amongst the 30%, 4 amongst 20% and a further 4 amongst the 10% most deprived areas in England.
The lowest of which is the Weston-super-mare store in North Somerset, the 643rd most deprived area in England, out of 32,844.
But it's not only Marks and Spencer who are choosing to 'cut their losses' in deprived areas. Recently Hitachi announced the suspension of the Wylfa nuclear power plant in Anglesey. This move puts thousands of jobs at risk, as around 9,000 workers were expected to be involved in the building of the reactors by the mid-2020's.
According to the office of National Statistics, Anglesey is statistically the poorest part of the United Kingdom. These scrapped plans will no longer bring the boost to the economy that was planned and hoped for.
It has also been revealed that 15,000 jobs could be cut by Tesco, in a bid to save costs. This is the equivalent of around 20 staff per store. It is currently not known what will happen, leaving Tesco's 324,000 UK staff in a state of uncertainty.
The Philips factory closing in Glemsford, Suffolk, in an area which falls within the 40% most deprived areas in England. Despite stating that a deciding factor was not Brexit, it seems Philips is moving most of its operations to the Netherlands.
But what do these closures mean on a human level? It's one thing to read about it in the news, to hear about it on the radio when you're driving home and to mutter to yourself 'that's awful', but it's another completely to face facts of what the reality is.
The painful reality is that thousands face uncertainty, income has been lost, or is at risk of being lost, putting familial life at peril. Benefits will not help a large range of people, as has been seen with the continuing Universal Credit crisis leaving people will meagre amounts of cash to survive on per month. People must used food banks to feed themselves and their families. The Trussell Trust's foodbank network provided 658,048 emergency supplies to people in crisis between April and September 2018, a 13% increase on the same period in 2017. This rise has been blamed on the delayed wait for Universal Credit, a system which fails people who have already been failed by another part of society.
In the first half of last year an average of 14 stores were closing a day in the UK. Every area in the UK analysed by PwC saw a net loss in proportions of shops on the High Street. Greater London was the hardest hit. In London, 27% of people live in poverty, 7 percent points more than in the rest of England.
Clearly, this shows yet another connection between a disparity in wealth and areas which face economic hits. It seems that the poorest and most deprived areas are continually the ones hit the hardest with closures, with opportunities being stripped away, and a dangerous lack of ability to improve the local economy.
With Brexit looming, it is likely things will only get worse, before given a chance to get better. Our current economic system appears to largely ignore the facts of who is getting hit the hardest.
However, our Government is painting a different picture, with the most recent employment rate estimate by the ONS to be 75.8%, the highest it has been since records began in 1971. But how much of this consists of people on zero-hour contracts? Deliveroo and Uber Eats employees recently made headlines for striking as a result of poor working practices and an overreliance on zero-hour contracts.
How many of these 75.8% work in abusive and demeaning workplaces? ASOS and Amazon are praised for bringing jobs to local areas with their warehouses, but report after report shows that their abuse of employees is a part of their working culture.
Furthermore, the growth in employment consists two-thirds of self-employed individuals. Job vacancies themselves have not broadly increased. So, what is the truth here? All we can ascertain is that official figures are heavily skewed to show a healthy picture of employment, not one of mass closures, staff abuses and fear of the unknown coming this March. Whatever is going on with our economy is masked by figures being span in certain directions and buried under mounds of consistent, confusing, political news pieces.
What do we do about this?
We must continue to highlight the issue of rising inequality. Recently Oxfam found a 12% increase in the wealth of the very richest in the world, and an 11% drop in wealth of the poorest. We need to close this gap and improve the wellbeing of everybody, not just a small subset. At Social Value UK we want to change the way society accounts for value. This means arguing for a system where decisions are made not just on economic information. We also feel passionately about jobs and employment, we have a working group to set up to explore social value within employment. Join us as a member or a supporter.
This is the second in a blog series exploring how we can tackle inequality through greater accountability.