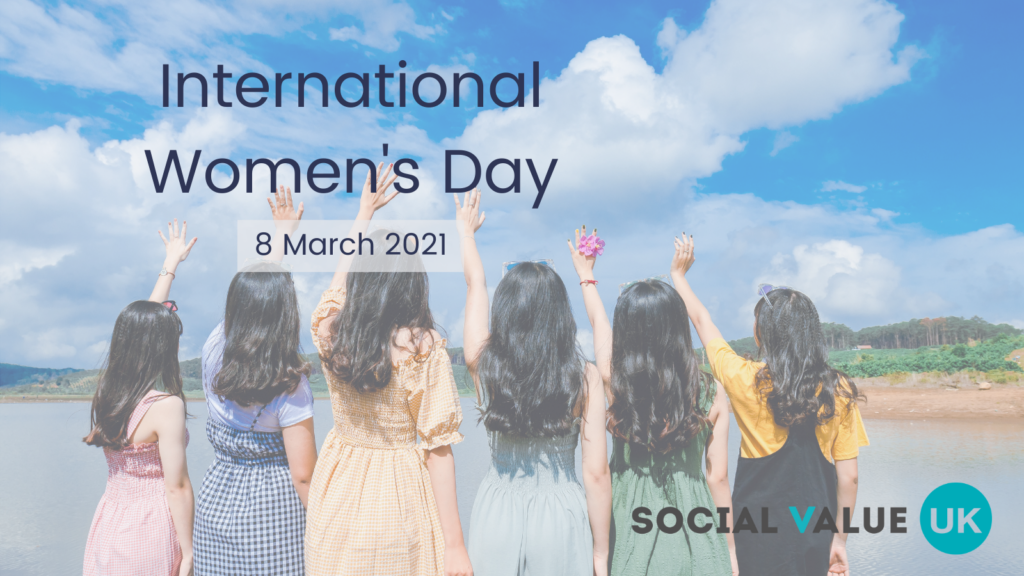 Posted 8th March 2021
The following blog is by Social Value UK's Interim CEO Catherine Manning
The International Women's Day theme this year is #ChooseToChallenge to call out gender bias and inequality. Social Value UK has the fight against inequality at its very heart. We have been working to act on equality, diversity and inclusion across our team, governance, membership and network. There is much to do.

Visibility of inequality is necessary to be able to address it, and on this International Women's Day we will look at some of the inequalities felt by women in the UK. Across our country, there is huge diversity of experience for women, the intersectionality of race, class, disability, religious affiliation, geography, and the many other factors of our lives bring vastly differing experiences for women's lives across the UK. Overall, the last year has not been good for gender equality and women's rights globally or nationally.

This context matters as we recognize all who are fighting the tide, excelling in their fields, and doing a bloody great job every day! There are inspirational women everywhere. The WISE 100 recognises women leaders in Social Enterprise.
Here on international women's day in the Social Value UK community, this is a shout out to all the amazing women in this network, and the great things you all do.
Our members, championing change across sectors and industries. Leading in their organisations and driving the social value movement forwards. Supporting, leading and inspiring in their sectors. Driving standards of practice through their own businesses, and through supporting assurance practice. Our SVI Practitioners here in the UK. Our wider network, championing social value in VCSE sector, driving social value through government, and leading the progression of the Social Value Act into Central Government. Our wonderful board members, our global community, and the amazing women in our team.
Looking at the media treatment of women in the public eye, in many ways we are taught to demonise, and break down women, so that it is easier to dismiss them. We can fight against this by supporting and building each other up. You all inspire me, it is a joy and a pleasure to work with, and learn from you all, the social value movement would not be possible without you all.


____________________________________
Happy International Women's Day 2021!