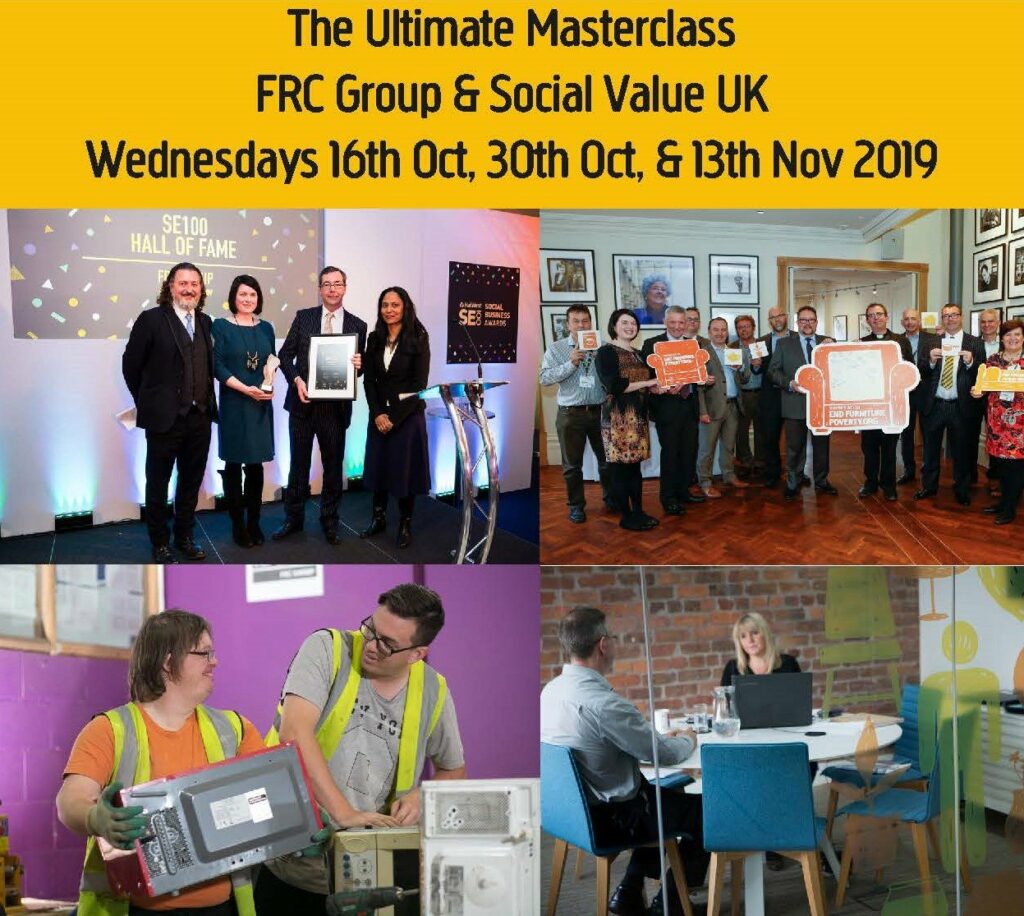 Posted 16th September 2019
Following the success of the inaugural FRC Group Masterclass earlier this year, the Liverpool-based social enterprise is now partnering with us at Social Value UK, the National Network for social value, to create the ultimate Masterclass.
The Masterclass will bring together FRC Group's expertise and experience of creating, sustaining and growing a thriving social enterprise; and Social Value UK, whose social value & SROI (Social Return on Investment) Accredited Practitioner training, has been running for nearly a decade, and has been delivered to over 2,000 people across the public, private and civil society sectors globally.
This three day Masterclass runs over 6 weeks, allowing time for reflection and the development of ideas and strategies during the course of the programme. The course dates are Wednesday, 16th October; Wednesday, 30th October; and Wednesday, 13th November 2019.
FRC Group celebrated their 30th anniversary last year by growing their turnover to more than £10m annually. This year they have been shortlisted for five Social Enterprise UK awards, including Social Enterprise of the Year and the Prove It: Social Impact award.
Social Value UK is the national network for social impact and social value. Social Value UK is a member of the global network Social Value International. As the gap between rich and poor increases and the effects of climate change become more apparent, Social Value UK's work has never been more urgent.
FRC Group will be drawing on their three decades of experience to share insight into how to create, develop and grow a successful social enterprise or charity with sessions on values, growth, and how to do things that match your purpose.
Social Value UK will be explaining how to measure and maximise your social value, with additional guest speakers from public sector procurement and experts on how to break into the corporate marketplace.
The course will be hosted by FRC Group at their Liverpool waterfront headquarters in Brunswick Business Park, close to rail and bus links and with free parking, and tickets cost just £995 plus VAT.
To book tickets, or for more information, please contact Claire Donovan at FRC Group on 0151 305 5212 or email [email protected]
There is expected to be high demand for this unique programme so please book quickly!