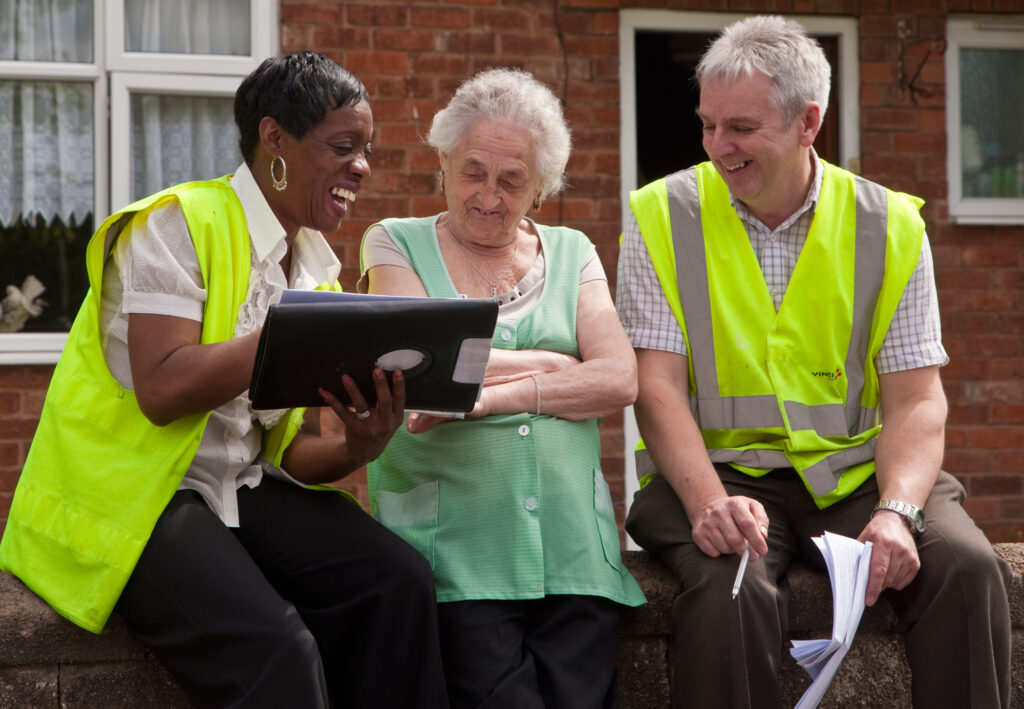 Posted 25th June 2018
"Don't get too focused on finding the holy grail of a perfect system of measurement. The most important part is not the number at the end; it is what you do in the first place and how you design your efforts to have the most impact. That's where Social Value UK has helped us the most."
Charlotte Österman, Senior Sustainability Advisor at VINCI Facilities talks to us about her involvement with Social Value UK.
What do VINCI Facilities do, what is your role at VINCI Facilities and what have you been working on with Social Value UK?
VINCI Facilities delivers facilities management and building solutions to organisations across a wide range of sectors.
We have developed successful partnerships with customers in healthcare, education, local authority, retail and social housing, as well as high-profile public and corporate estates. Our services allow customers to realise cost savings and efficiency gains, minimise their carbon footprint and ensure the continued smooth running of their business.
As part of the wider global VINCI Group, VINCI Facilities can draw on a wealth of international experience to provide sustainable, tailored solutions beyond the scope of ordinary FM and BS suppliers.
We are ranked as a top service provider in the Sustainable Facilities Management Index, the independent benchmarking exercise for sustainability in the facilities management industry, having achieved the highest scores for management and governance, environmental and social criteria.
As part of our service delivery, we always seek to deliver social value through our project teams and with our clients. However, a question mark around how we evidence this prompted us to join Social Value UK, as a first for facilities management and building solutions providers. This provided an interesting learning curve for us; in our search for reliable evidence of the social value we generate, we also obtained a better way of managing the value generated. It also provided a tool for a more meaningful conversation around social value with our teams and clients.
I am the Senior Sustainability Advisor for VINCI Facilities and I'm a part of an internal group exploring different options for social value measurement, which led to us joining Social Value UK in 2016. Through Social Value UK, I undertook the social value practitioner training, and following this we collaborated to create a Social Value Framework specifically tailored to a facilities management business.
The VINCI Facilities Framework and Menu of Social Value, helps us better understand where our impacts are, which will help us more effectively generate social value for our stakeholders. This framework is now being rolled out across our contracts.
What made you decide to take the social value practitioner training offered by Social Value UK?
It was a strategic decision to upskill one of our employees to better understand the concept and its management; and a chance to improve how we measure and manage the social value we deliver. It was also a way for us to educate ourselves to understand how we'd be getting the best value out of our new membership with Social Value UK.
What prompted VINCI Facilities to take social value seriously and decide to make it an organisational priority?
Social Value has always been an organisational priority. It is not a new concept for us, we have worked with integrating sustainability, including the social elements of it, for years. Through our Sustainable Business Model and V-MOST (where we set our targets and objects, with tangible KPIs for our teams annually) social value was already included.
Nevertheless, the Social Value Act that came into play in 2012 has changed how we speak about social value, which applies to both facilities management and construction, as well as other industries. It has led to a more mature approach to the measurement and management of the impacts businesses are having, not just the inputs, which for us became an opportunity to take our commitment one step further and improve our approach.
How do you think accounting for your social value has helped your business?
We are now looking at social value from a more holistic view, not only limited to corporate social responsibility initiatives. In the framework, we have 'added', 'embedded' and 'inherent' social value, which are three different areas of social value.
Recognising that the locality also makes a difference to the value we're generating and being able to account for this enabled us to choose the location for projects linked to deprivation status.
It will also help us better understand the social value activities that have already been generated across our business that were previously not being captured.
Just having the framework, running the pilot and now rolling it out sparks conversations with many internal and external stakeholders that helps to keep social value high on the agenda.
We are invited to many events and working groups on social value. Our work and membership to Social Value UK has most certainly contributed to us being associated with social value. As well as being able to show that our approach is sincere and that social value is something we care about.
What would you say to other organisations like VINCI Facilities who have heard of social value being mentioned but aren't sure what to do about it?
Do your research. There's heaps of information out there to help and there are organisations, such as Social Value UK, that are designed to help organisations better understand, manage and account for the social value they generate.
Other groups that we have supported to develop resources and information for our industries include: The Supply Chain Sustainability School and the Sustainable FM Index's report, outlining where Social Value is at in the facilities management industry.
Also, don't get too focused on finding the holy grail of a perfect system of measurement. The most important part is not the number at the end; it is what you do in the first place and how you design your efforts to have the most impact. That's where Social Value UK has helped us the most.
Are you interested in learning more about our social value training courses? We hold regular training courses in London and Manchester, as well as webinars and online courses, for all levels of experience.
Charlotte took the Social Value Practitioner (SROI) Training. Our training is designed to support you to respond to questions about social value in the procurement process and to embed the Social Value Principles into your organisation.
Visit the training section of our website and get in touch if you have any questions.