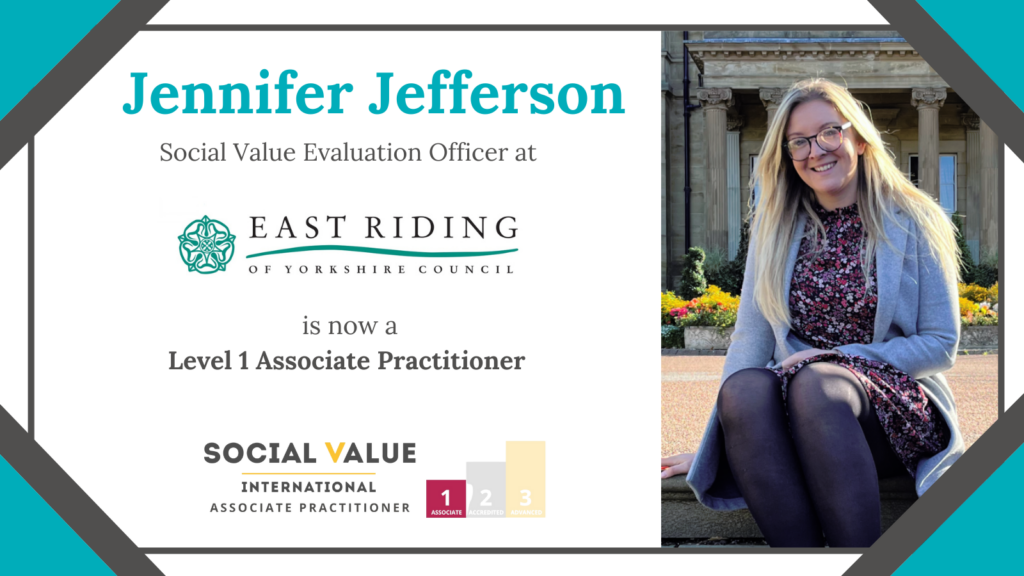 Posted 23rd November 2022
Social Value UK are proud to announce that our member, Jennifer Jefferson, has achieved Level One Associate Practitioner status.
Ahead of this announcement, we had a discussion about our Practitioner Pathway and Jennifer's experience with the Level One assessment process:
Why have you decided to undertake the Social Value International Practitioner Pathway?
In my role as Social Value Evaluation Officer working for East Riding of Yorkshire Council, I work with local VCSE organisations and my internal colleagues using our very own Social Value software tool, the Social Value Engine to help recognise the social impact created through a wide range of projects. After completing the Social Value UK accredited training programme, it felt like the natural next step on my social value journey. I feel that now I have completed the Level 1 Accredited Practitioner exam, my clients can have confidence in my ability to advise them in their impact assessments.
What did you learn and find useful from this assessment process?
The study material for the exam really refreshed and updated my knowledge around the 8 principles of social value, really going back to basics and reaffirming the importance of the principles.
Now that you are a Level 1 Associate Practitioner what do you plan to do next to develop your practice? How do you plan to use your practitioner skills? 
Now that I am a Level 1 Associate Practitioner, I feel my clients can see that I am committed to principled social value accounting and have confidence in my ability to advise them in their impact assessments. This is just the start of my social value journey and my aim ultimately is to complete the Level 2 and 3 training.
You have now joined a community of practice around the globe. What does this mean to you and why do you want to participate and contribute to the development of the methodology and overall social value movement?
I am so proud to have become a Level 1 Associate Practitioner with Social Value International and join the movement of committed professionals who are passionate about changing the way the world accounts for value, giving a voice to those who are rarely heard and going a long way to reducing inequalities. I think this also shows how committed East Riding of Yorkshire Council are in embedding social value in it's practices by investing in their people to be the best that they can be.
Despite the challenging financial climate, we continue to have high ambitions for the area and its significant opportunities and potential. We also continue to strive to remain one of the top councils in the country.

To focus on this aspiration, we have established a simple and powerful vision for the East Riding: Your East Riding… where everyone matters
For more information you can contact Jennifer via [email protected]
Posted 23rd November 2022