About Membership
Join Social Value UK and become a part of our community today
We view our membership as a movement of individuals and organisations committed to principled social value accounting, who believe this has the power to change wellbeing, equality and the environment. Our Individual Membership is aimed at social value practitioners and consultants, seeking support and assurance for their work and our Organisational Membership is for any organisation that wants to deliver best practice with their in-house social value accounting.
Find out about our Individual and Organisational Membership benefits, tiers and pricing here
Get Involved
Participate in a range of regular member-only meetings to network and share
Join Social Value Thought Leadership Groups and Regional Networks
Priority and/or discounted access to regional/national SVUK and SVI events and conferences
Access UK and International online member-only forums
Up to 30 additional users on the membership (organisational members only)
Build Social Value Capacity
By joining Social Value UK you commit to the Social Value UK Code of Conduct and agree to the Terms and Conditions of  Membership.
---
Now Offering Civil Society Grant Membership…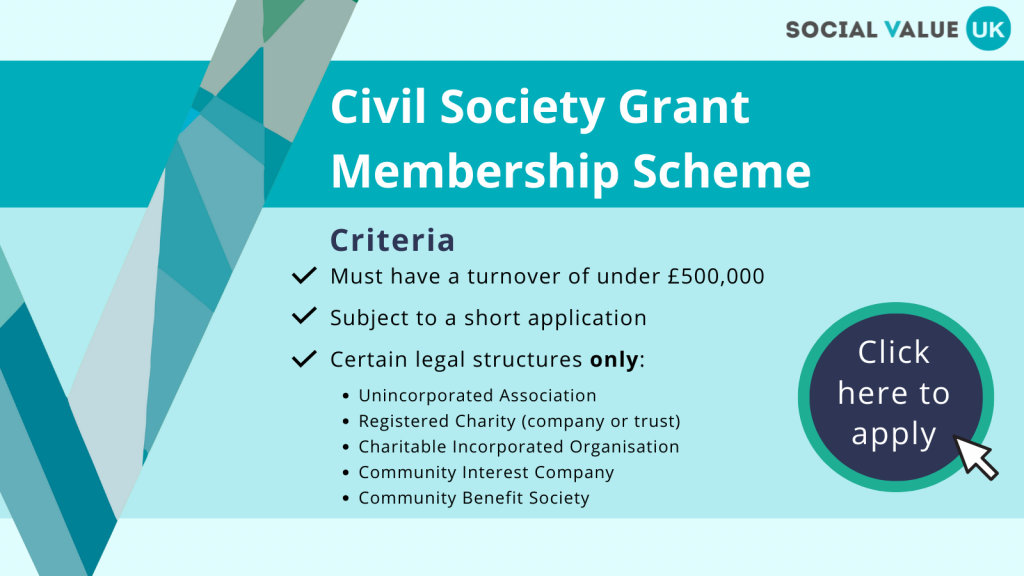 ---
Are you ready to be a Social Value Partner?
Social Value Partners are organisations who have made strides in social value, either core to it's mission or through their business activities and accounting.
They are organisations ready to collaborate with us, to share skills and assets to lead the movement forward; we co-design training, deliver workshops, host events together, campaign for progress, and change the way the world accounts for value. 
A Social Value Partnership is defined by the work we do together. If you are interested in joining as a Social Value Partner and helping us achieve our mission to change the way the world accounts for value get in touch.
---
For all and any enquiry about Social Value UK Membership, either contact our Membership Manager Lizzie Carline or join CEO Crispen Sachikonye and Lizzie on their fortnightly, Introduction to Social Value UK