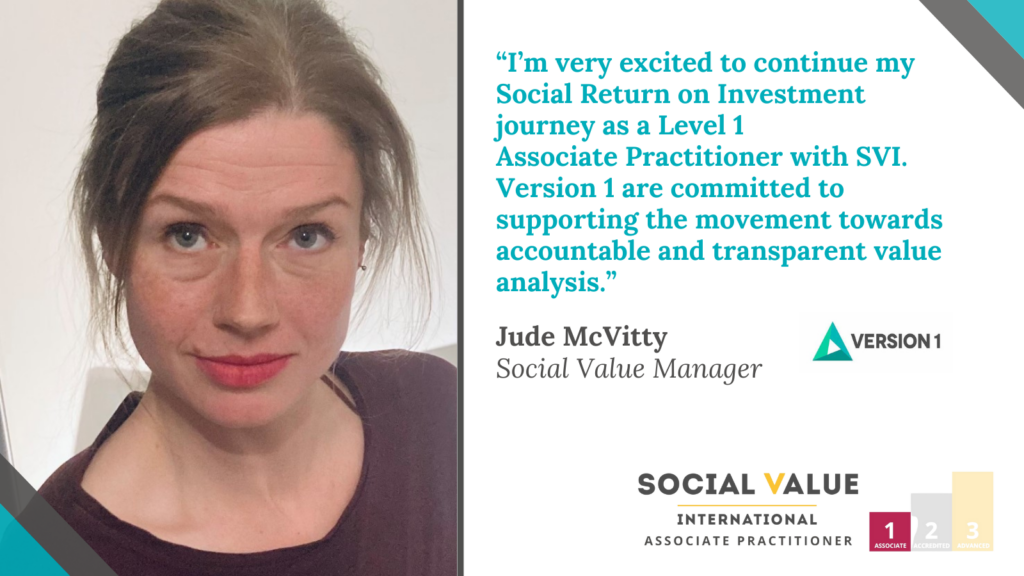 Posted 12th January 2023
Social Value UK are proud to announce that our member, Jude McVitty, has achieved Level One Associate Practitioner status.
"Version 1 proves that IT can make a real difference to our customers' businesses. Established in 1996 and headquartered in Dublin, Ireland, Version 1 is trusted by customers to deliver IT services and solutions which drive customer success. Our 2600+ strong team works closely with our technology partners to provide independent advice that helps our customers navigate the rapidly changing world of IT. Our customers include top global banks, many FTSE listed companies in the Financial Services, Utilities (incl. Oil & Gas, pan-European energy companies and major domestic water companies) and Commercial sectors as well as Public Sector organisations across local and central government. Our greatest strength is balance in our efforts to achieve Customer Success."
Ahead of this announcement, we had a discussion about our Practitioner Pathway and Jude's experience with the Level One assessment process:
Why have you decided to undertake the Social Value International Practitioner Pathway?
A large part of what I do at Version 1 is sell. I sell the efficacy and sustainability of my organisation to customers, I sell the innovation and congeniality of the tech industry to community groups, and I sell the value of creating positive social impact to my organisation. This is necessary, valuable and I am good at it, but it is only ethical if I am making every effort to understand, and transparently reflect, our impact. The principals of SROI will ensure that our understanding of social impact has a framework that is focussed on people, allowing Social Value at Version 1 to advocate for their voice using language that the rest of the business can understand and methodology that has gained international recognition.
What did you learn and find useful from this assessment process?
I was lucky to have the full support of Version 1 to complete both the online training provided by SVUK and the assessment process for Level 1. One of my biggest take aways from the training group is that a lot of Social Value people, no matter what industry or sector, are all pushing in the same direction. There's a whole discipline now, pushing for excellence and representing the voices of multiple stakeholders. It is pretty inspiring to be part of the movement.
Now that you are a Level 1 Associate Practitioner what do you plan to do next to develop your practice? How do you plan to use your practitioner skills? 
My first order of business as an accredited associate practitioner will be to carry out a full forecast SROI analysis on an upcoming programme. This will allow me to consolidate my understanding of the process, gain my Level 2 accreditation, and most importantly, inform the delivery model and impact measures for our upcoming initiative.
In time, I am hoping to offer SROI analysis on projects/contracts that we deliver for our customers, allowing us to work with them to improve the social impact of our core business: IT Services.
Are there any specific projects or activities you are doing at the moment that are related to SROI/social value?
Social Value at Version 1 is currently delivering programmes for 15 customers across the UK. My biggest project at the minute is recruitment. We're looking for a Social Value Associate to support our growth and deliver impactful initiatives for our customers. This will be a hybrid role, commuting to our London City office. Email [email protected] to find out more.
You have now joined a community of practice around the globe. What does this mean to you and why do you want to participate and contribute to the development of the methodology and overall social value movement?
I worked in community arts in Northern Ireland for a number of years and on the surface, we were doing good work. As time passed I began to become frustrated with the limitation of our impact, but in a competitive funding environment I struggled to find the language to express myself. To join a community of people who are defining and improving our understanding of impact will allow me to communicate better and advocate more effectively for social inclusion.
"I'm very excited to continue my Social Return on Investment journey as a Level 1

Associate Practitioner with Social Value International. Version 1 are committed to

supporting the movement towards accountable and transparent value analysis." – Jude McVitty
For more information you can contact Jude via [email protected]
Posted 12th January 2022