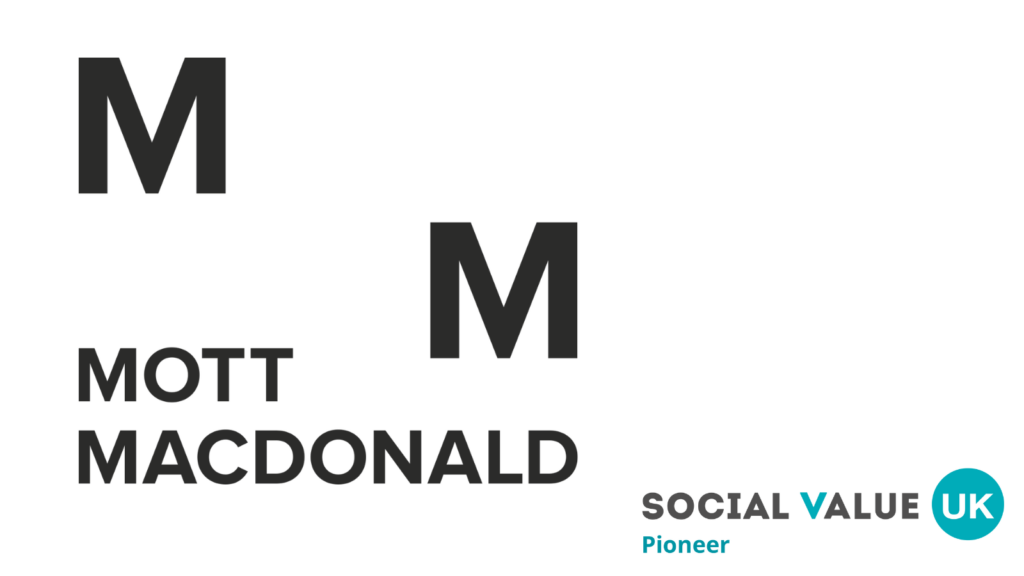 Posted 23rd May 2022
Social Value UK is proud to announce Mott MacDonald have joined us as a Social Value Pioneer! Ahead of their joining, Social Value UK spoke to them about their social value journey so far.
"Opening opportunities with connected thinking. Mott MacDonald is a global engineering, management and development consultancy. Our purpose is to improve society by considering social outcomes in everything we do; relentlessly focusing on excellence and digital innovation, transforming our clients' businesses, our communities and employee opportunities.
With more than 16,000 people working across the world every day to support local communities, improving outcomes and delivering projects that leave a positive legacy for generations. We are at the forefront of the evolving needs and aspirations of an ever-changing world. Across the globe we seek to find solutions that address challenges and maximise opportunities to improve and capture social, environmental, sustainability, and economic outcomes.
We are committed to ensuring our work supports local supply chains, upholds robust ethical standards, and actively embeds equality and diversity. In the social value space, we want to clearly demonstrate our commitment to ensuring social value is built in and not bolted on by ensuring we are leaders in shaping future and current policy, best practice approaches, and by delivering activities and commitments which are measured, meaningful and have a genuine impact. Generating benefits for our people, our clients, supply chains, and the communities where we work."
Why do you think social value is important? In your organisation, your industry or in wider society?
We are committed to connecting every opportunity generated by our projects into the needs of our local communities. Social Value plays a significant role in delivering economic, social, and environmental benefits and has the ability to change people's lives. By properly considering, planning, managing, and capturing the social value we generate, allows us to deliver transformational projects that provide a legacy for the communities where we work.
Does your organisation have a background in social value/social accounting/SROI?
Mott MacDonald has a long history of creating and delivering positive social impact, economic analysis, and wider community benefit reports. We have a first-class economics team, digital tools and models in place that allow us to forecast and assess the overall social return on investment for the some of the major projects we are delivering for our clients. However, with the introduction of the Procurement Policy Note 06/20 and the Social Value Model we have now turned our attention to specifically the social value we deliver as a business and developing a new set of tools, systems and process that will help our teams, supply chain and clients plan, manage and measure the social value we are generating.
We are continually expanding our social value expertise and have a team of social value subject matter experts in place. Our social value experts work across multiple projects, sectors and portfolios across Mott MacDonald in the UK to embed social value into everything we do. We are currently working on several large infrastructure projects, in the defence, health and transport sectors, and are embedding social value at every stage to maximise impact
What are your plans for your SVUK membership?
Mott MacDonald is thrilled to be a member of Social Value UK and we plan to fully utilise the benefits of our membership. Our overall aim and ambition for joining Social Value UK is to be at the forefront of social value thinking, planning and thought leadership. We are keen to expand our network, learn from others and be a vocal part of the social value conversation. We want to share our approach and experience – supporting campaigns, initiatives and to help spread and promote the benefits to every business of developing a robust and meaningful social value strategy.
We will work with our UK teams to build capacity and understanding around social value; to burst myths and promote the eight guiding social value principles. We are keen to develop our training material for our teams and build a network for social value champions across our business. We plan to undertake the Social Value Management Certification and will seek to have Social Value UK assure our social value delivery model, tools, and approach.
We aim to be an active participant in the training and development workshops, training, and programmes that you offer. We'd like to give something back to Social Value UK and will be happy to support you with speakers, projects case studies, thought leadership, joint events and be a fully involved and engaged member.
On a final note – we are also keen to understand how our global practice can get involved with Social Value International. We have several teams in the US and Australia that are beginning to explore social value and Social Value International would provide an established network to connect the with.
"Mott MacDonald is delighted to be joining Social Value UK as a Pioneer Member at this critical, post- pandemic time. Delivering social, economic, and environmental benefits has grown in importance over the last few years and we have developed our approach and the support we provide to our teams, clients, and supply chain to navigate and understand what delivering social value looks like. We are continuing to expand our social value team, have developed our approach, tools, templates, and guidance. We know that if we want great things to happen, we need to plan, measure, report and learn. We understand that social value is not just something that can be an afterthought, or a bolt-on. If we want to really affect change in people's lives, it needs to be embedded into the fabric of each project we work on at Mott MacDonald." – Caron Dunlop, Technical Director (Social Value)
For more info please contact Caron Dunlop, Technical Director (Social Value), via [email protected]
Posted 23rd May 2022