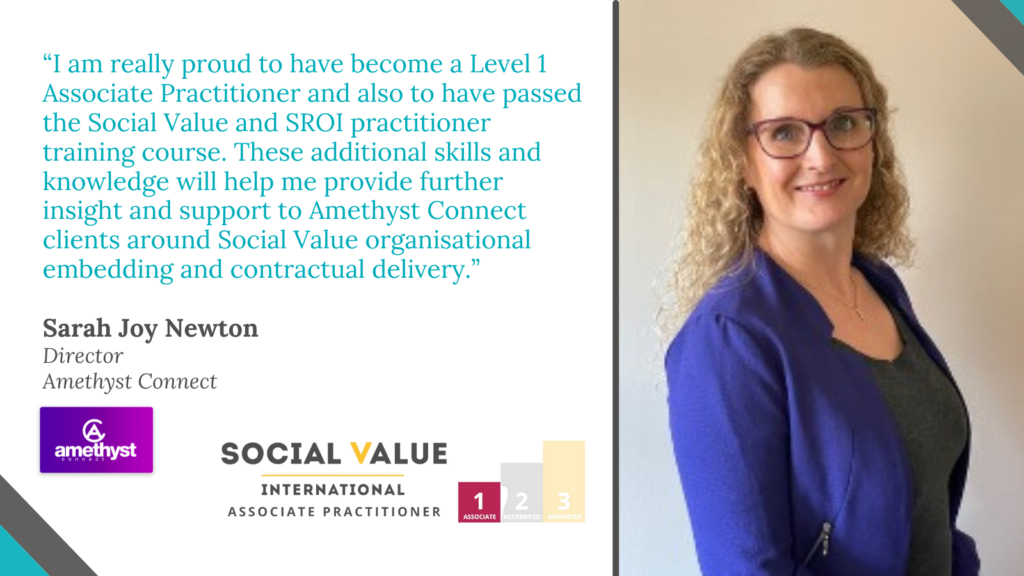 Posted 12th June 2023
Social Value UK are proud to announce that Sarah Joy Newton has achieved Level 1 Social Value Associate Status.
Sarah is the Director at Amethyst Connect. Amethyst Connect works with clients to help and support them with all the complex requirements of the public procurement process. They aim to provide solutions to ensure tender success.
Ahead of this announcement, we spoke to Sarah about her experience with the assessment process…
Why did you embark on the SVI Professional Pathway?
As a Consultant who supports clients with tender bid writing and embedding social value into organisations, I felt it was important to understand more about the Social Value International principles of Social Value and how Social Return On Investment is conducted.
What elements of the assessment were particularly useful to your learning?
I really found it beneficial learning about stakeholder engagement, how to explore the impact of change and measure how significant that impact has been.
How do you plan to utilise your newly acquired Level 1 Associate practitioner skills?
As a Consultant primarily supporting organisations with public procurement tendering, in particular in the MedTech sector, I believe my new skills will help me to explore with clients in more detail the impact their Social Value offerings will have.
Do you intend to develop your social value practice further?
I will continue to support clients in embedding social value into their organisations and to help them with their social value tender commitments to ensure that they are deliverable, measurable and meaningful.
Congratulations on joining our social value practice community. What does it mean to you to be part of a global network? How can you contribute to the social value movement and what issues/areas do you intend to address?
I have a particular interest in the Environmental element of Social Value. This is partly driven by supporting clients with the requirement to meet the NHS Net Zero targets.
So, I hope that being part of a global network will provide me with opportunities to share experience and collaborate on that specific challenge.
"I am really proud to have become a Level 1 Associate Practitioner with Social Value International and also to have passed the Social Value and SROI (Social Return on Investment) accredited practitioner training course. These additional skills and knowledge will help me provide further insight and support to Amethyst Connect clients around Social Value organisational embedding and contractual delivery."