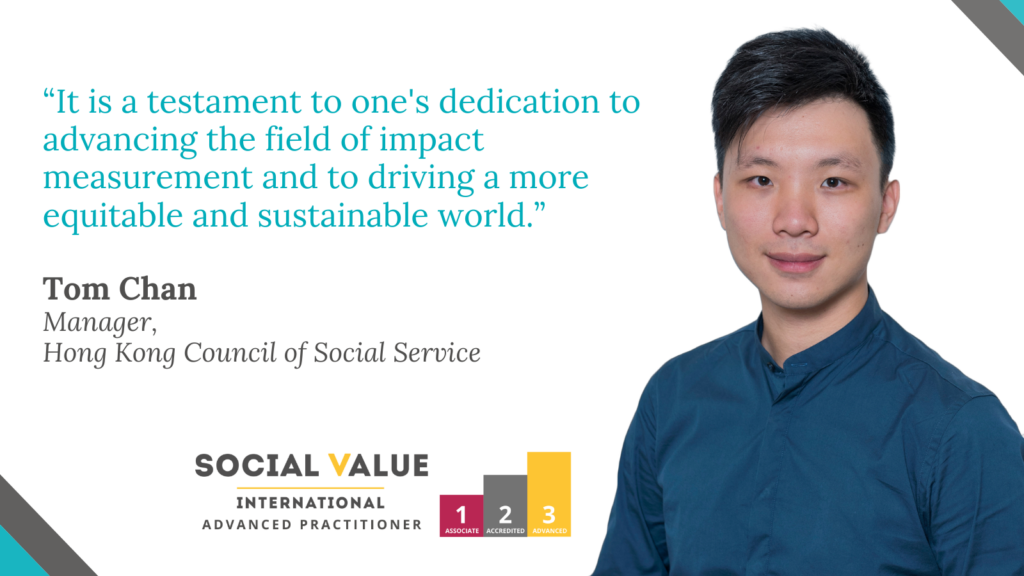 Posted 27th April 2023
Social Value UK are proud to announce that Tom Chan has achieved Level 3 Advanced Practitioner status.
Tom is a Manager at the Hong Kong Council of Social Services.
The HKCSS is a statutory body established in 1947. Together with their Agency Members, they uphold social justice and equality in their mission to advance the well-being of the Hong Kong community. The HKCSS is committed to building an impact-oriented, collaborative and innovative social service sector, and co-creating a better society with stakeholders across different sectors. The HKCSS has over 510 Agency Members, with service units throughout Hong Kong, providing high-quality social services to those in need.
Ahead of this announcement, we spoke to Tom about his experience with the assessment process…
Why have you decided to undertake the Social Value International Professional Pathway?
Through the SVI practitioner pathway, I can stay tuned for the global trend and new development in the profession of impact measurement and management. SVI also envisions a community for exchanging and discussing professional practices of impact measurement.
What did you learn and find useful from this assessment process?
The assessment process was like a peer review. The assessor made good observations on the report and gave me valuable advice. It's an enjoyment to discuss the technical details of the report with an experienced practitioner who has solid field experience.
Now that you are a Level 3 Advanced Practitioner what do you plan to do next to develop your practice? How do you plan to use your practitioner skills? 
There are lots of conferences, workshops, activities and webinars, as well as publications organised and published by SVI and its affiliated networks, such as the Hong Kong Institute of Social Impact Analysts (HKI-SIA). All in all, I will share my experience in Hong Kong and the larger community and encourage more people to undertake the SVI practitioner pathway.
You have now joined a community of practice around the globe. What does this mean to you and why do you want to participate and contribute to the development of the methodology and overall social value movement?
By having consensus on the principles and systemic framework for impact measurement and management, more talents could join this sector and the cost for accounting social value will be lower, thus building up a world that is more sensitive to social value.
"It is a testament to one's dedication to advancing the field of impact measurement and to driving a more equitable and sustainable world." – Tom Chan