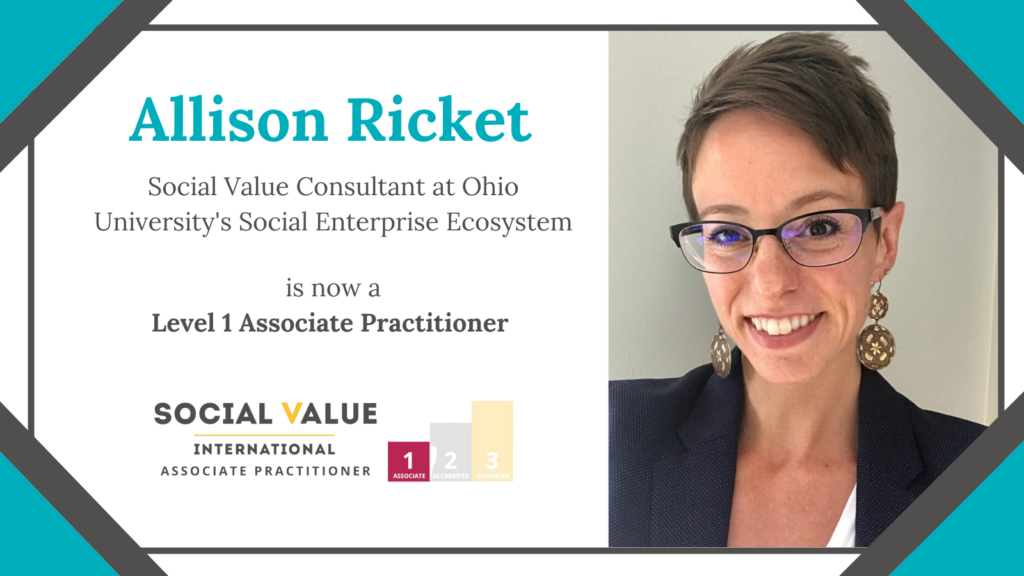 Posted 2nd August 2021
Social Value UK are proud to announce Allison Ricket, Social Value Consultant at Ohio University's Social Enterprise Ecosystem (SEE Appalachia), has achieved Level One Associate Practitioner status.
Funded by an Appalachian Regional Commission POWER grant, the Social Enterprise Ecosystem (SEE Appalachia) is a project that seeks to make positive changes to health and wellness, education and the environment. SEE assists social enterprises, which combine the social mission of a nonprofit with the market-driven approach of a business, with financing and operational sustainability in every stage, from start-up to eventual growth and expansion. The Voinovich School and its partners, the Foundation for Appalachian Ohio and the Parkersburg Area Community Foundation, work throughout a 10-county region in Ohio and West Virginia to support social enterprises that share the project's goals.
Ahead of this announcement, we had a discussion about our Practitioner Pathway and Allison's experience with the assessment process:
Why have you decided to undertake the Social Value International Practitioner Pathway? What has led to your application for Level 1 of Practitioner?
I am in graduate school in the US at Ohio University, working on my doctorate. Because of my work, I began looking for a methodology that would allow me to research and measure from a systems perspective; a methodology that would run counter to traditional ways of measuring that were too narrow for understanding the ripple effects of activities on multiple stakeholders. In the US, measuring social value in a rigorous way that also allows us to communicate that impact to a wide audience of funders while also gaining community support is invaluable.
What did you learn and find useful from this assessment process?
SVI is the gold standard for social value accounting and SROI. Through this assessment process, I have a strong foundation in the principles and practice designed by the thought leaders of measuring social value.
Now that you are a Level 1 Associate Practitioner what do you plan to do next to develop your practice? How do you plan to use your practitioner skills?
I currently work as a consultant with Ohio University's Social Enterprise Ecosystem team, where we help local Non-profits and social enterprises measure their social impact. Since the training, we have completed 4 very focused SROI projections on local enterprises and are in the process of a few others. Additionally, our team has been very active in conducting seminars and presentations on measuring social value and SROI to educate local foundations, impact investor groups, and university partners about social/value and SROI. We hope to develop social value/SROI as a widely used practice not only by large corporations and non-profits in the states, but also as a practice that can be used in rural and/or underserved areas by small start-ups, social enterprises, for-profit, and non-profit organisations.
I am also working on an SROI of a local educational non-profit which will be my dissertation for my doctoral program as well as my submission for Level 3 Practitioner Status. I have been immersed in the social value/SROI academic literature that has come out in the states in the past two decades, and am thinking about ways to contribute and further that conversation, especially as it relates to ESG, GIIN and other sustainability measures used widely but inconsistently here in the states.
Are there any other specific projects you are doing at the moment that are related to SROI/social value?
We have done SROI projections/evaluations on the following organizations/social
enterprises:
1. Habitat for Humanity of Southeastern Ohio: projections for a construction company enterprise they are beginning in the fall. These projections allowed them to make decisions about what activities to begin in the fall for the most impact versus which activities should be slated for Phase II of their development
2. ZeroWaste, an enterprise arm of Rural Action: Taking existing qualitative and quantitative data from ZeroWaste allowed us to perform an evaluative SROI on ZeroWaste initiatives of Rural Action. This SROI allowed them not only to see where to maximise impact, but also helped them refine and streamline their impact data collection process. (NOTE: Many organisations in our area are just beginning to make the transition to thinking about. outcomes/indicators versus outputs. It is a big jump for many of us here.)
3. TruePigments: this enterprise takes acid mine drainage (an environmental blight on our region) and turns it into paint pigment. This SROI projection was for the plant they want to build to scale collection and production of the iron oxide pigment. This SROI projection is helping to attract private impact investment funders during this round of fundraising.
Social Value/SROI projects currently in the works:
1. Shagbark Seed Mill: So far, we have begun talking about impact measurement and what might need to change in the organisation to be able to measure impact. A full-scale SROI projection is desired.
2. Serenity Grove: this sober living house for women in Appalachia desires a way to communicate the impact of their unique community-connected approach to helping women get and stay sober. So far, we have talked about existing measurements and theory of change.
You have now joined a community of practice around the globe. What does this mean to you and why do you want to participate and contribute to the development of the methodology and overall social value movement?
Thinking in systems is the only way to a sustainable future. In order to think and understand systems, we must have a way to communicate and account for individual activities' impacts across multiple systems, to look for changes we may expect and not expect. The Social Value movement allows us to do this – to think and measure in complex ways but to also communicate that in a way that makes sense to multiple stakeholder groups. When we prioritise the voice of the beneficiary, we come to understand better ideas like quality of life, what is valuable to the people we seek to serve, and further give voice to stakeholders like the environment who have no voice in the process.
"Becoming a Level 1 Associate Practitioner with Social Value International means I've been trained in the best practices the world has to offer for measuring social value. Our goal is to build momentum for the movement in the United States by increasing the capacity of small and medium organisations to account for social value."

Allison Ricket, Social Value Consultant at Ohio University's Social Enterprise Ecosystem
For more information from Allison, reach out via [email protected]
Interested in becoming an Associate Practitioner? Find out more here.