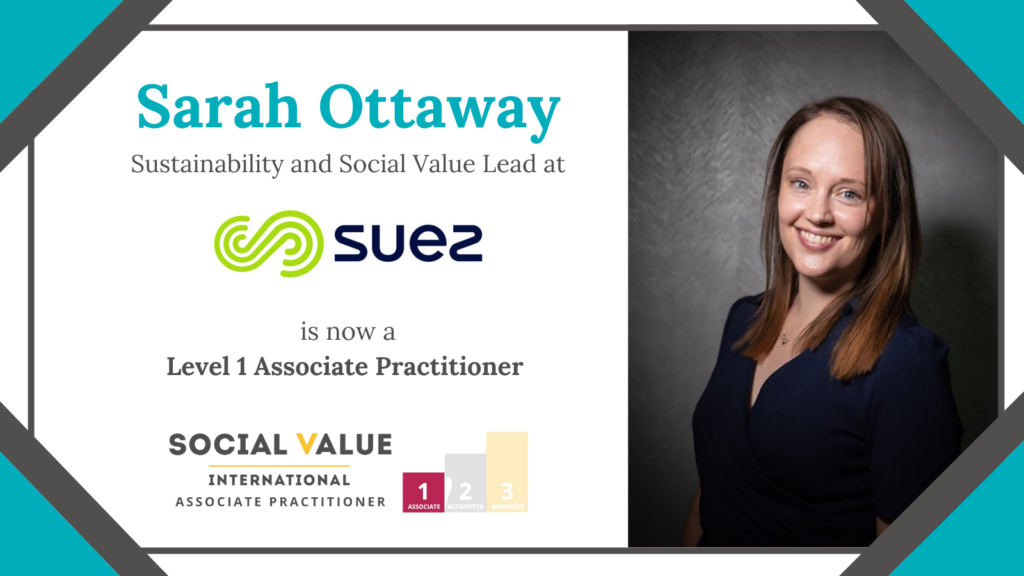 Posted 6th August 2021
Social Value UK are proud to announce Sarah Ottaway, Sustainability and Social Value Lead at SUEZ Recycling and Recovery UK, has achieved Level One Associate Practitioner status.
About SUEZ recycling and recovery UK:
SUEZ recycling and recovery UK is a business unit of the global SUEZ group. In the UK, SUEZ employs over 5,600 people, operating across hundreds of sites, and handles in excess of 10 million tonnes of waste materials every year – a significant proportion of the UK's total waste. Through collection, treatment, recycling and logistics operations, it serves more than 30,000 business customers and millions of householders throughout the country.
Ahead of this announcement, we had a discussion about our Practitioner Pathway and Sarah's experience with the assessment process:
Why have you decided to undertake the Social Value International Practitioner Pathway? What has led to your application for Level 1 of Practitioner?
As the lead for social value at SUEZ Recycling and Recovery UK, I'm constantly looking to learn about the topic and how I can continually improve how we create and account for social value as an organisation. The Social Value International Practitioner Pathway is an ideal way to focus my learning against the seven (soon to be eight) principles of social value, join a network of likeminded practitioners and by becoming a Level 1 Associate Practitioner, demonstrating that my knowledge meets Social Value International's standards.
What did you learn and find useful from this assessment process?
As part of the assessment process I delved deeper into each of the social value principles further than I have to date, which has been incredibly useful as I have plenty of notes and ideas for how to further our social value practice at SUEZ as a result.
Now that you are a Level 1 Associate Practitioner what do you plan to do next to develop your practice? How do you plan to use your practitioner skills?
I plan to use my practitioner skills to review and develop how we are approaching social value at SUEZ, as we are on a journey and while we've come along way in the past two years since I stepped into my role, there is still plenty left to do!
To develop my practice I am looking forward to getting more involved with the network of practitioners and learning from their experiences, and as someone who is always keen to learn, particularly on topics that I'm passionate about, I'm going to be looking at the other opportunities for learning through Social Value International, and in time working towards becoming a Level 2 Accredited Practitioner.
Are there any other specific projects you are doing at the moment that are related to SROI/social value?
At SUEZ we are embedding social value into everything we do; it is becoming a part of how we develop our services and measure our success. Currently I am reviewing the key performance indicators (KPIs) we use to measure and understand our social value and were originally developed almost two years ago. My using what I've learnt during this time and through the accreditation process, I can make sure we are measuring what matters.
You have now joined a community of practice around the globe. What does this mean to you and why do you want to participate and contribute to the development of the methodology and overall social value movement?
Social value can support more effective decision making to tackle the major social, environmental and economic challenges we face as a society, and it has huge potential to drive positive change as the world wakes up to these challenges. I am excited to be joining the global social value movement and playing a part in developing how we apply these practices and support the broader adoption of social value in both the public and private sector.
"I am delighted to have become a Level 1 Associate Practitioner with Social Value International, because it demonstrates that my knowledge is consistent with Social Value International's standards and means I am joining a network of likeminded practitioners who are changing the way the world accounts for value."

Sarah Ottaway, Sustainability and Social Value Lead at SUEZ Recycling and Recovery UK
For more information from Sarah, reach out via [email protected]
Interested in becoming an Associate Practitioner? Find out more here.