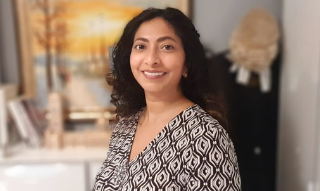 Posted 6th January 2022
Dear Members,
We are both honoured and proud to announce that our CEO, Isabelle Parasram, has been awarded the Order of the British Empire (OBE) by Her Majesty The Queen in this year's New Year Honours List, in recognition of her Political and Public Service.
Learn a bit more about Isabelle's life before joining us at Social Value UK:
She advocated on democratic engagement and social justice as Vice President of The Liberal Democrats, as a member of its Federal Board and as Patron of a network for political donors. She is a past Parliamentary and London Assembly candidate.
She continues this work as a Board Director of a policy research forum and as a Trustee of its associated international think tank – The Paddy Ashdown Forum.
As a barrister, Isabelle worked nationally and internationally as the Head of a barristers' chambers she founded in 2012. This followed a lengthy legal career in the public, private and charitable sectors, a significant part of which comprised her work for The Civil Service.
Her involvement in the field of education includes acting as a Trustee of educational charities and as a Governor of a state secondary school.
She was educated in Trinidad & Tobago and in the UK, attending St Joseph's Convent in San Fernando, then The Ursuline Convent in Ilford. Following this, she graduated from King's College London with an LLB (Hons) degree and was called to the Bar of England and Wales by The Honourable Society of Gray's Inn. She also holds NVQ assessor and early years and adult education teaching qualifications.
On a personal level, Isabelle was born in East London to Indo-Caribbean 'Windrush generation' parents who came to the UK from Trinidad and Tobago.
---
She joined us at Social Value UK, working alongside her fellow CEO, Crispen Sachikonye, to further develop the national network for those interested in social value and social impact. She guides the team in working with our members, through Social Value Principles, to achieve a broader definition of value within accounting so that decision-making adequately prioritises equality, environmental protection and wellbeing.
Commenting on the award, Chair of the Board of Social Value UK, Mandy Barnett, said:
"What a fantastic vote of confidence in Isabelle's work. At SVUK we've been working on Social Value practice for years, but Isabelle has added a new layer in her focus on social justice that will move the discussion beyond the purely professional – and make it more relevant to many more people."
We couldn't agree more. Isabelle's experience in political and public service has proven invaluable in progressing the social value movement, as we are able to open up our important conversations to all!

We look forward to harnessing this exciting momentum, guided by her leadership, for years to come.
As always, do reach out if you have any questions!
Best wishes,
The Social Value UK Team
Posted 6th January 2022