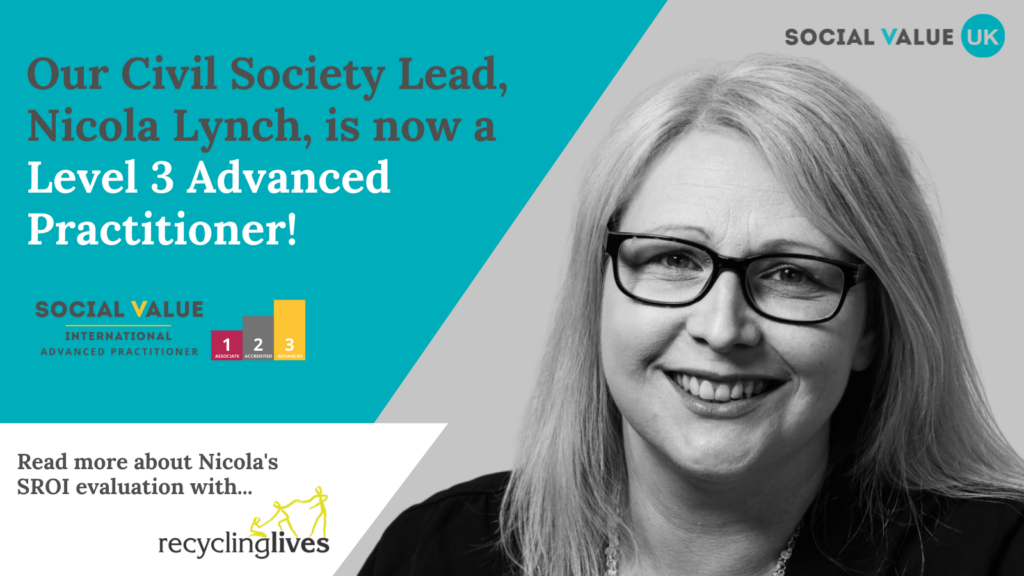 Posted 15th March 2022
Here at Social Value UK we are proud to announce that our National Civil Society Lead, Nicola Lynch, has achieved Level Three Advanced Practitioner status!
As well as leading our Civil Society members, Nicola is also an Independent Consultant to the voluntary, charitable and social enterprise sectors. As part of her application for Level Three, Nicola worked with Recycling Lives to evaluate their social return on investment and shared her thoughts on the whole experience with us.
Nicola here…
Report assurance isn't always top of a charity's to-do list (and certainly not in the middle of responding to a pandemic) but in 2021 the team at the Recycling Lives Charity decided to pop themselves under the microscope and commission a Social Return on Investment evaluation. To make it that bit more challenging they opted for full external assurance on top of the evaluation itself!
Why was this important to Recycling Lives?
Alasdair Jackson, CEO of Recycling Lives, told us, "Although the most important part of our work will always be positively impacting and changing lives, demonstrating that impact is also important. It's a big part of earning and maintaining trust. Commissioning the SROI Evaluation was part of this, as well as an opportunity to really hear and learn from our stakeholders."
As a Social Value Practitioner this was great news. We live by our principles here at Social Value UK and external assurance helps hold us practitioners to account on all the key principles such as 'transparency' and 'verifying the result.' It means our decisions and judgements are scrutinised carefully by both stakeholders and peers and that creates confidence in the findings. It also creates a sound platform for responsiveness – if we're confident in a well delivered process and its findings we can also be confident in implementing the learning and taking action to create more positive change in our stakeholders' lives.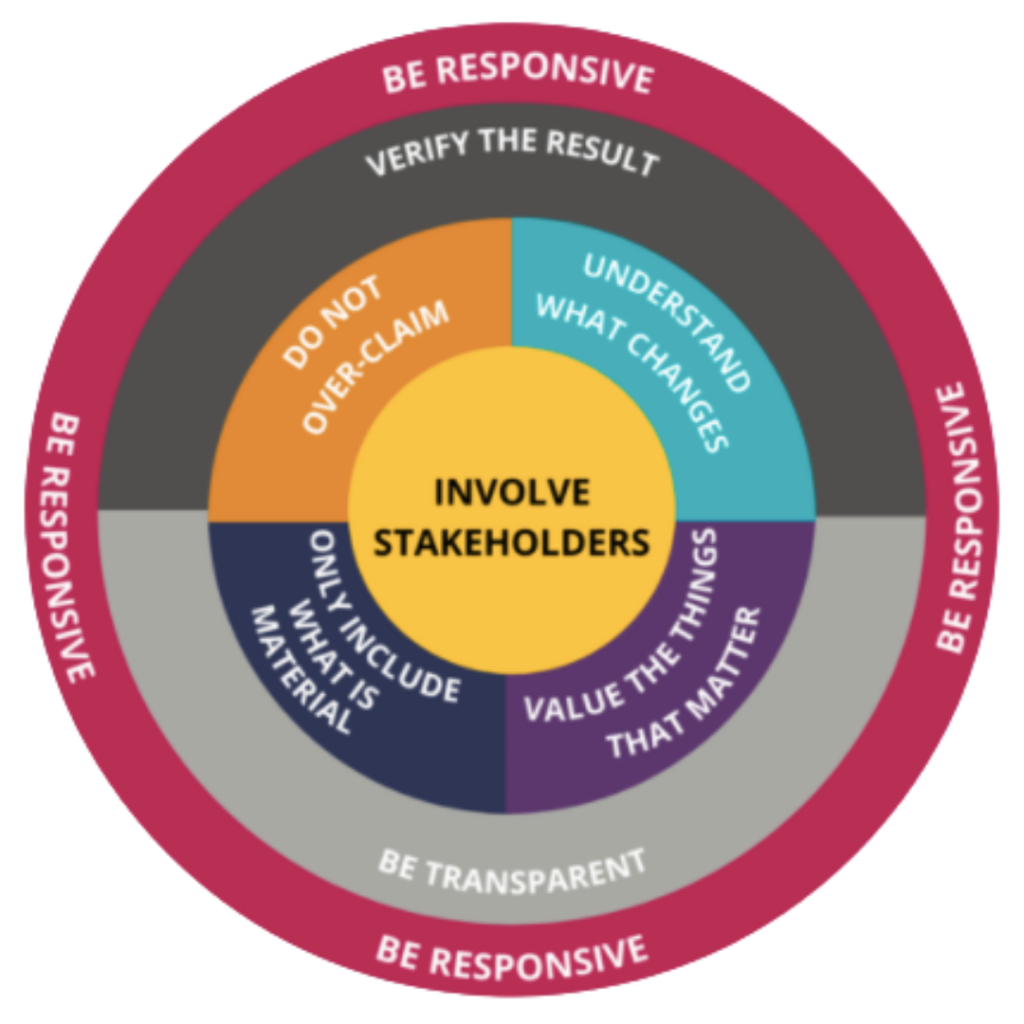 Read more about our 8 Principles
What did people say?
To fully evaluate the impact of the services that Recycling Lives delivers I used a wide variety of qualitative methods and engaged with a broad range of their stakeholders. These included their beneficiaries, staff & volunteers as well delivery & referral partners such as prison & probation professionals and other grassroots community groups.
"You come from a world where you're the king to this place where you're nothing. You're worthless. Everyone hates you coz you're just scum. So either you go back where you came from or you sit there feeling worthless for the rest of your life. [RL] gave me another option. Working with them has given me a way out…I feel like I can be something again…but a different, better something. I can do something with my life and they've given me that confidence." – Beneficiary interview
"Reducing the stigma of people with a conviction, reducing the number of victims by reducing the number of people who reoffend, delivering quality services to the community by developing a great workforce, reducing the number of people without a safe home (thus reducing demand for housing, even slightly), providing assurance to the family members of the people you work with that their loved ones are getting the support they need to turn their lives around. This list could go on and on!"- From online survey of external stakeholders
"In the past loneliness was an issue for me but since coming to Recycling Lives I haven't felt that and I know that if I ever did then I could turn to the team here and get support. I feel nervous about the future, but I know that I am ready to take the next step. I am confident, inside and out, and my hopes are alive again"- Beneficiary interview
To conclude:
We concluded that the social return on investment generated by Recycling Lives between 1st January 2020 – 31st December 2020 was between £7.33 and £9.35 for every £1 invested in their programme. This figure is a great reflection of the positive impact delivered by the charity. Achieving report assurance is certainly not 'a given' and this report sits among an elite crew of internationally assured & published SROI's! I am so proud of the Recycling Lives team for opening themselves up to the whole process. Not only can they take confidence in the efficacy of their work – more importantly they can (and I know they will) learn and grow from the findings.
I'll leave the final words to Alasdair Jackson – Chief Executive at Recycling Lives…
"The evaluation process was robust – needing investment of time, resource and then patience – but definitely worthwhile. We're really proud of the outcome – both the high SROI value and the open, uplifting feedback from stakeholders as well as the final certification from Social Value International."
For more information from Nicola, reach out via [email protected]
Interested in becoming an Associate Practitioner? Find out more here.
Posted 15th March 2022