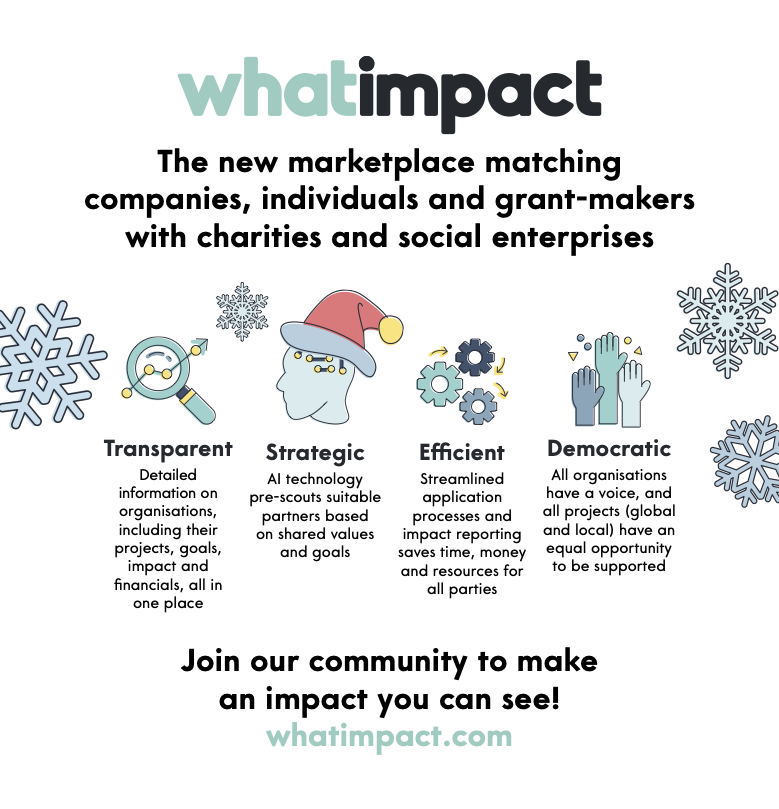 Posted 17th December 2020
Is your organisation looking to give or receive resources? whatimpact.com helps donors – like companies looking to fulfil their CSR responsibilities, or foundations looking to award grants – find recipients, like charities or social enterprises looking for support.
Their AI-based matchmaking system makes it significantly easier for donors to find a recipient that shares their values and vision of the future. This also helps to save resources that would otherwise be spent looking for suitable prospects – a sum in excess of a billion pounds annually.
How does it work? Customers sign up to the site, choose their profile type (company, grantmaker, charity, or social enterprise), and fill in their profile. This includes detailing what kind of support you are seeking/offering. Once your profile is complete, whatimpact do the rest, matching your organisation with others that suit your needs. Once a relationship has been established, whatimpact helps recipients to report on their impact in a standardised form, which in turn helps donors to see and show the results of their support.
The online platform is currently offering a risk free trial period to all organisations:
Charities and social enterprises that sign up before 22nd December 2020 can trial the site until 31st May 2021.
Companies and grantmakers that sign up before 22nd December 2020 can trial the site until 31st March 2021.
All charities and social enterprises with an annual turnover of 50k or below receive free access to the site for life.
Sign up to trial the site here. There is no obligation to pay following your trial. For more information, get in touch at [email protected].