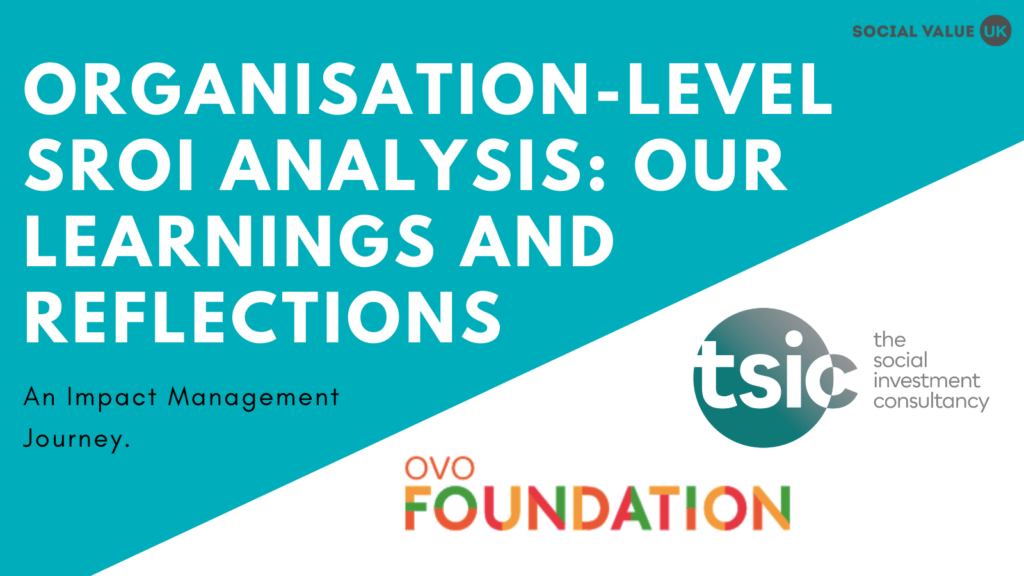 Posted 14th April 2022
This blog was written by Bonnie Chiu (Managing Director) and Yu-Shan Chiu (Consultant) at The Social Investment Consultancy, with insights provided by Hannah Howard (Senior Programme Innovation Manager) at OVO Foundation.
OVO Foundation is OVO Energy's charity and funds projects helping children and young people to access a greener, fairer future. Impact measurement is important to OVO Foundation for multiple reasons: as a corporate foundation, it needs to be accountable to its customers and the company for the impact that its funding has generated. OVO Foundation also has a strong learning culture – it wants to understand what works to achieve its mission, as well as share its learning with others. For a few years, OVO Foundation has established robust monitoring and evaluation systems and processes, with the help from The Social Investment Consultancy (TSIC), and has been gathering good results.
On OVO Foundation's impact measurement journey, it wants to go a step further. OVO Foundation already knows that its charity partners have the powerful combination of passion and expertise to achieve a brilliant impact. TSIC supported OVO Foundation through the process of a forecast Social Return on Investment (SROI) analysis, which tells the story of how change is being created by measuring social, environmental and economic outcomes and uses monetary values to represent them. Quantifying social value in this way would help OVO Foundation to communicate its impact more succinctly to its key audiences. The concepts within SROI, such as displacement, attribution and deadweight, also would enable OVO Foundation to understand its various programmes in a deeper, more robust way.
Analysing SROI for a philanthropic foundation, however, was not as common as that for individual projects. OVO Foundation funds multiple projects, in very different contexts, with different stakeholder groups. When TSIC started to conduct SROI for OVO Foundation, it had five funding areas; with projects at different implementation stages and with varying levels of resources invested. They also had different geographical and stakeholder focus – from rural Kenya to urban English cities, from parents to young people themselves. Through trials and errors, we have been able to navigate through these challenges. We are proud to say that after a year, we have finally been able to complete an organisational-level SROI study (also called "composite report"), and would love to share our learnings below.
What are the most insightful learnings for us?
For evaluators at TSIC, conducting organisational-level SROI allowed us to strategically review impact monitoring and management across OVO Foundation. We considered the impact data quality and infrastructure for each project, explored the feasibility to involve stakeholders properly in an SROI study and adapted our approaches accordingly. The good relationship OVO Foundation had with its partners also facilitated stakeholder involvement, from defining outcomes to validating the results.
As for OVO Foundation, the process enabled it to hear directly from the charities it funds as well as the people they serve, as involving stakeholders in defining the outcomes was crucial for SROI (Principle 1: Involving Stakeholders). Funders rarely get the opportunity to hear this level of detail and granularity. This has been considered truly insightful and a best practice approach for OVO
Foundation's accountability. OVO Foundation also appreciated that, even after the SROI values had been calculated, partners had to verify the values and there was further honest feedback which helped ensure the calculations were accurate and reliable
How did we overcome some challenges in the process?
The length of the whole SROI study and the complexity to produce a composite report were quite challenging. The restrictions caused by the Covid-19 pandemic complicated stakeholder involvement, where we needed to rely on charity partners to help collect data and explain the purpose to the end-users. We were fortunate that the charity partners were willing to support and were enthusiastic about the rationale for conducting the SROI study. We tried to make the SROI concepts as accessible as possible, and thanks to OVO Foundation's previous work on impact measurement, charity partners were already familiar with various concepts within impact measurement. Meanwhile, we made the surveys as straightforward as we could for the end-users, though it took a few iterations to ensure that these also met the requirements of Social Value International in terms of depth of stakeholder involvement. When verifying the results with stakeholders, we also produced infographics to make the results more accessible.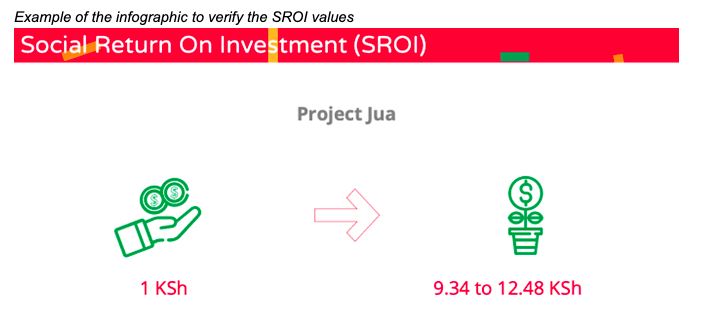 What are the benefits of a composite SROI study?
A composite SROI study is a reporting practice that combines the SROI from various projects. As mentioned at the beginning of the blog, as a philanthropic foundation, it was important for OVO Foundation to get an overall SROI figure, in order to communicate this externally and internally. It was also a strategic exercise, to enable the foundation to understand how to allocate resources to different projects and to maximise the social impact of their funding.
What will the results be used for?
OVO Foundation anticipated the SROI study being particularly useful when thinking strategically about their resources, as well as publishing the findings for others to learn from. Given that OVO customers donate to the Foundation, and 100% of their donations go towards the projects, the Foundation also anticipated it generating pride and reassurance in the positive difference that their donations are making. As for its partners, they have started to use the SROI figures when they are seeking to leverage other funds as well as in advocacy work to demonstrate projects' value for money. Finally, this SROI study identified several areas where OVO Foundation can improve their impact monitoring and evaluation (for more details, please refer to the full report). OVO Foundation has since been integrating some suggestions.
Background: About the SROI study
We conducted a forecast SROI that covers three of the projects at OVO Foundation. We started off completing SROI for one project, Project Jua, whose report was assured by Social Value International. We then applied our learning to the other two projects (Future Builders; OVO Gives Back) to produce a composite SROI study. The final report was endorsed by SVUK.
The three projects in the composite SROI study are:
The project installing solar panels in Kenya: Project Jua
The project constructing homes for young homeless people in the UK: Future Builders
OVO Foundation's volunteering work in its local areas through OVO Gives Back
The study found that every £1 invested in these projects has the power to generate over £10 of social value:
Project Jua: every £1 invested can create up to £16 of value
Future Builders: every £1 invested can create up to £5 of value
OVO Gives Back: every £1 invested can create up to £2 of value
Posted 14th April 2022