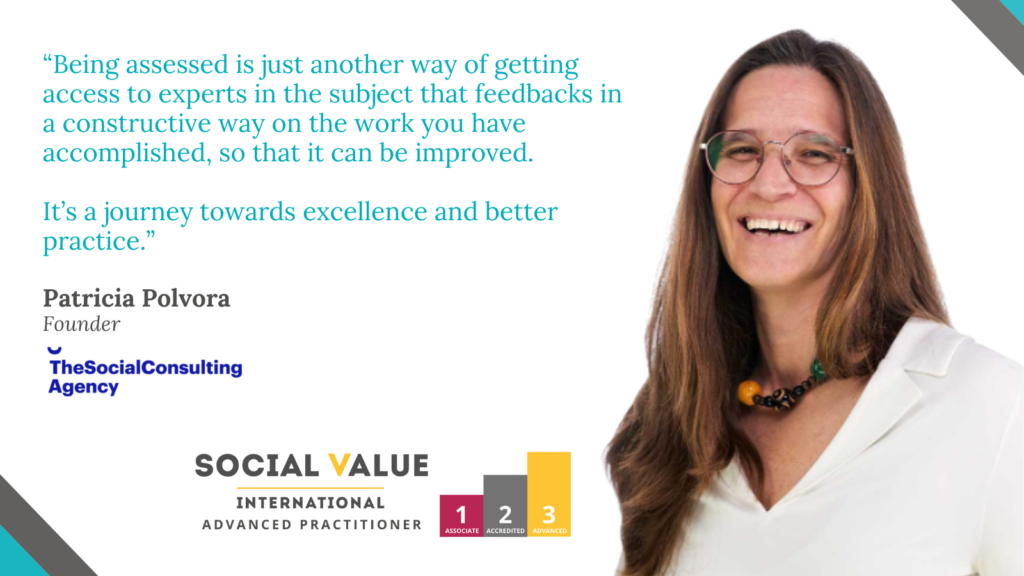 Posted 6th April 2023
Social Value UK are proud to announce that Patricia Polvora has achieved Level 3 Advanced Practitioner status.
Patricia is and SROI Consultant and Co-funder of The Social Consulting Agency.
The Social Consulting Agency is an impact managing and measurement agency that generates impact. The agency employees women with disabilities and young women from social economic vulnerable environment to support the reduction of unemployment in Spain and generate well-being.
Ahead of this announcement, we spoke to Patricia about her experience with the assessment process…
Why have you decided to undertake the Social Value International Professional Pathway?
I want to make sure that the Spanish-speaking part of the world is not left out of the benefits of having access to stakeholder-informed date through and accredited process such as the one Social Value International offers through the SROI Methodology. Right now in Spain we are less than 8 persons accredited level 1 and I'm the second level 3 advanced practitioner. Thus, my plan is to continue our path with training as it cannot be accessed if you don't speak English. I aim to be able to deliver training in Spanish to Spanish-speaking impact managers, and by doing so, expanding the community.
What did you learn and find useful from this assessment process?
I believe any assessment is an opportunity to learn. Being assessed is just another way of getting access to experts in the subject that feedbacks in a constructive way on the work you have accomplished, so that it can be improved. It's a journey towards excellence and better practice.
Now that you are a Level 3 Advanced Practitioner what do you plan to do next to develop your practice? How do you plan to use your practitioner skills?
I am currently taking the course to become a trainer and I am already involved in several SROI projects in Spain on Government level in order to "show by example" the value of working with stakeholder informed methodology and social value.
Are there any other specific projects you are doing at the moment that are related to SROI and social value?
I am currently developing an SROI report for a state-funded project driven by an NGO but financed by the Ministry of Social Welfare in Spain. The program is running intervention on 560 children all over Spain that are in risk of being institutionalized, something Spanish Government wants to avoid. I will provide stakeholder-informed data during the two years the program lasts and develop a report to be used in policy making strategic decisions in 2025. In parallel, I am also developing two SROI reports for Red Cross with the same purpose and financed by the same ministry, but this time related to avoiding institutionalisation of the elderly.
You have now joined a community of practice around the globe. What does this mean to you and why do you want to participate and contribute to the development of the methodology and overall social value movement?
It means: Best practice, Knowledge sharing, Friends, Support
Contribute: experience, errors, mistakes, friendship, report sharing, training