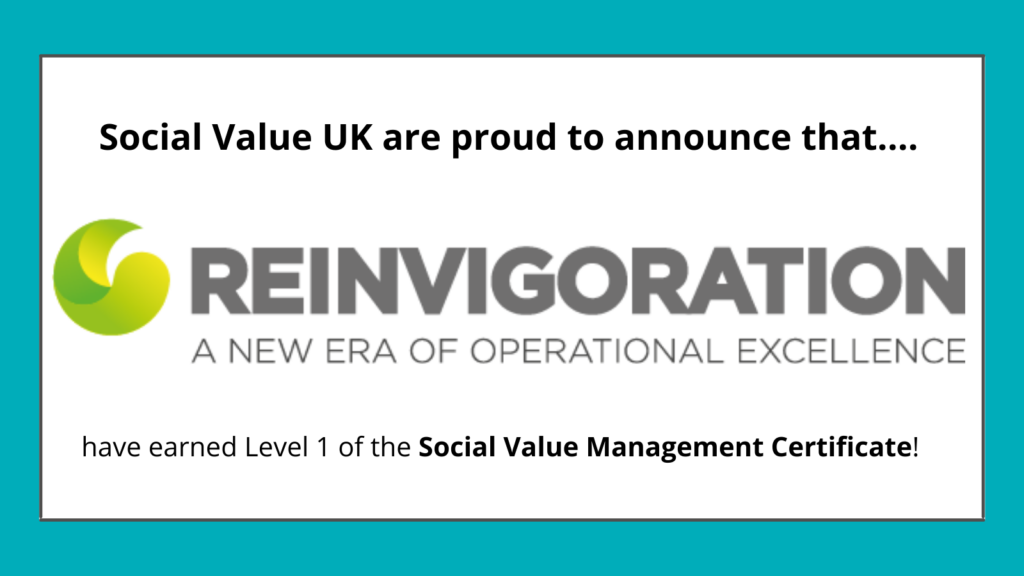 Posted 22nd September 2021
Social Value UK are proud to announce that Reinvigoration have earned Level 1 of the Social Value Management Certificate!
Reinvigoration is a UK-based consultancy specialising in integrating Operational Excellence with innovation and cutting-edge technologies to transform service operations. Their transparent and tailored approach enables you to alleviate key operational challenges, meet rapidly changing business needs, respond to the ever-evolving needs of your customers through your service operations, and deliver faster and cheaper technology change.
We asked them a few questions about their Social Value Management Certificate journey:
Why have you decided to undertake the Social Value Management Certificate organisational pathway?
Our company was introduced to social value as a concept through our organisational partners. When it became clear that this was methodology and approach to providing value to our stakeholders that fitted well with our own, it was a natural choice.
How have you formalised your commitment for Level One of the Social Value Management Certificate? What practices or processes are you putting in place?
We're tackling this process with a phased approach, throughout which we'll be looking to our partners on this journey to provide advice to make sure that Reinvigoration is consistently applying best practice
We have already conducted initial briefs around Social Value and strategy to our staff and will continue to keep them updated on a bi-monthly basis. Naturally, this will include opportunities for team members to raise their own Social Value Initiatives.
Our initial area of focus this year was to get our governance and evaluation methodology in place. Once established, we launched a number of Social Value Initiatives within our core areas of expertise to stress test our approach, with all data being fed into our regular reviews.
These reviews have so far been used to drive decision making, verify our activities and results, and make sure that we are delivering to Stakeholders as promised.
Are there any other specific projects you are doing at the moment that are related to SROI/social value?
Reinvigoration has been involved with a number of projects with leading national police forces. As a result, much of our initial focus has been focused on working with partners to help reduce the impacts of the root causes of crime.
For one of the projects that is underway in this area, Reinvigoration is providing over £500,000 worth of free vocational digital training to the long term unemployed and those on probation to help reduce unemployment and deprivation for these at risk groups.
What have you learnt so far in your commitment for Level One of the Social Value Certificate? Is there anything that you believe you will gain or find useful in the next steps you will take for Level 2 of the Social Value Management Certificate?
The biggest learning so far has centred around partnering with organisations who might not have access to the type or quality of data that we found necessary to verify the impact that we're having for stakeholders.
Doing so has required a fair degree of relationship management, and potentially some coaching to train the partner organisation's team how to conduct data collection work.
At Reinvigoration we are constantly striving to achieve best practice whilst having a decisive impact for those that we work with. The Social Value Management Certificate is helping us to continue delivering this.

Alex Fitzgerald, Delivery Consultant
For more information on Reinvigoration's social value journey, please contact Alex Fitzgerald at [email protected]